A Creative Oasis in Germany's Capital City: Berlin Ink Tattooing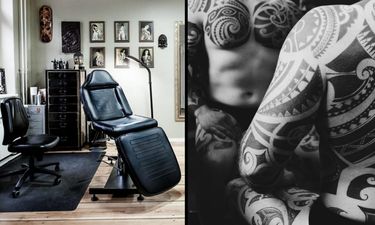 In this guide to one of the greatest tattoo studios in Germany, we introduce you to the talented tattoo artists of Berlin Ink Tattooing!
Tucked away on a street crowded with cafes, museums, and rustling trees is Berlin Ink Tattooing. From the outside, one would think the stairs leading down would open up into a small and cozy studio, but here there is much more than meets the eye. The atmosphere within is one of a close knit artist collective and, almost labyrinthine, each turn takes you into another room where tattoo artists devote time and care to their work. 
Originally opened in a smaller space in 2004, Niki Ianiro was dedicated to create a haven for the tattoo art form and opened Berlin Ink. The former copper factory on the border to Kreuzberg was a space she could focus on building a business, "After 11 years of tattooing in a street shop and travelling around the world, I had the desire to work in a different atmosphere and provide a quiet environment for my customers...Without classical advertising, and far away from using social media, I ran the shop just by personal recommendations. The location and the concept worked out well, more and more artists joined me, I launched my first website and started using social media, and 9 years later I had to move to a larger studio, since it was not possible to keep on my philosophy in this small place anymore. I've found this perfect place, not in the hyped areas of Berlin but very central, and felt the energy to expand my ideas. More space on two floors and different rooms permit us still to keep the privacy with the client and create custom tattoos without distractions."

Known for her brilliant Blackwork, Tribal and Ornamental, Niki Ianiro has built a team that is diverse but committed to creating the best work possible. With eight resident artists, including herself, and many guest artists that join the team for a short while, the studio is brimming with creative talent. I was able to spend some time with each to ask them about their personal process and tattooing philosophy.

Nikko Barber actually began his artistic career as a children's book illustrator, but soon naturally developed a love for tattooing. After doing his apprenticeship in Athens, he ended up traveling to Berlin and making it a permanent home; "It's hard not to love Berlin. I've lived in a lot of places now...and the thing is Berlin has such a unique history, and it's still a place that creative people flock to, and, unlike some other capital cities, it's still really affordable." He's been at Berlin Ink Tattooing for four years, and has felt a real connection to his work there. Nikko's tattoos are the ultimate in clean, bold, and beautiful Traditional tattoos. "I think it's a classic and so, therefore, a timeless style. It's tried and tested style that works so well as a tattoo with the strong lines, bold colors, bold shading...it'll still be looking good in 15 years!" With a reverence for the everlasting trend of Trad, his high quality depictions of the striking and powerful iconography are absolutely inspiring.

Another resident is Mathilde Hanmeister who started her tattooing career in Berlin four years ago after moving from Lyon, France. Her style is composed of magical Neo Traditional that has elements of surreal naturalism. She's relatively new to Berlin Ink, but said the studio has been home to many artists she's admired for a long time. "I really like here, first off, because there is a really nice team spirit, and everyone is really serious about their work. Everyone is interested in each others work too. It's a nice environment." Because she's always evolving her techniques, Mathilde appreciates that supportive aspect of the studio, and she's also always looking to be inspired. "I look at paintings a lot and I love art nouveau!"

Jaka Putra, who originally hails from Bali, used to be a piercer, but now concentrates on tattooing. His work melds ornamental and Asiatic aspects with Neo Traditionalism and American Traditional. When asked why he fell in love with body modification, he simply stated that it was what made him feel comfortable. No doubt, his wonderful works make others feel the same within their skin.

Known for his brilliant Neo Traditional style, Leonardo Branco, a Brazilian artist, is a part time resident at the studio who loves evolving his techniques as well. "As an artist, or designer, I think that's very healthy and necessary if you want to find yourself as an artist...in this way Berlin Ink could provide me with a very fertile space." He's been in Berlin for seven years, and has seen how much the tattoo culture and community has developed. "The reason why, maybe, we have a community here is because Berlin is very open and, I would say, it's very mixed in with the rest of the world..but it's so different than the rest of Germany even though it happens to be the capital. So many cultures cohabitating with each other...trying to grow, trying to find a meeting point, and trying to have a good quality to the city. I think that might be why tattoos found a place to grow here." Wonderfully blending the Japanese aesthetics and iconography with the vivid stylings of Neo Traditional, Leonardo is known for creating work that will certainly take your breath away.

Each artist, in their own way, adds something completely special to this studio. One immediately feels accepted here, and welcome. If you're here in the city visiting be sure to visit Berlin Ink Tattooing for a piece that you'll love for a lifetime. With tattoo artists such as these, a never ending nightlife, intellectually stimulating landmarks, deep historical roots, and tons of fascinating museums, there's so many reasons to visit!