Beat the Coronavirus Blues: Advice from Artists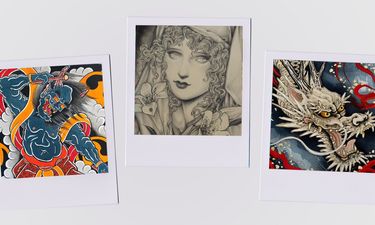 JM

We gathered advice from 20 artists around the globe to share how they're connecting with others, creating artwork, and cultivating positivity.
In many places, around the world, tattoo studios are being forced to close their doors. The recent coronavirus restrictions have affected travel, employment, and social connectivity. Some people are losing loved ones, and others are losing income. And although these times may be full of anxiety, we hope that everyone is taking steps to self-care in various ways: watching movies, FaceTiming friends, or indulging in entertaining hobbies. Whatever works for you.
In this article, we talked to 20 tattoo artists about how they're managing at this moment, and their advice on how to stay sane and not stressed.
Vale Lovette aka valelovette
Seven Lakes Tattoo - Varese, Italy
"I'm fine, even if the situation in Italy is really serious, the hospitals are collapsing, they need help, before they can support the tattoo artists who are not working and are not earning money, we have to support the health facilities, we paint and create to put auction our works and contribute to the purchase of new machinery..we do our part ...
It is a sad reality and we hope to return to normal as soon as possible. However, a nice thing would be to share what we create at home during the quarantine, projects or drafts or paintings for when we come back active!"
Rodrigo Canteras aka rodrigo_canteras
Five Points Tattoo - New York City, NY, USA
"One painting a day to keep corona away" is my current mantra. Obviously tattooing is a non-essential business and within a week myself, and everyone I know was put out of work for the foreseeable future. It's pretty fucked. But I've been saying for a long while, that I wish I had more time for creative projects, so I'm making a choice to find a silver lining in all this. I have my health. I have a house to stay quarantined. And I've been given the gift of time to paint and to learn. That is a privilege and a blessing."
Jaylind Hamilton aka jaybaby.tattoo
Austin, TX, USA
"One thing the outbreak has forced me to do is to relax and focus on what I can do in the present time. With the virus and the negative fueled news it can bring fear and uncertainty of the future. Thoughts of doubt proliferate into more doubtful thoughts. To quiet the mind all I can do is focus on what's happening right now. What do I need at this moment? Should I cook and make myself a warm meal? Do I want to feel the nice warmth and steam of a shower? Should I speak to my loved ones and check in? What do I need right now? Take pride and joy in relaxing and in doing nothing as well. Your worth is not based on how productive you are, your worth is what you decide for it to be. Know that although the future is uncertain, although our lives have shifted for a moment, all we can do is be present and attentive. Feel what you need to feel. Be upset, be sad, be afraid. But remember to go lay outside at the park, listen to birds chirping, watch grass twinkle as it reflects the sun. Root your feet into the ground and be present with the Earth while you can."
Guen Douglas aka guendouglas
Taiko Gallery - Berlin, Germany
"You know making the decision to close was not an easy one. I really weighed my own safety and financial situation against the current climate and realized this was one of those times that called upon me to act with my community in mind rather than myself. I am generally a busy lady so sitting around is not something I do naturally. One of my favourite quotes in the english language is 'necessity is the mother of invention' and this is one of these moments that calls upon us to get creative! In terms of work I've used some of my free time to focus on my comic strip To Larson With Love, I'm doing A5 (hand-sized) digital commissions for clients that want either designs to hang in their house or to get tattooed by their local tattooer, I've been packing and shipping prints and t shirts from my webshop and contemplating starting Vol. 2 of my hand reference ebook 'Pretty Handy'. In terms of my self-isolation, my default setting as a human is hermit so i quite enjoy being at home in solitude. My partner and I have been FaceTiming/Skyping with friends in other countries, checking in with friends in countries that are locked down tighter than here and have plans this weekend to have a wine Skype get together if possible. I think creative escapism is really helpful right now, as well as; reading novels, cleaning the house, tending to plants and all those craft projects we all have on hold! I've got a couple of 1000+ piece puzzles lined up, some veggie seeds to germinate, a ton of repotting plants and a very messy bedroom to clean! Ha! I also think right now it's important to spend some time focusing mentally and practicing meditation, as someone who is naturally empathetic and anxious I feel very overwhelmed without it. I'm enjoying the opportunity to connect with my instagram followers more so feel free to comment or message!"
Stef Bastian aka stef_bastian
Currently traveling
"Shakespeare said: 'There's no good or bad but thinking makes so'. A situation is what we decided it to be. Thoughts create Perception, Perception creates Reality. There's always a positive angle in each situation, a hidden gift within the obstacle. We just gotta find it setting our perception right and keeping perspective. Instead of focusing on what we're missing(place of Scarcity) let's focus on what we have now (place of Abundancy) that we normally don't have: Time, the most precious resource of them all. We can spend that time on the couch feeling sorry for ourselves or we can put it to fruition. To not only endure this imposed quarantine but even enjoy and profit from it, establish a daily schedule that includes the following:
-Learning something new (a skill, a language, a profession, a topic in form of books/videos/podcasts) or perfecting something you already know (drawing, cooking, nutrition, dancing..)
-Taking care of your body (45' of yoga, HIIT, Pilates, TRX..)
-Taking care of your mind (45' meditation, reading/listening/watching positive content..)
-Connect with your loved ones (text/Skype/call and show them you care)
-A gratitude practice (meditation or journaling)
-Something funny (watch a comedy, dance, make up a theme party, play games, have sex, be silly...)
This way each day will be new and fruitful and you'll come out of these hard times a better professional and a better person."
Enrico Grosso aka bighenry
Greenpoint Tattoo Co. - Brooklyn, NY, USA
"I remember up to the recent event I was often thinking about taking one or two weeks off to focus drawing new stuff and try new things just for myself. I guess willingly or not this is the time! Maybe this is something we can all do. I understand some people will struggle in being creative during uncertain times. What I suggest is to keep some kind of work routine, give yourself structure, times in which do some kind of work, they can be a little loose, but be very specific about the tasks. Try to stay on deadline and start things you can finish. Don't do it in your sweatpants and wear clothes like you were going outside. Ok you can leave shoes off. Some of you might not have a lot of space to set up a drawing area but all you need is a table really, even the kitchen one, just set up shop in the morning or when you feel like starting and then put everything away when you're done. Make it ritual. The setup is the ritual to get into it. Creative is a coping mechanism to me and sometimes is harder, sometimes easier, but it helps me not to be worried constantly about my parents stuck in Italy and how these travel bans create even more distance and fear for immigrants or foreign workers.
Try to meditate for 10 minutes, try this app called Headspace. Find some time for the child inside of you. Working out works great too! You can dance in your home, like it's 1989 and you're at a rave in London. Or Ibiza. Then most importantly, once you help yourself, if you find the strength for helping others and be at service please do so. Even small things. We can do this, we are, in fact, already doing it."
Ant the Elder aka anttheelder
Sang Bleu - London, UK
"Like many I am someone who gambled it all on this analog craft. What makes tattooing so magical, amongst other things is the fact that no machine can emulate it. This is a beautiful thing. We are also greatly feeling that its luxury value and highly physical aspect makes it quite discardable at this moment. I like to think that, despite my individual unprepared economical situation, this is a well needed break given to our environment as well as forcing humans into re-assessing what matters. Let's take this time to be creative in both art production but also ways of thinking and relating to the world.
Let's take care of each other and our local community as much as possible. Changes have been needed for a long time on so many societal and ecological levels. Change is good, change is stressful, change is necessary."
Chris Rigoni aka chrisrigonitattooer
Bloodlines Ink - North Perth, Western Australia
"I just think it's important that at a time like this we can support all self-employed/small business owners the best we can under the circumstances. Not just tattooers by buying merch or prints but any of your local dudes and dudettes, either now or when they're trying to get back on their feet once this has passed"
Daniel the Gardener aka danielthegardener
Parliament Tattoo - London, UK
"Since quarantine started I'm building myself a routine. It's a big task to figure out what to do on a daily basis, so I try to keep myself structured. Exercise at home, eat mindfully, draw, find a way to be productive. And it's really important to stay connected with friends, so we set up video calls to chat and feel less alone."
Lara Thomson-Edwards aka 90'sdolphintattoo
The Circle - London, UK
"I'm just trying to see it as an opportunity to make some new designs and focus on other creative pursuits. I think it's important to remember that although we are all in the same boat, everyone's circumstances are individual, and shaming helps no one.
It's a really strange time, and I hope we are able to get back to work soon. I think when we do, we'll all come back with more excitement. We are lucky that we miss going to work..."
Bill Canales aka billcanales
Full Circle Tattoo - San Diego, CA, USA
"We are fine, just frustrated...but keeping busy. Our shop stays connected with the Zoom app, we can't really hangout so virtually we can. It's good to get everyone together just to talk and go over their days...this could last a while, so we keep Zooming 'till we can finally meet again."
Servadio aka servadio_
Old Habits - London, UK
"I am at home with is pretty much a studio with a bed. Like never before, I am grateful to finally be forced to stay in, and gradually submerge into a creative flow that I have missed so much in the last few years. All the noises suddenly dimmed down and you can hear yourself, question yourself. Travelling and tattooing and all the excesses that comes with this lifestyle are what we signed up for perhaps, but what is most needed now is a moment of reflection. Now we have it. I believe it's a great chance to re-think ourself and our practice. I can't wait to see all the beautiful development that will manifest after this crisis. Despite the difficulties of being a self employed artist, and not being able to work and travel. Lets see this lockdown as a gift."
Matt Beckerich aka mattbeckerich
Fountainhead - Huntington, NY, USA
"In this trying time, it's been beneficial for me to consider sacrifices that older generations have had to make for the good of the country and the world (i.e. being sent off to war), and to consider the first responders, doctors and nurses who are tirelessly putting themselves in harms way to care for masses of people affected by this pandemic. Keeping all this in perspective makes my contribution (staying at home) feel much easier to cope with.
I've been tattooing between 5 and 7 days a week for 21 years and like most other tattooers, it has taken a toll on my body. Using this time to rest and catch up on other areas of life & work has been my way of mentally turning this negative into a positive. There will surely be a flood of artwork and merch from the tattoo world when all this is over, which will hopefully in time bring back some of the losses sustained by all of us. I think it will also lead to a lot of artistic growth for many that have been in a fast-paced, production style holding pattern artistically; inspiring all of us to appreciate how lucky we all are to be a part of the tattoo community and do what we love every day."
Miss Juliet aka m1ss_juliet
Kings Avenue - Manhattan, NY, USA
"I'm a tattooer, I'm an artist but I'm also a mom. During those weird days close to home, my day is full of art projects, commissions and baby time. Jiu jitsu has always been my medicine to keep me sane,and it is one of the things that I miss the most. I'm trying to keep up with solo exercise. We are trying to be productive and busy as much as possible. I'm a very active person so I try to work on several projects at the same time, currently working on 3...different paintings and a new flash book and I'm open for new commissions.That keeps my mind busy. I'm trying to push myself in a project that I always wanted to explore but I never had the real time to do it; I'm trying to make every day a good day! It's not easy with a little one but we are working on finding the balance! I'm very happy to have friends that are tattooers and also parents and having online conversations with them gives me new ideas and strength and, of course, I feel less lonely!"
Fibs aka fibs_
Guru Tattoo - San Diego, CA, USA
"With the rapid development of things nowadays, this is a great time to reflect and try to understand your history in a way that will help you understand your future. Be respectful to history."
Edit Paints aka edit_paints
Gida Tattoo - Tel Aviv, Isreal
"During this time for me it's even been more rap since I'm also pregnant and I had my tattooing keeping me busy while my body is changing and I'm becoming more heavy so it's been definitely hard staying at home so me and my husband, who is also an amazing tattoo artist, Avihoo Tattoo, did a schedule to keep ourselves busy and sane. So, we wake up to do yoga in the morning and then each of us dive into hours of painting. I'm painting with oil colors. I'm doing a series of small paintings that reflect my experience of home isolation and being pregnant. All day with one person. I'm hoping something good will come out of that since I would have never had the time to paint as much and I'm very inspired right now, thankfully . After that we love to watch old movies."
Shaun Topper aka shauntopper
Captured Tattoo - Tustin, CA, USA
"I'm trying to stay as active and productive as I can. A long period of forced isolation can be a blessing or a curse depending on how you spend your time. I've been trying to make sure that each day I do something productive around the house, spend some time working on my art, and get some fitness in to help quiet my mind and drain my battery a bit. I just refuse to surrender to boredom, inactivity, and laziness."
Ick Abrams aka ickabrams
Grim Tattoo - Penndel, PA, USA
"There really isn't anything we can do except take this opportunity to go hard on our art and support each other the best we can."
Abby Drielsma aka abbytattoo
Hidden Moon Tattoo - Melbourne, Australia
"Living in Australia, the tattoo industry was only just shut down a day ago so I'm pretty fresh into proper isolation now. Having said that, I'm someone who needs to keep busy and thrives on routines. For me it's important to set goals and write lists of productive things I'm able to do during this time to stay focused. I'm trying to stay positive and look at the silver lining of being able to start projects that I've wanted to for quite a while but haven't had the time for. For example I've started playing with clay and have got supplies to start teaching myself to oil paint - both of these mediums are way outside my comfort zone but this is such a great opportunity to explore new art forms that are removed from tattooing. I'm also finding the time to cook and exercise more which is a fantastic way to maintain good mental health. As far as keeping myself afloat financially I do have some plans to create and sell limited runs or prints, and our shop, Hidden Moon Tattoo, is looking into creating tattoo vouchers for our individual artists which can be purchased by clients who want to help support us during this time.
I'm not going to lie - I was completely freaking out for a whole week when all of this sunk in. But now, I'm accepting that this is happening and is out of our control beyond doing what we can individually to socially distance. I think the best thing we can all do is try to take this situation as a blessing; it's a chance for everyone to finally slow down, reflect and take the opportunity to do things that we couldn't normally do 🖤"
Antony Flemming aka antonyflemming
Calgary, Canada
"I think that it can go one of two ways, we can use this time productively and be creative or we can use this time to relax and recharge our batteries, maybe do the things we normally don't have time for! Either way we should try and do something! Unfortunately making money isn't really an option as the only thing tattooers can do is sell artwork but at a time where everyone is watching their spending it may not be a great idea. Personally I am going to be using this time to draw and spend some much needed quality with my wife and puppies. I'm also going to be trying different ways to connect to my audience, for example I will be doing an Instagram live event where people can download a line drawing of mine and colour it with me, which can also double up as a Q&A! It's time to get creative!"