Can Automated Tattoo Machines Help Save Tattooing In Japan?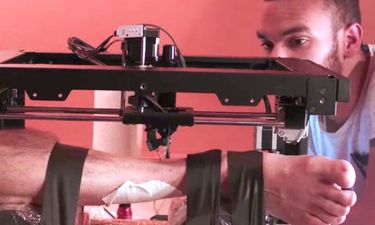 The team behind the robot tattoo machine raises awareness for Japanese tattoo artists.
With their new video, the makers of automated tattoo machine "Tatoué" want to show their support to Japanese tattoo artists, threatened by dangerous laws.
Japanese authorities are threatening the iconic art of Japanese tattooing by closing shops and arresting tattoo artists. Considering tattoo as a medical practice, their laws are infuriating tattoo artists and tattooed people all over the world. Support has raised all over the planet to sign the petition to secure a future for tattoos in Japan. The team behind the first automated tattoo machine (See The Future is Here: 3D-Printing Tattoo Machine in Action!) decided to show that modernity and tattooing were going well together. 
To raise awareness, they released a new video. While in Japan, they tattooed the logo of Save Tattooing in Japan with their machine. They met with English-speaking and French representatives of the movement, Manuel Chillagano and Pascal Bagot, while in San Francisco. A trip to Tokyo also helped them discussing with members of the Japanese tattoo community, especially tattoo artists. With their invention, a bridge between art and technology, and between different worlds, they want to help alerting more people to sign the petition and save tattooing in Japan. Tattoo is definitely a significant part of the future, in Japan, and everywhere.