Carla Evelyn's Lovely Pastel and Crystal Wonderland Tattoos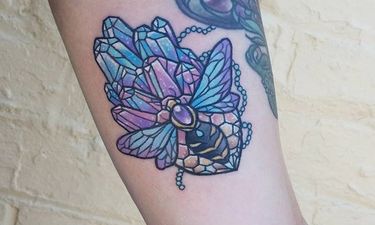 Aussie tattoo artist and tattoo model Carla Evelyn will dazzle you with her crystal-studded tattoos in beautiful pastel.
Girly style tattooer Carla Evelyn gives her soft-hued pieces a classy contrast with sharp crystal designs that give her tattoos a certain edge. 
Crystals weren't always the focal point in Carla's work. They merely used to be part of the whole roster of all the girly elements. Her clients loved them so she got more and more requests which led her to sketch up more crystal tattoo flashes for her past and potential clients to choose from.

Aside from tattooing, the lovely Carla Evelyn also dipped into modeling in her home city Adelaide, Australia. She used to describe herself as 'a bright sparky young thing' in her Model Mayhem modeling portfolio which incidentally captured how her works would turn out to be in the near future.