Expressing the Inside Through the Outside: Interview with Freaky Hoody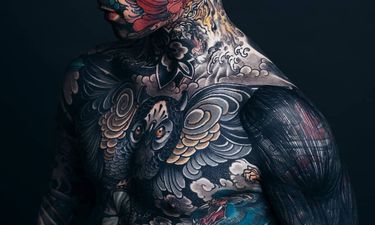 Sylvain aka Freaky Hoody is completely tattooed from head to toe, and we wanted to know what it's like living with that much ink day to day.
We first met up with Sylvain at the London Tattoo Convention where he spoke about what it's like to be a totally tattooed man who teaches young kids, but we figured we'd go a little bit more in depth. Being so heavily tattooed obviously affects the way main stream society perceives you, but in the case of Sylvain, it's clear he's helping to break down those biases and stereotypes by being a positive influence in the tattoo community. 
What were you like as a kid? Were you always interested in tattoos?

I grew up in Saclay, a small village in the south west suburb of Paris, France, surrounded by corn fields. I had quite a happy childhood! I first started to think about getting tattooed around 15, as everybody else I guess; I wanted a massive bear on my back. But at that age it was just a thought, nothing more!

Why did you decide to get covered? Was is a conscience decision, or did it happen accidentally, over time?

As a Primary School teacher, I took part of an exchange program and was sent working for the Dulwich College in London, for two years, at the age of 27. It was quite a shock seeing all of these Londoners living with their bodies as they were; fat ones, skinny ones, gay, straight, tall, short, pierced... tattooed. Any barista would have one of his sleeves covered, my banker exposing proudly his freshly tattooed neck above his necktie, and so on. I had a revelation during the first months living abroad, that I would also cover myself with tattoos: I didn't have any yet. I went back to France for half-term, borrowed some money...Living in London was and is still expensive...and went at Into You Tattoo London in order to take the appointment for both my arms; immediately followed by getting my right leg sleeve and my chest the year after. Back in France, I followed my goal of being fully covered at Hand in Glove in Paris, and here I am. I have never done things by half! London was definitely a light-bulb moment for me ; some receive divine revelation, I had the tattoo epiphany; it's much better, if you ask me.

How have your tattoos shaped your life and life choices?

Being fully covered definitely shaped my life. A year and a half ago, I was approached by model agencies. I therefore decided to look after my diet. I have always been into sport anyway, I'm a former martial arts teacher, fitness enthusiast, etc. And since then I have done many tv shows, films, series, music videos, fashion shows, exhibitions, etc. Most of my hobbies gravitate around tattoos nowadays, I'll be a guest star at tattoo conventions all over France and Europe in 2018/2019, and as a social media influencer...I don't really like this concept haha. People have started to invite me to their events. The best part is that they give me something more to do than just a modeling role each time, like jury member or entertainer.

In the mean time, the more I got covered, the more tolerant I became, starting to understand more and more life choices of people around me. And it helps me a lot on a daily basis: the way I look acts as a social filter. You either love me or hate me, and that's a good thing. You cannot afford to waste time with superficial people. Oh and, I almost forget: old ladies recognize me in the frozen food section, now!
You either love me or hate me, and that's a good thing. You cannot afford to waste time with superficial people.
What is it like being a teacher, who and what do you teach, and what do you usually tell your students about your tattoos?

It's been almost 10 years that I'm a primary school teacher, teaching from 2 to 11 years old. It is a vocation and I still love my job, even if I'm more a more tempted to swap to my new modelling career. The younger they are, the more frightened they could be by my appearance, therefore I try to stay as cool as I can be the first few days, but they remain children, and after a couple of minutes they forget the tattoos to focus on the teacher himself. I would even add that they could be more surprised that I am a male teacher because in France, there are at least 75% of female teachers in primary schools!

Their main question is "why?", which I often respond by "because I like it!", and they move on to another topic. Parents can be suspicious at first, but when they have a chat with me and hear me talk, and hear what their children say about me after school, everything goes right!

Since you're covered, I assume you've run out of room for new tattoos! Would you ever get any of your work removed so that you can get new tattoos? If you had the chance to start over and get different pieces, would you?

I'm fully covered from head to toe, French TV even calls me "the most tattooed French man"; if it is said on TV, it's probably true haha! But I find it very sad to be able to say that something is "over"; my artistic approach has evolved, and now I see myself as a wall alongside the railway; a first layer of graffitis has been applied, soon covered by a second one, then a third one... and so on.

I will end up fully black at 80! Layer after layer. A living canvas! I have already started the second layer thanks to Romain Pareja, the owner of Hand in Glove, inspired by the work of Curly Moore: black lines above colour work. The first layer becomes a background and the lines literally pop up. Nothing will be removed, all will always be a part of me that I am proud of having worn and suffered for, even if it slowly but surely be blasted over.

Beyond tattoos and tattoo culture, what do you love most? How do you spend your free time? What do you wish you had more time for?

Beyond tattoos and tattoo culture, including clothing, entomology and taxidermy, of course, what I love the most is sport, and reading huge books. I'm currently immersed in the Dune saga: a masterpiece, going to the cinema and everything related to us millenials : Marvel, DC, Animes, Rick & Morty, Netflix & Chill...

I wish I had more time for video games, but I feel guilty as soon as I put my hands on a gamepad: I have to prepare next day's class and mark papers!

You have many interests, are super involved in many different communities, and seem to be really taking advantage of the time you have on planet Earth. What advice do you have for others who are trying to live their life to the fullest?

The thing is don't try to compare yourself to other people, don't take care of what they might think about you...just do what you want to do, period. You don't want to have regrets on your deathbed. Or maybe you want too, if it makes you happy! Do whatever you want to do, as soon as it helps you waking up in the morning and makes you happy!