Flash from the Past: Millie Hull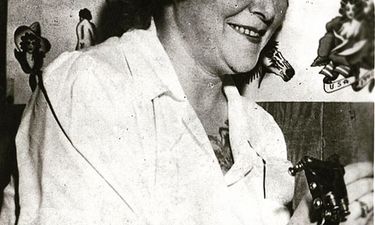 AW

Learn the history of "New York's Only Lady Tattooer," Millie Hull, and what really happened on the Bowery all those years ago.
The intersection of Bowery, Chatham Square, and Division Street in what is now New York's Chinatown has seen a lot of changes in the past century or so, but none were as influential to the history of the city than what happened on those streets at the turn of the century — the birth of modern tattooing. The Bowery was home to a whole host of influential artists whom would later come to be known as the founding fathers of the tattoo community, but among them was a diamond in the rough, "New York's only lady tattooer," Millie Hull. "Millie Hull learned how to tattoo from Charlie Wagner on the Bowery," explains Michelle Myles, artist and co-owner of Daredevil Tattoo and Museum. "I mean, can you imagine what a tough broad she must have been?"

Mildred Hull, the mother of modern tattooing during the height of the city's tattoo boom in the early 20th century, was a woman of many talents. Born in 1897, Hull dropped out of school when she was just 13 years old according to The Tattoo Archive, and later on joining the circus. "She started out as an exotic dancer and then got tattooed by Charlie Wagner," explains Myles. "Don't they all," chimes in Brad Fink — Myles' business partner and fellow artist, a mischievous grin spread across his face as the room erupts in laughter.

According to Untapped Cities, by 1939 Hull had left the circus and had begun to put ink to skin with a little help from her long time tattoo artist, Charlie Wagner. In the following years, Hull elevated her tiny studio, aptly named The Tattoo Emporium, to one of the most renowned tattoo shops anywhere along that infamous stretch of seedy land.
In 1936 Hull graced the cover of Family Circle — tattoos and all — in what became an unprecedented, monumental moment in history, one that until now has gone widely overlooked. It's important to note that at the time, the magazine's main mission was to provide women with home economic tips. "To be on the cover of Family Circle, and to not only be covered in tattoos but to be a tattoo artist it's just pretty incredible," says Myles motioning to the framed cover that now proudly hangs in the entryway of Daredevil.

Sadly, in 1947 Hull committed suicide by poisoning in a Bowery restaurant at just 50 years old, according to The Tattoo Archive. While there is no one written history of the mother of modern tattooing, her story lives on through the community that she helped form. The story of Millie Hull will likely never be taught in schools, just as her shop and all its glory has since faded into the chaos of modern day Chinatown, but to those who know the importance of such a fearless and radical woman, her legacy will live forever.