Making Love to the Dead: Ero Guro in Tattoo Culture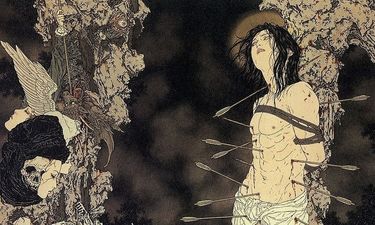 In this guide, we take a look at how the Japanese art movement Ero Guro has impacted contemporary tattooing.
Licking blistered eyeballs pushed from sockets, beheaded women wrapped in Shibari ropes, samurai's sexting with demons, goldfish with legs and children with hammers….Although you may not have heard of the Japanese art movement Ero Guro, we're sure you've seen the effects of it within tattoo and arts culture without even realizing it. Ero guro nansensu, a wasei-eigo term, is a cultural, artistic and historical movement that is an amalgamation of political philosophies turned aesthetic. Artists, poets, filmmakers, musicians, and of course, tattooists, have blended the concept with their work creating one of the first art movements that spans centuries.
Known for its embrace of the erotic, grotesque, and absurd qualities of life, you may be shocked by the immediate display of gore and lust filled scenes. And although they are meant, in part, to shock, there is also depth to these atrocities...and a reason why they so completely fit with the philosophies and styles of tattooists and collectors alike.
Much of what inspired Ero Guro was, in fact, horrifying events that took place not only in World War II, but even before. Particular stories of murder, mental illness, and sexual escapades that captured the imaginations of the Japanese people and hinted at the overwhelmingly complicated psyches beneath the surface of a normally homogeneous peaceful people. From the WW II horrors like the bombings of Hiroshima and Nagasaki, as well as the Rape of Nanjing,  the brutal and nonsensical acts of war that would go on to destabilize many people for decades would also, in a sense, push others to visualize internal emotional anguish through artistic outlets. This would especially come into play since, the world over, emotional and mental instabilities were unacceptable subjects for public, and even private, conversation. 
For example, it's no surprise that Pictures of the Floating World, Ukiyo-e woodblock prints, still influence Irezumi artists but the same holds true for Eru Guro tattooists as well. Famed Ukiyo-e print by 18th century artist Yoshitoshi depicts "Naosuke Gombei Ripping Off a Face"...and, apparently, this was based on a true story. Walter Dening, author of "Japan in Days of Yore" writes, "At the beginning of the eighteenth century there was among the men-servants of Oyamada Shozaemon a man called Naosuke. This Naosuke, late one night, crept into the room where his master slept and killed him, his wife and three children with a sword." Naosuke Gombei took being a disgruntled employee to a whole new level and, in turn, inspired a century's worth of terrifically brutal artwork.
In 1936, the story of a Japanese women went viral. Abe Sada, geisha turned prostitute, came into the limelight for murdering her lover via erotic asphyxiation...as well as clipping off his genitals in order to carry them with her in her purse. It sounds like a pretty straight forward case of murder, but Christine Marran wrote in her book 'Poison Women', "Pre-war writings, such as The Psychological Diagnosis of Abe Sada (1937) depict Abe as an example of the dangers of unbridled female sexuality and as a threat to the patriarchal system. In the postwar era, she was treated as a critic of totalitarianism, and a symbol of freedom from oppressive political ideologies." Abe Sada did, indeed, inspire books, films, prints, and more, but it's also this lurking depth of contempt for accepted social mores and presiding philosophical etiquettes. And this is where we find the connections to why arts culture, tattoo culture, finds an interest and integral connection with Ero Guro.
Tattoo culture has been known to question the status quo. Not only through art, but through philosophy, classism, and inclusivity. Even now it is further pushing the conventional boundaries and widening the awareness for mass humanity on what we can or cannot do, what is and isn't possible, who should or should not be supported. It helps that the history of tattooing is drenched in representatives that are usually underground, gang or prison related; the fringes of society make up a great deal of our past. This means that ideologies of anarchism, nihilism, sexual liberation, workers movements, and the like, were all usually intrinsic from the get go. Add in the influence and cross cultural experience of several decades across several continents and you have a fusion of radical, progressive, thought pushing to the surface through the lens of many an artist who resonate with these ideals.
Perhaps another reason why this movement continues to spark the interest of tattooists, collectors, and more, is that it is an art movement that does not end, and infiltrates many aspects of revolutionary, disruptive culture. Remember that while Ero Guro has a focus on the decadent, drenched in hedonistic, deviant behavior, much of it is an embrace of not only freedom, but anti-authoritarian actions. It has been a supporter for queer and non-binary folks, just like the anime that has spawned from it. BDSM, female empowerment, the grotesque as beautiful, mental illness...it all has found a place under the vast umbrella of this particular artistic movement. Art has been used for centuries as a way to slyly critique politics and societal norms; Ero Guro and tattooing are perfect devices to implement in this way. And they both take inspiration from everywhere to fuel their creative needs. It is a never ending diversification of interest, influence, and culture within a varied array of artistic forms. 
To be sure, one should also not deny the pure aesthetic enjoyment of Ero Guro. Just as it is philosophically cathartic to create and behold, it is just as entertaining for its surreal visual take on perverse and strange behaviors. But if it resonates with you on a deeper level, maybe it's because it accurately describes visually everything you feel about the absurdity of this world and the imaginary boundaries we are all forced to suffer. 

As you can see in this collection of Ero Guro tattoos, there are tons of tattooists who love and appreciate the art movement, and the work that has been created as part of the style. Novels by Marquis de Sade, graphic novels by Junji Ito, Ukiyo-e printmakers like Tsukioka Yoshitoshi and Utagawa Kuniyoshi, as well as visual artists Takato Yamamoto, Shintaro Kago, and Toshio Saeki have all helped inspire the works you see. Interested in Ero Guro music? Of course, Visual Kei bands like Dir En Grey and MUCC exist, as well as Cali Gari, a bang inspired by the German Expressionist film The Cabinet of Dr. Caligari. Suehiro Maruo also published a graphic novel on the same subject.  If film is more your thing: Nosferatu, Kuroneko, Survive Style 5+ and many more have a lot of serious weirdness in store for you. 
But if you're just looking for some awesome anime obsessed Ero Guro tattoo nerds, look no further than Frankie Sexton, Silly Jane, Raine Knight, Savshimi, or any of the other tattooists whose work is exhibited here. It is a never ending trail of odds and ends to get lost within.