Meet the Real-Life Marvel's Red Skull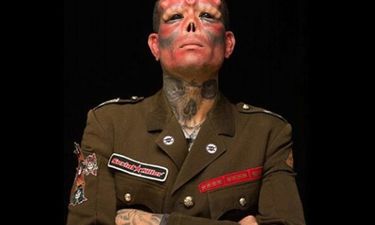 This Venezuelan man underwent years of body mods to look like a comic book villain.
Just when you think you've seen it all as far as body modification goes, someone does the unthinkable, and your desensitized mind gets blown once again. This is definitely the case with Henry Rodriguez, a 37-year-old Venezuelan family man who spent nearly $40,000 transforming himself into Marvel's authoritarian super villain the Red Skull over the course of almost a decade. 
His newfound look is extreme in more ways than one. Not only is his appearance unsettling, it has some rather sinister political connotations as well. Whatever you make of this guy's radical decision, his noseless and crimson face is definitely eye-catching and does look strikingly like the fascist comic book figure.
The fact that this man has transformed himself into the Red Skull is ... interesting, for lack of a better word. While he has captured the likeness of this super villain through the numerous procedures that he's undergone, it is a questionable visage to take on. It is important not to forget who he is and what he represents in the Marvel universe. For those who aren't familiar with him, he's the archenemy of Captain America, and he is also the ultimate embodiment of fascism in all of comic book history. Hell, he was personally trained by Hitler himself, so it makes Rodriguez's character selection somewhat questionable and a bit controversial.  
However, in an interview with Daily Mail, Rodriquez justifies his decision in an innocent manner, claiming that he's wanted to become this fearsome character all of his life. "I started this project around seven years ago," he says. "I wanted to turn myself into this amazing comic character who I've really admired since I was little." There is an uncomfortably mixed message in all of this. Transforming one's body is an act of personal freedom, and the Red Skull's figure is suggestive of oppressing such individualist expression, so it's difficult to make heads or tails out of what he trying to convey through his transformation into the villain.
Regardless of the disparity between what his appearance represents to him and the other around him, Rodriguez attests that he is quite pleased with the major lifestyle changes that he's made. "I decided to be who I am now and I feel good with myself," he says. "That's the most important thing." So far, he has had numerous facial implants and tattoo sessions to become the living incarnation of the Red Skull. He's even had his nose amputated, eyeballs colored black, and tongue forked. All this work has, for better or worse, paid off; he truly does look like the scourge of the free world now. Hail Hydra?

If you want to see more photographs of this comic book character come to life, hit up Rodriguez's Instagram, which is filled with images of him doing crazy stuff like suspension acts and more. It's nuts to see the Red Skull strung up on hooks, by the way, but it is definitely not for the light-hearted.