Mind-Bending Blackwork Sleeves by Nissaco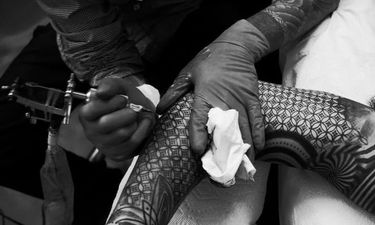 RH

This artist makes astounding body art full of geometric and illustrative splendor.
Working out of Osaka, Japan Nissaco is a world-class blackwork tattooist. His body art is so outstanding that people travel from all around the world to receive tattoos from him. His take on this dark style of tattooing is probably best described as auteur, because no other artist's work looks quite like his. He combines a rich array of complex geometry and illustrative figures in a distinctly bold way to create these pronounced and original pieces of body art. Have a look at this sample of his astounding tattoos to get a sense of just how unique his blackwork is.
What makes Nissaco's approach to large-scale blackwork so original is that he packs a wide variety of geometric figures into each one of his tattoos. Many of the sleeves showcased here exemplify how seamlessly he is able to bring together the most complicated and intricate of patterns. In these pieces, figures like mandalas intersect with more abstract and sometimes unusual sequences of shapes to generate a spectacular visual experience. The elaborateness of his bigger body art results in an sense of momentum on the behalf of the viewer, which makes them quite exhilarating to take in. Just when the eye has grown accustomed to one swath of geometry, you are trust into another series of twists and turns, and it almost feels like riding on a rollercoaster made of rod iron.
In many of his large-scale pieces of body art, Nissaco demonstrates his knack for rendering flawless and complex geometric figures in a wide variety. Throughout his portfolio, there are examples of ancient sacred geometry as well as more contemporary designs. Some of his most intriguing ornamental tattoos are the ones that create optical illusions. The way they play with perception is thrillingly disorienting. Though his purely geometric work is mesmerizing in its own right, Nissaco's pieces that unite similarly rich and bold patterning with illustrative elements are the most compelling. It's awesome when he takes classic motifs like hannyas from the Japanese style and renders them in his signature blackwork. Here there are also astounding examples of this technique, such as his sleeve featuring a person's face with an exposed brain as well as the one of a landscape with a volcano below. 
Nissaco lives and works in Osaka, Japan but, unfortunately for any of you who want some of his mind-blowing work, he's basically booked for eternity. However, you can enjoy tons of his blackwork tattoos on his Instagram, if that's any consolation.