Office X Tattoodo: NYC Tattoo Flash Pop Up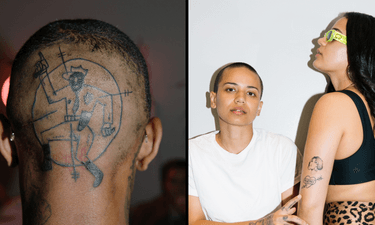 Office Magazine and Tattoodo came together to throw a tattoo flash event in NYC to support diversity and community in tattoo culture.
On September 6th, Office Magazine and Tattoodo collaborated on an incredible event that focused on celebrating the new wave of tattooing with a focus on avant-garde aesthetics and freedom of expression. 
Cake, Trash Baby, and Fuzi, who graciously gave us their time, are creative innovators who represent the best of underground tattoo culture. Bringing original tattoo styles, queer identity, powerful female presences, and people of color to the forefront, these tattoo artists have found a new visual vernacular that resonates with radical misfits. Breaking rules, creating raw authentic work, and empowering others to find their voice as well, these artists are filling a void within the industry with their singular and special approach to tattooing.
Our mission for this event was to merge the worlds of fashion, fine art, and tattoo culture, forming an awesome space where people could come together to support aesthetic and artistic diversity. Each tattooist who kindly added their craft to the pop up shared their unique perspective and life experiences in a wholly positive and uplifting atmosphere. 
Cake, who hails from Coney Island, is deeply devoted to the mission of creating safe spaces for women and LGBTQ+ folks within the tattoo community. Her style ranges from Realism, Illustrative, and clever takes on Old School icons. 
During the Office X Tattoodo tattoo flash event, Cake was kind enough to take time in between zaps to speak on her mission and hopes for the tattoo industry. "I am a queer person, I am a lesbian. I always want people knowing that because I want them to know...they're safe in my space. I always promote that my space is a safe space. You will not be judged. It's body positive. You don't need to feel awkward or weird about getting a tattoo because...my space offers something you can feel good about!"

Not only a huge part of her artistic output and tattooing philosophy, Cake and her wife are passionate about creating initiatives to empower others through community events and radical acts of kindness. Girly Only, their philanthropic organization, recently held their first End of Summer BBQ that brought family, friends, and sponsors together to give 50 kids backpacks, school supplies, haircuts, and a day of full-throttle fun. 
Donning the bodies of attendees at the event with badass Betty Boops, Playboy Bunnies, and beautiful black baby cherubs, Cake's distinct strength is not only her brilliant artistic skill, but also the incredible heart behind each act she undertakes.
Trash Baby is a trans multimedia artist who considers the tattoo art form to be profoundly transformative and ritualistic. Rather than viewing tattoos as a trend, or merely decorative, her pieces are modern armor, a sheath to protect against the trials and tribulations of reality. "The images that I make are meant to be sigils of self-love, overcoming adversity, freedom, absurdity, and intimacy." 
She's known for gripping large format illustrations on skin that depict car crashes, abstracted bodies, and guileless landscapes. Each piece is drenched in a palpable sensitivity; they can emote the feeling of freedom when escaping to far off lands, the ecstasy of laying in a field of flowers, the quiet desperation behind deep desire, the despondency of living in absurdity. 
"When I'm tattooing people I want them to be present with themselves. I want it to be something transformative..." It's basically her calling card: work that makes the body bare through honest and bold expression. And the extremely powerful pieces Trash Baby created while at the Office X Tattoodo tattoo flash pop up are perfect epitomes of that. 
Among some of the smaller flash pieces, she also inked a tramp stamp cigarette bodied butterfly touting "Cunt Mafia" on the illustrious Contessa and a bold scalp piece on Jacuzzi of a cop caught in the cross hairs. "I made a cop being shot on the back of someones head. Which is, like, huge. And I hope that by making that for them they feel strongly enough to wear that courageously. Cuz I think it's courageous to have that tattoo."
Fuzi began his aesthetic expression using graffiti and street art as creative outlets. He soon turned to tattooing, creating the Ignorant Style that has become a worldwide phenomenon. He wasn't looking to revolutionize the industry...he simply produced a channel for artistic elucidation that he wasn't finding anywhere else. 
Using his background in bold linework, blockbuster lettering, and comic book influences, his Ignorant style is far from being ill-informed. During our interview, he said, "I started tattooing 14 years ago...my references were graffiti in the very beginning in New York City, like in the 70's, something really naive. And I just put this word on it: it's 'ignorant'. Cuz everybody was telling me, 'Oh, you don't know how to draw.' So, I said...'Okay, you think I'm Ignorant? Fine. I'm ignorant...it's the ignorant style."
Cool cats wearing Cholo Locs and weilding spray cans, palm trees in paradise, uzi's, karate chops and middle fingers, Fuzi's flash for the Office X Tattoodo tattoo event was indicative of his playful nature. Still heavily involved in the street art scene, Fuzi's an intermedia artist who rejoices in the use of technique and medium to have fun while rejecting the norm. "Graffiti you make zero money...and when I started tattooing, it was the same. It wasn't ever for money. Your goal has to be: try to do something different. Try to express yourself. And this is the most important stuff." 
His down to earth personality makes Fuzi an approachable legend who loves his community, and only wants to give back what he's been fortunate enough to get. Rejecting the exclusivity and intimidating ethos of the old tattoo industry, he's super supportive of other artists, events, and organizations that are broadening the essence of what it means to be a significant part of tattoo culture. 
Our deepest thanks to the artists, Cake, Fuzi, and Trash Baby, as well as everyone who attended. Our thanks also to the production team, as well as photographer Colby Edwards who so eloquently captured the friends and fam who were present.