Skindigenous: Tattooing Through Indigenous Eyes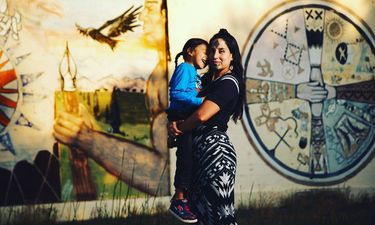 BP

What's it really like to be Indigenous, female, and an artist in 2020? We asked a group of fierce women.
Tattooing is a long-standing tradition for many of the world's Indigenous communities. Seen as a connection between the physical and spiritual worlds, each precious marking holds its own special meaning. While some may ensure your safe passage into the afterlife, others can validate your status in the community, serve as protection, mark a coming of age, and more.
Teaching the public about this rich Indigenous tattoo history is the mission of Skindigenous. The documentary series, which is now in its second season and already filming its third, explores various traditions from around the globe.
For Season 2, producers interviewed a number of fierce female artists from North America to North Africa and beyond. So what is it really like to be Indigenous, female, and a tattoo artist in 2020? We posed that very question to tattooers Stephanie Big Eagle (a nomadic artist with deep Yankton Sioux roots) and Audie Murray (a Métis artist from Saskatchewan, Canada), as well as directors Angie-Pepper O'Bomsawin and Sara Ben-Saud.
What role does tattooing play in preserving and reclaiming your heritage?
Stephanie Big Eagle, who was born in Hawaii and now travels all around the US, didn't truly connect with her Indigenous heritage until she was 23. Her journey began after she sought out her estranged father on the Yankton Sioux Reservation in South Dakota. While there, she felt an instant connection to her roots and, these days, she's using her art to reclaim her heritage — and as a powerful activism tool.
"I see the fact that I am even alive and am tattooing as a symbol of resilience," she says. "Through the era of colonialism our tattoo traditions were one of the first practices to be targeted and nearly eradicated through the generations of physical and cultural genocide that all Indigenous Peoples still endure."
It's one of the reasons why she refuses to switch from hand-poke to a Western machine, even when it can be incredibly tempting. "I have considered using the machine quite often, especially when my hand-poke sessions last throughout an entire night or when my hands are so worn out from a grueling session that I have to pry them open," she admits. "However, I feel an immense connection with my ancestors by continuing to remain a hand-poke artist."
That connection drives everything she does. "I believe that our tattoos connect both the physical and spiritual worlds," she explains. "I always ask for the blessing of both of our ancestors, or our relatives, when doing so. It is key for me to ask for permission and to speak our intentions to them, so I begin each session by speaking [with them] aloud."
Sara Ben-Saud is a Canadian-Libyan-Tunisian filmmaker who documented traditional Amazigh tattooing in her native Tunisia. She may not be Indigenous herself, but her experience in North Africa taught her the very lesson Stephanie is trying to teach the world. "What I find amazing is that every tap of the skin represents being one step closer to decolonization," she muses. "For them to take over the revival of this art form means that they no longer want to be in the shadows. Those traditions belong to them and so many times colonizers tried to take it away. Every tattoo helps them reclaim what's theirs and that's the beauty of it."
It's not always easy, however. "The largest challenge within the Indigenous tattoo community is reclaiming something that hasn't been actively practiced in a very long time," says Audie Murray, a multi-disciplinary artist who works with Cree and Michif visual culture. "It is a lot of work, a lot of research, and a lot of trust."
Stephanie, your thunderbird design is proof of the powerful role tattooing can play in activism. How did that design become such an integral part of the Dakota Pipeline protests?
"I created the Standing Rock Tattoo, or the thunderbird design, to be imbued with the deep connection I hold as a descendant of the Oceti Sakowin or the 7 Council Fires of the Lakota, Dakota, and Nakota Nations because it's upon their ancient homelands and water that the Dakota Access Pipeline was being forcibly placed," says Stephanie of the design that was initially tattooed at a fundraiser supporting the Dakota Pipeline protests.
"I chose the thunderbird who is the bringer of rain to the Great Plains. Without the thunderbird, we would not have water and without the lightning that comes from the thunderbird, we would not have life," she explains, adding, "Furthermore, the thunderbird is known to attack those who have wicked intentions with bolts of lightning shot from its eyes."
There was also an even deeper meaning ingrained in each tattoo. "I asked the thunderbird to protect those who wore the design from the violent onslaught of the soldiers and DAPL mercenaries," she reveals. "The design ended up bringing thousands of people together all across the world, from the artists who tattooed it, to the people who wore it on their skin, to those who drew it on their clothing and painted it on flags. It became a symbol against oppression, tyranny, corruption, and greed."
What is one tattoo tradition unique to your Nation that you're trying to save?
While similarities between various Indigenous tattoo traditions run deep, each Nation also has its own set of customs when it comes to ink. For Stephanie Big Eagle, discovering the markings that were most sacred to her community was a major passion project. "I spent years searching for any evidence of my tribe's traditional tattoo culture," she reveals. Her search lasted for over a decade until she "finally found evidence of the simple facial markings amongst select Dakota and Lakota women."
"From what I have seen, select women from our tribe would have simple lines or circles that extended down the chin, from the eye to the temple, or above the eye to the forehead, which signified their position or status in the tribe, as well as their dedication to an honorable path in life," she explains. "As soon as I realized this, I took on my own facial markings in the summer of 2016 to celebrate and revitalize this tradition in my own way."
For Audie Murray, it's all about preserving the skin stitching native to her Nehiyawak lineage, which used to "practiced by many Nations across Turtle Island." Opening up about the unique needle-and-thread technique, she notes, "To think of how this act of expression was not able to be widely practiced for generations, I realize the importance of its resurgence." So how does it work? "The needle goes under the skin to create a sort of tunnel, then the thread pulls the ink through. Nothing is left under the skin except for the deposited ink. It's kind of like sewing."
Another female artist working hard to preserve her tattoo ancestry is New Zealand's Pip Hartley. She's the focus of an episode written and directed by Angie-Pepper O'Bomsawin who hails from the Abenaki First Nations in Quebec, Canada. While documenting Hartley's Māori Tā moko traditions, O'Bomsawin witnessed the chin tattoos' transformative power first-hand. "While we filmed, it's hard to explain what we witnessed," she recalls. "It felt like an entire transformation took place and there was a spiritual shift in Jade, [the mother of five being tattooed]. It was like she came in as one person and then became the woman she was always meant to be."
What are the biggest misconceptions about Indigenous communities in 2020? And how can we all work towards eradicating them?
"In my experience, it is that we no longer exist and/or that our sacred items, traditions, and ceremonies are for sale," says Stephanie Big Eagle. "I just left a community called Sedona, Arizona. Just over 100 years ago, it was home to the Yavapai Apache who were forcibly removed and placed on reservations. This land was once considered so holy that tribal people, even from far north and south, would travel to the land to hold ceremonies."
"Today, there are hardly any indigenous people to be found in Sedona and yet, the images of Native people, along with their sacred items, like pipes, headdresses, and sacred medicines, are sold for exuberantly high prices by non-natives," she continues. "Our way of life and our sacred ceremonies are not for sale. We are still here and it is time that our voices be heard."
"There is a big misconception that we are living off the backs of taxpayers," adds director Roxann Karonhiarokwas Whitebean, a native of the Kahnawake Mohawk Territory in Quebec, Canada. "The reality is we do not receive adequate financial assistance for education or child and family services in Indigenous communities. Indigenous people are educated and make positive contributions to the world and I feel like women are taking the lead on this endeavour."
Unfortunately, it's no easy feat, especially as a female. "I am constantly being told that I have to create films in a way that a multicultural audience can understand, so I usually have to cut Indigenous language to a minimum and refrain from being too political," says Whitebean. "As a young Indigenous female director, I also have to maintain a healthy relationship with my community and respect the protocols that are put in place. There have been times where I believed in a story, but my community did not share the same sentiment, so I have to use the platform I have been given in a responsible manner — this can be challenging."
"A great first step is to know what nation's land you live on," concludes Audie Murray. "For example, I live in Victoria, Canada, so this city is unceded Lekwungen Territory. A friend of mine, Samantha Marie Nock, has put together this amazing resource list to help you learn more."