Skinvertising: The World of Human Billboards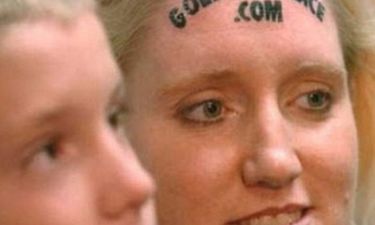 People can get creative in the dire need for cash is in the equation. Some people strip, some people do drugs, but some people get inked.
We can't blame these guys. They have their reasons. It's not like they got PornHub.com in font size of 20 because they lost some stupid bet.
Just as much as what people would do for cash, companies would do for brand exposure. In the early 2000's, when the rage with tattoos are heating up and tattoo laws are just as heated, the internet is both a pretty scary and fascinating place to be in. The rise of dotcom companies and how everyone seems to be buying their own domains gave birth to advertisement stunts like tattoo ads. This is how it usually works: either you offer the company a space of your skin for advertisement in exchange for a certain amount of money, or vice-versa and you sign a contract where the terms and conditions are indicated. Welcome to the club.
Billy the Human Billboard aka "Hostgator Dotcom"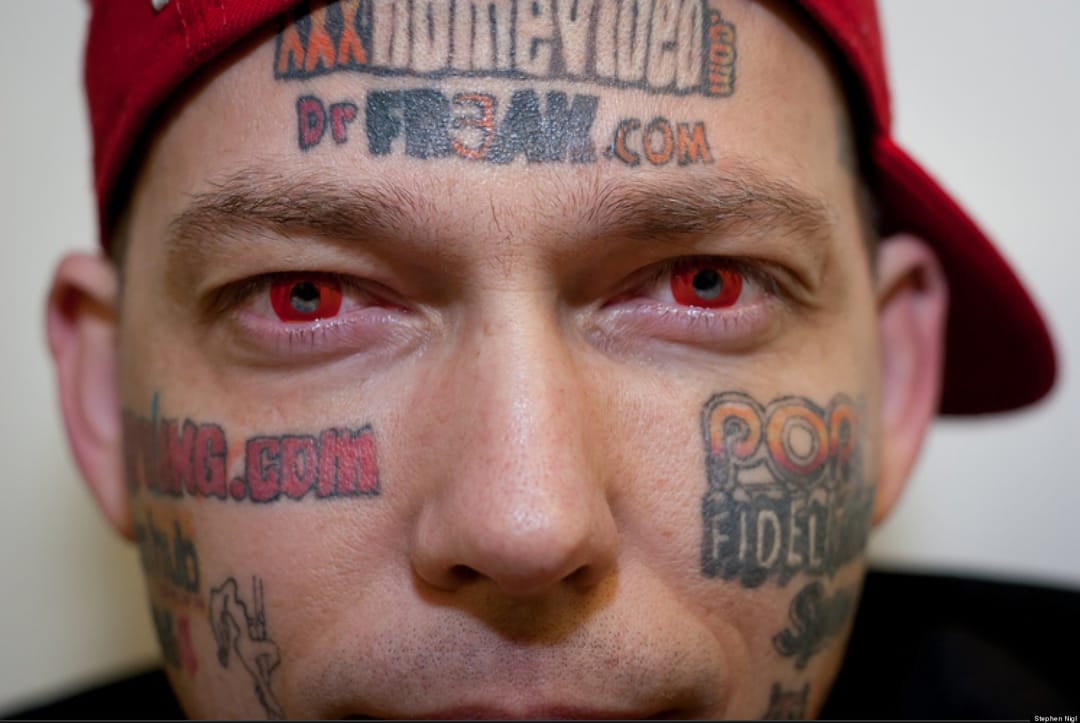 Billy is one HostGator.com's skinvertisers. Aside from HostGator, he also has a number of other websites, mostly defunct, tattooed all over his body.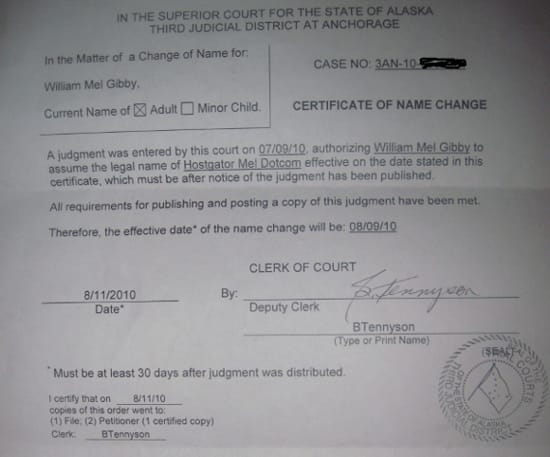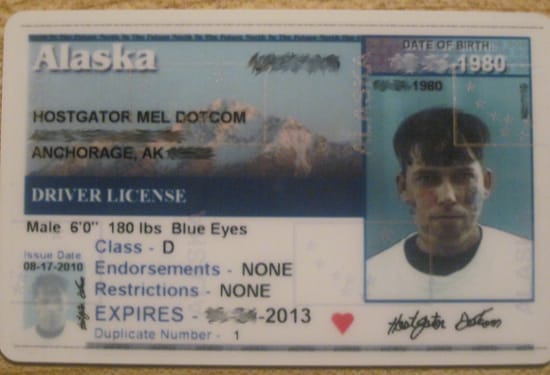 Not only does he have HostGator.com tatted on him, he has also legally changed his name to 'Hostgator Dotcom' in 2011. It reportedly cost the company $15,000 for this unusual advertisement stunt.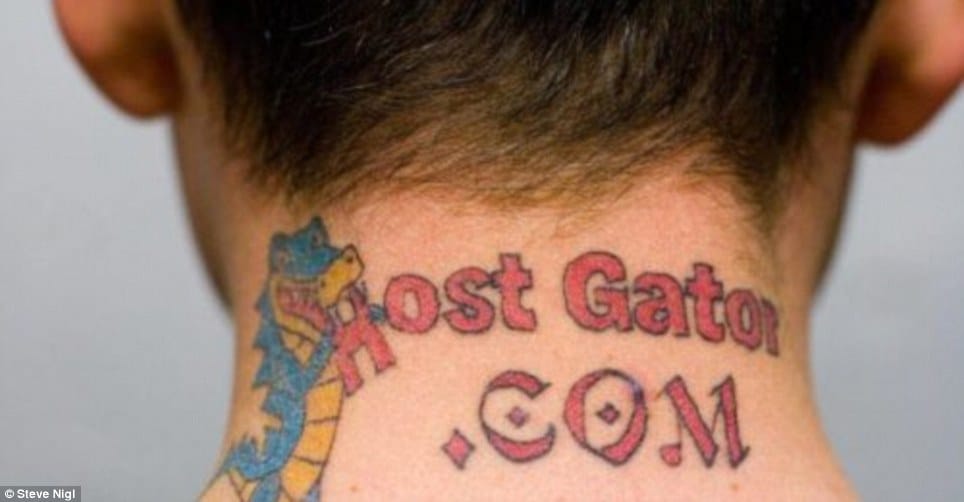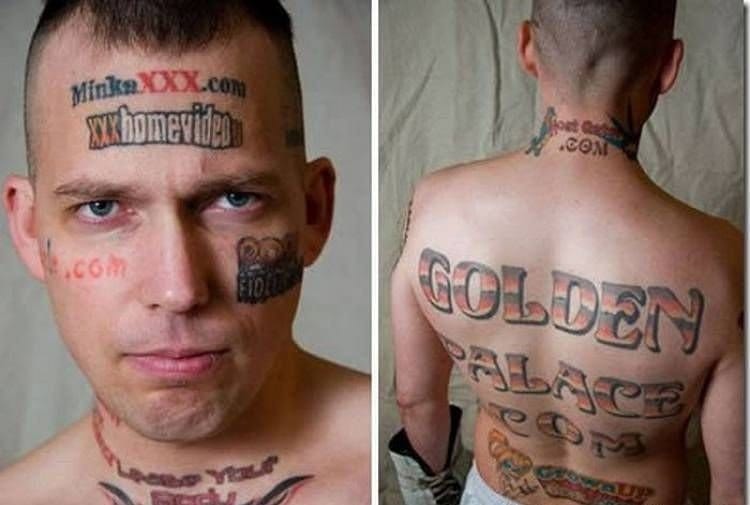 The company logo face tattoos started at $4,000 depending on the size. And before you can even mouth 'dumbfu**' (if you haven't already), let me say that this man has a wife and five kids. And what if he's got a wife and kids? Well, around the time before he sold some space on his skin in 2007, was when he lost his job and received an eviction notice. While some men would jump at the chance of delving into a life of crime, even to support their family, Billy wasn't one of them. Just the thought of his kids being homeless scared the daylights out of him. And that's how it all started.
He then began sending emails to websites who would be willing to get their pages advertised through face tattoos. A few accepted his proposal, and several contracts later, he is then who was known as Billy the Human Billboard. This is all contrary to the alleged human-trafficking claims.  All he is, beneath the explicit urls and ad tattoos, is a family man who's down for anything for his kids. He's also a law-abiding citizen who just won't cross the legal lines and chose other ways to make money to fend for his family. By only taking a good look at the face tattoos, many will never know about the man beneath it who likes talking about humanity and his love for the Patriots.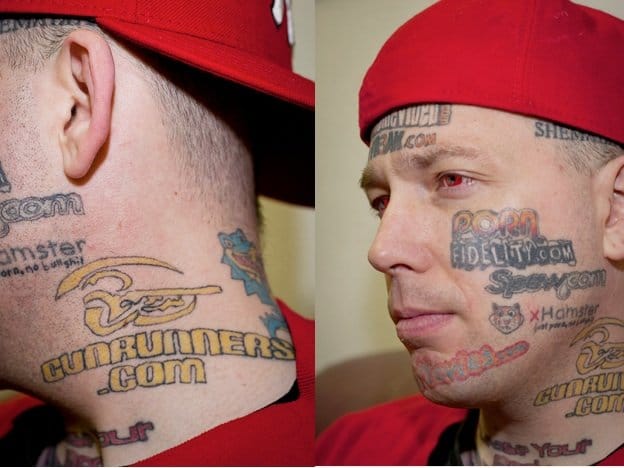 In 2013, Dotcom began funding for the laser removal of his face tattoos by auctioning off more space on his body for advertisements. He has since then was able to successfully remove most of his face tattoos and is living a quiet life in Alaska with his family.

In a follow-up Tattoodo article, Billy/HostGator talks about his experience as a skinvertiser.
Mark Greenlaw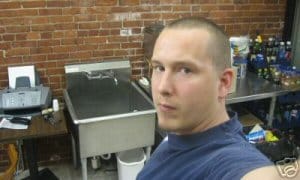 Like Billy, Mark Greenlaw also has to make the decision to make some use of a clean space of skin to support his young family. He auctioned off a space on the back of his neck for a permanent advertisement on eBay. And that's how DefyingGravity.com ended up on his name.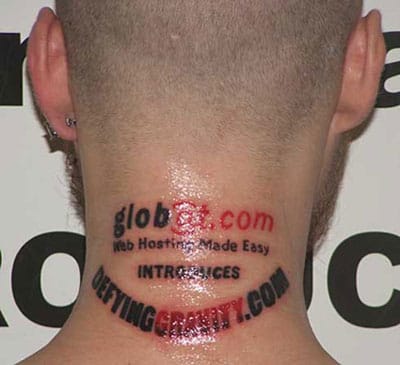 "I am doing this auction to help support my family and if it takes a little pain and a logo on the back of my neck to do so then I will do it."
Jim Nelson
Jim is the first skinvertiser, back in 2003 when CI Host, a large Texas-based hosting company, paid him $7,000 to have their logo tattooed on the back of his head for a contract of five years.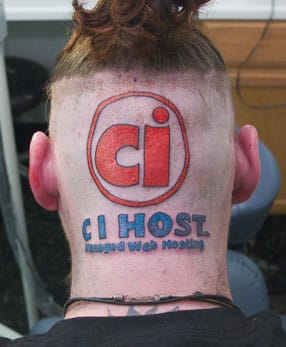 It worked well for a few months; site traffic increased and sales upped a bit. Unfortunately, the company didn't last as long as their contract did. So Jim spent a couple more years walking around with the CI Host logo on the back of his neck before he can finally be able to remove it legally.
Kerra Fowler

This radical mother of four has offered her skin for anti-Bush and pro-Kerry during the elections in the reign of George W. Bush. She started her bid from one cent to  "your anti-Bush message tattooed on my skull, starting bid $10,000" and "Tattoo My Head For Kerry/Edwards, starting bid $30,000". To Kerra, her reasons are simple: she wants this to be a sign of protest and standing for her beliefs.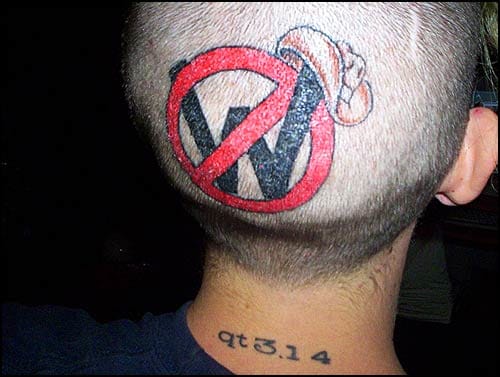 According to Kerra in an interview with
BME
:


"Kerry may be Satan himself for all I know, but I'd rather have that than Bush bombing weddings and calling himself a Christian. I'm an anarchist... The auction was more about making the point against money than it was about politics, but few people understood that."
Karolyne Smith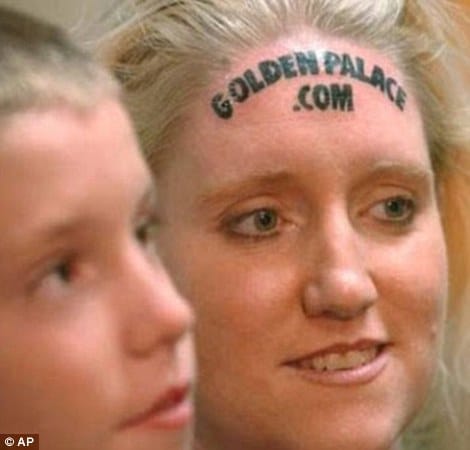 In this case, it's a mother who took action for her kids. In 2005, Karolyne Smith (now Williams) decided to let the notorious GoldenPalace.com pay her $10,000 in exchange of tattoo ad on her forehead. It's all for her kids' schooling. Now, it's no longer a surprise for GoldenPalace.com to take part in some crazy advertisement stunt like this, like the time they paid a woman more than $15,000 to have her name changed legally to Goldenpalacedotcom. As for Karolyne, the odd ad job definitely helped in paying for her son's private school education.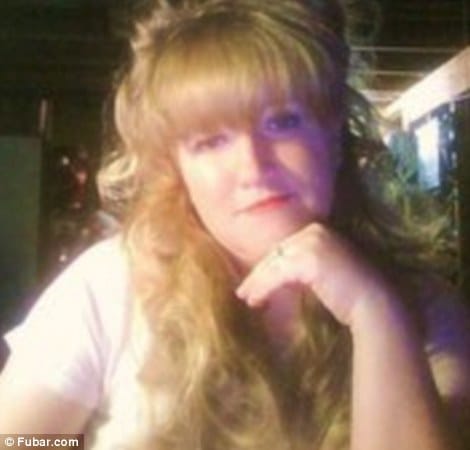 She has since then worn her bangs long, to cover up the advertisement tattoo.
Joe Tamargo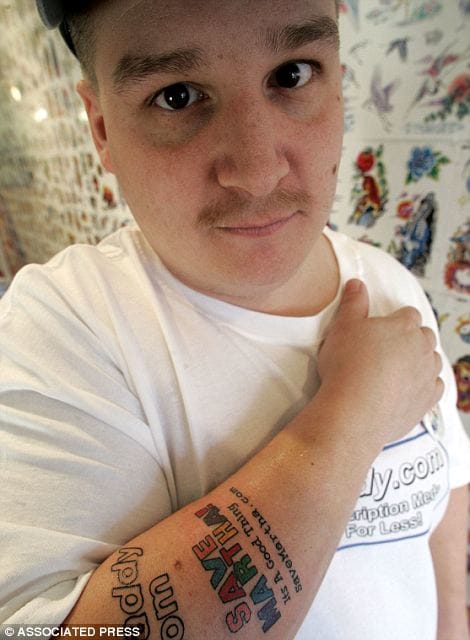 Joe Tamargo of New York is probably among the highest-paid skinvertisers during the tattoo ad boom in the industry. He has reportedly earned more than $200,000 from all the tattoo advertisements of almost 20 companies.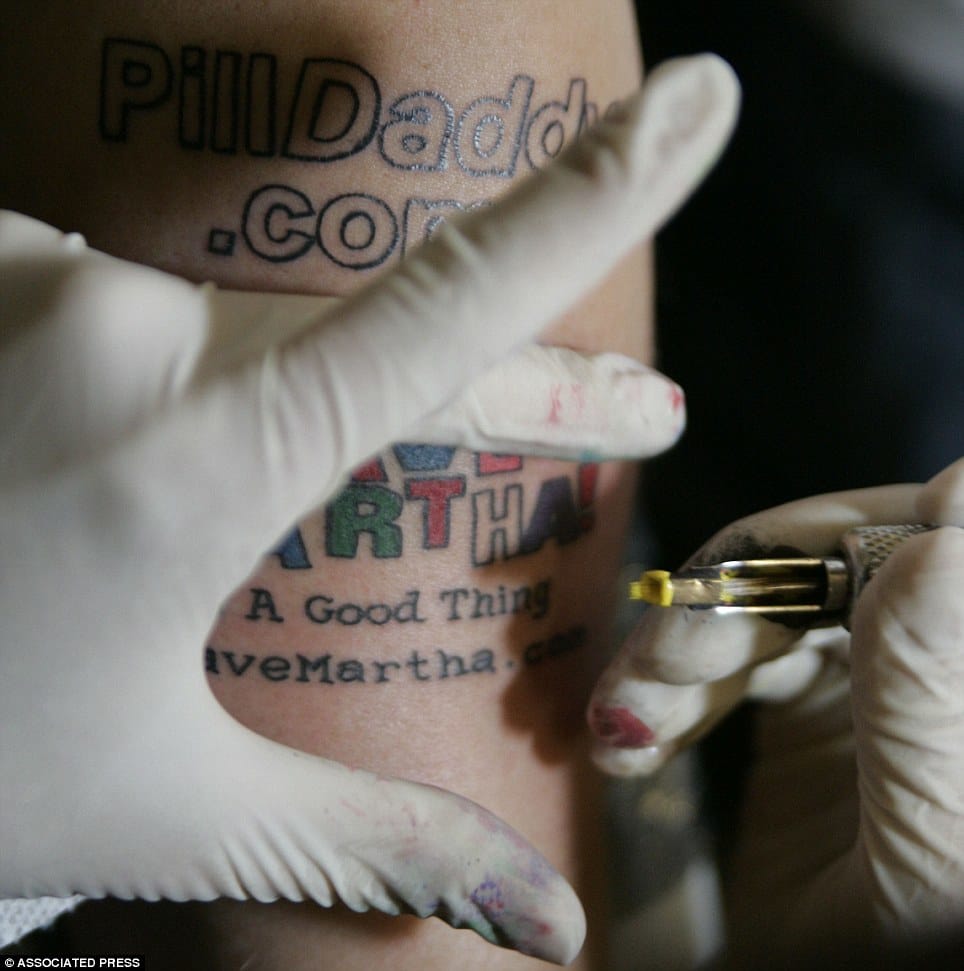 One of the most known tattoos Tamargo has is the FindMartha.com, dedicated to keeping Martha Stewart from prison. That was then, since Martha Stewart has been free for quite a time now. He has a collection of ghost websites, which he shares in a
Buzzfeed
interview when people are being curious with his tattoos,
"When I tell them the story, they're like, 'Yo, that's pretty cool. I'm going to check out those websites,'" adding, "And then they get there and there's nothing on the website."
Other Company Stunts GoldenPalace.com has done it again, with temporary tattoos this time. They offered to pay for skin space that would definitely grab the attention. Angel Brammer heard about this and auctioned off her sized 42GG breasts for ad space. The deal was sealed withd £422 (US$681).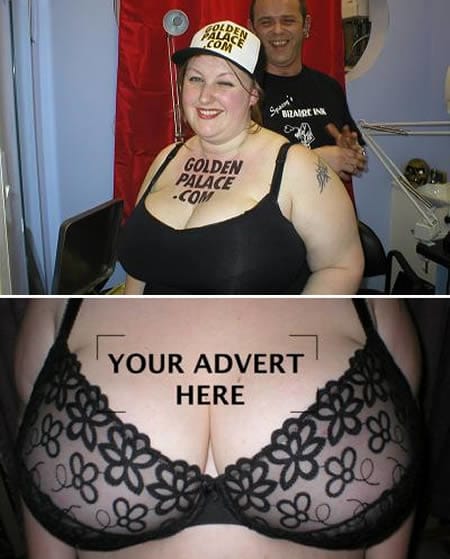 Among the others is athlete Bernard Hopkins, who has made around $100,000 with the GoldenPalace.com skin ad plan. Casa Sanchez and Good Year Tires also made skin ad offers to customers and employees in exchange of free burrito and free tires.
There will always be those ignoramuses who probably still think judging a book by its cover only has something to do with their book-buying habits. Some people would just never be able to see past the PornFidelity.com and would find it easier with their shallow reasons to wave it off as 'idiotic' and 'dumb as fu**'. Of course, it sounds ridiculous in every angle, but it only proves how these guys would go into ridiculousness if it's for their families or a good cause. Not everyone is willing to make that sacrifice, so here's our cheers for the noble human billboards of the 21st century.