Stef Bastian Presents: Front Line Art Auction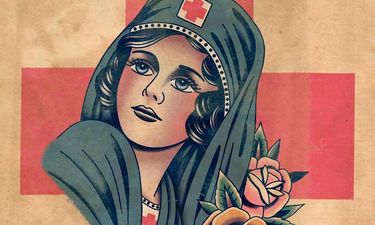 JM

Bringing almost 300 artists together for a cause, the Front Line Art Auction will raise funds for hospitals around the world.
No stranger to bringing people together in incredible efforts for important causes, Stef Bastian's latest project is the Front Line art auction. Almost 300 artists around the globe will be donating artworks in hopes of raising funds for hospitals struggling to cope with the devastating demands that the coronavirus has created.
Front Line Auction Details
When: Saturday, April 11th, 2020
Where: https://www.stefbastian.com/auction/
Who: Produced by Stef Bastian in collab with almost 300 of the worlds greatest tattooists 
What: Paintings, prints, shirts, tattoo machines, ceramic sculptures, and more
Though Stef has often developed events to encourage relief for a diverse set of social concerns, he feels that the COVID-19 pandemic proves even further why this type of work is so critical. "Now like never before, the series of charity projects I've been creating yearly is needed. This is why they were born in the first place. To put the skills we worked so hard to develop at the service of those in need."
 
Although most people have spent a good deal of their self-quarantine time keeping up with the latest of coronavirus news, the reports of dire consequences for hospitals internationally affected, is only just beginning to see mass coverage. The constant onslaught of patients is taking a toll on resources, including the hospital workers themselves. Protective equipment for staff, such as masks, is becoming scarce as well, sparking fears that there will be no way to save nurses and doctors as they attempt to save others. In an article covering Spain-based clinics, "Government figures have revealed that Spanish healthcare workers account for nearly 14 percent of the country's cases. Three-quarters of nurses on Dr Lopez-Contreras's team have contracted COVID-19 and are in self-isolation...thinning ranks of doctors and nurses in Spain and in other affected countries are hampering the ability to fight the pandemic, straining hospitals and raising fears that health workers are also spreading the virus."
The problem is, obviously, international. As the New York Times reported, there are many aspects to why this is happening spanning from a slow response to the initial outbreak to the simple lack of emergency epidemic protection gear. But regardless of any lack of resources, the death toll continues to rise. "In Madrid, the focus of Spain's outbreak, so many are dying that bodies are being placed in an Olympic-sized ice skating rink that has been converted into an emergency morgue." The seriousness of this worldwide issue, the hopelessness and anxiety it has caused on so many levels, makes it even more vital to come together in positive and empowering ways. Thankfully, Stef Bastian is a master at organizing helpful projects and imparting beneficial advice, "If I learned one thing from the past two years, is that when this collective of elite professionals act as one we can accomplish incredible things, especially in hard days like these."
This is where Front Line comes in. Just scrolling through Stef Bastian's feed, you can see how many artists are so willing to donate their craft and artistry in a way that will deeply benefit others. Among those involved are, as Stef puts it, "pillars of this industry such as Tim Hendricks, Paul Dobleman, Juan Puente, Robert Atkinson, Chad Koeplinger, Valerie Vargas, Timothy Hoyer, BJ Betts, Alex Binnie... and the list goes on." And amidst the many gorgeous paintings and prints, there are tattoo machines from Thad Ritchey and Martin Pintos, a shirt from the Lyle Tuttle collection, and one of a kind porcelain creations by Rose Hardy and Tobias Debruyn. Creativity is a place where cathartic change can occur; this project beautifully blends several art forms, techniques, and artists with collectors, clients, and tattoo fans all over the world in one united goal: to give back.
How the Auction Works
The auction will take place virtually starting April 11th. Stef Bastian will be posting links on his socials so that people can easily bid on the piece of their choice. Once the auction has been completed, Stef will personally contact each winner with instructions for direct payment to hospitals and charities. Keep in mind that an added fee of 25€ will be added onto the final amount in order to cover shipping fees. Stef has also asked that winners be patient in receiving their purchases due to shutdowns across countries. Remember that this is not only about collecting a unique work of art, this is also about aiding the thousands of hospital workers who are doing their best to keep us alive and well.
Inspired by the power of connectivity within the community, Stef Bastian hopes that bidders will remember that, "As a collective of artists, with each and every one of you that will support this initiative, we will stand up to support the real life heroes, those fighting in the front lines through testing days and sleepless nights. First responders, doctors, nurses and all healthcare specialists. We thank you for your service and with this we want to say: you're not alone."
Make sure to check out Stef Bastian Presents for the latest works of art and for the art auction link on Saturday, April 11th.