The Arts of Subversion: Underground Art in Tokyo, Japan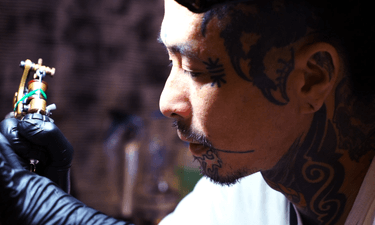 JM

We check out illegal tattoos in Tokyo, Japan, the erotic art of Japanese rope bondage, Shibari, and two sculptors who work with their materials in unique ways.
A short film dedicated to exploring avant-garde and radical art forms, this episode of The Arts of Subversion traverses the landscape of underground culture in Tokyo, Japan. We meet four artists whose significant work pushes the boundaries of legality and social convention: a tattooist specializing in yokai designs, two sculptors who both work within the realm of death and spirit, as well as a Shibari, rope bondage, artist. The philosophies of each creator are shared in their words accompanying beautiful shots of their pieces and working space. Lovers of subversive and radical culture will be shown a unique facet of Tokyo's creative voices.
Ganji is an incredible tattooist; his yokai pieces are so compelling. It was unreal to meet someone that I've admired for such a long time, and to be able to collect a tattoo from him as well. He is such a kind, sweet, thoughtful person, as are all the people I met at Three Tides; the experience is one I will always hold dear.
What began as a hope to explore tattooing deeper, The Arts of Subversion evolved as a way to focus on people who define what it means to be an innovative creator. Often it's through their earnest loyalty to expression in its most authentic terms. Ganji is a perfect example of someone who, regardless of what is mainstream or on trend, has an inner momentum to create. That sort of tireless motivation is so fascinating to me: that each of these artists, no matter what material they work with, are so thoroughly dedicated to what they do. Their world perspective is perfectly captured so that others can view it; it's powerful, beautiful and inspiring.
A sculptor who often works with bones, taxidermy, and the parts of dolls, Midori Hayashi creates work that, for me, is an embodiment of the Shinto idea of Kami. Kami can be deities, effigies, or even landscapes, animals...but, in essence, it denotes a spirit. Midori's creations have a presence so strong, that you almost feel as if, in a moment, they could turn, look at you, open their mouths and say something.
Her philosophies are just as dynamic as the pieces she makes. Although many of her artworks seem like innocent depictions of fresh faced dolls, they are inherently brutal...taken to pieces and built into something else. The poignant and poetic purpose behind these sculptures is something she can easily elucidate...it's clear that she thinks about these things, imbues a soul, and has a conversation with the work, so that it can directly speak to others.
Also a sculptor, Tokyo Jesus was kind enough to invite myself and Nao, the project videographer, into the home which he and his wife, Eimi Takano, designed and built. The first story is dedicated working space: their studios each on one side of the room, indicative of the commitment to their craft. I think that's one of the most important things I took away from these artists: creating, making things, is about mindfulness.
When I asked Tokyo Jesus what kind of music he listens to while working, he mentioned that when he eats, he eats. When he listens to music, he listens to music. When he works, he works. There is a wholehearted concentration to his output, without distraction, that is part of what makes each conception so direct. He spoke of the Shinto Kami in all things...how each part of his sculpture, be it a rock or a piece of chain, has a spirit, and it is fulfilling its duty by being itself; it doesn't try to be anything else. Just like an artist, with a soul objective, is filling his own duty. It is a singleminded goal, a meditation, to produce these visual expressions.
He's worked with celebrities like Brooke Candy and big companies like Nylon Magazine, but Hajime Kinoko isn't only celebrated for his prodigious ability to make the underground accessible...it's his inclusivity and depth of understanding for his art form. He has taught his techniques worldwide, and continues to produce events, as well as works of art, that show how beauty flourishes under the intention of honesty.
The only way I am able to describe the sensation of perfect intimacy during our tying session, is that it felt as though Kinoko was reading my mind. His whole ethos of using rope to communicate and to enhance the natural allure of others is supported by his integral empathy. He deeply wants everyone, not just those with strong affiliation to the underground community, to be able to enhance their lives with expression, freedom and understanding.
The Arts of Subversion was an official selection of the New York NewFilmmakers line-up, held at the revered Anthology Film Archive. The film also won Best Short Documentary at the Los Angeles International Underground Film Festival.
I hoped The Arts of Subversion would be another medium to support artists, and there are no words for how magical the adventure was. My deepest thanks to Nao Wao, videographer, for capturing these moments in such wonderful grace and harmony with my own vision. Thank you also to Torrey McDannald for the soundtrack and Kayo Mimura for translating.
Deepest gratitude to the artists involved who invited us into their sanctums to share their passions, their philosophies, and their incredible works of art.