The Tattoo Fan Club: Exhibiting Art for Charity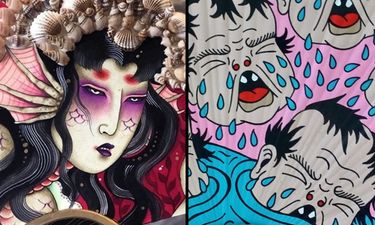 This year at the London Tattoo Convention, Stef Bastian puts together another tattoo art show that raises funds for charity.
THE TATTOO FAN CLUB - September 27th, 28th, and 29th 2019 at the 15th London Tattoo Convention
- - - - - - - - - - - - - - - - - - - - - - - - - - - - - - - - - - - - - - - - - - - - - - - - - - - - - - -
The tattoo community is a place full of people who love to come together for a great cause and Stef Bastian certainly knows how to bring a crowd! Last year at the London Tattoo Convention, Stef decided to create a project that would harness the passion of the industry for a brilliant purpose. "I always keep in mind the importance of giving something back to the industry that gave me so much, I think it's fundamental in order to keep a grateful attitude, to value what we have and to work towards making this craft grow for everybody's benefit." Working with Miki Vialetto and 66 tattoo artists, including Tattoodo Ambassador's Chris Garver and Delia Vico, Stef was able to raise over $18,000 for the organization Save the Children, a foundation dedicated to giving children around the globe the support they need to have a healthy and happy life.
This year will be similar. Stef Bastian will be bringing together over 200 tattooists who will be donating a work of art to this stunning exhibition.
For this particular art event, Japanese paper fans, traditionally called Uchiwa, have been decorated by a number of artisans around the globe who are integral to the tattoo community. Each finished fan will be exhibited during the convention, so that guests can pick out their absolute favorites. The auction will then take place on Stef's website, with all proceeds going directly to charity. "This year I wanted to change and it felt right to choose Operation Underground Railroad. Somehow my charity efforts gravitate towards children and this charity takes care of the whole process, which I found very proactive. Plus, while in New Zealand last winter, I met someone that worked for them in Cambodia and guaranteed the transparency of the association."

Operation Underground Railroad takes pride in being able to not only rescue children from horrific circumstances, but they also make sure to follow through with each child to make sure they are placed in safe hands. "Since being founded in 2013, we've gathered the world's experts in extraction operations and in anti-child trafficking efforts to bring an end to child slavery. O.U.R.'s Underground Jump Team consists of former CIA, Navy SEALs, and Special Ops operatives that lead coordinated identification and extraction efforts. These operations are always in conjunction with law enforcement throughout the world. Once victims are rescued, a comprehensive process involving justice for the perpetrators and recovery and rehabilitation for the survivors begins."
The amount of artists involved with the project this year shows exactly how powerful we can be if we come together with the intention of helping others less fortunate with art. "I felt...there was the need to remember where the basis of this industry came from and to whom we should be grateful to. With the belief that it's important to be aware of the roots, and not just look at the fruits, this exhibition will celebrate gratitude and traditions. Therefore, each participant will pay homage with their painting to artists of the past which contributed to paving the way. Certain values keep getting diluted and this collective of highly talented, experienced and motivated artists wants to take a stance through inspiration, especially for the younger generation. I would also like to personally thank our sponsors which helped to make this possible: Dermalize, the revolutionary aftercare film, and Emma Kierzek's Aurora Tattoo." Along with the sponsors, the tattooists involved include Tattoodo Ambassadors Vale Lovette and Miss Juliet as well as creative powerhouses such as Raphael Tiraf, Ichi Hatano, Craig Chazen Boxcar, Stu Pagdin, Steve H Morante, and many more.
As one could expect of the famed London Tattoo Convention, this exhibition produced by Stef Bastian brings together the highest quality of fine art tattooing, extremely devoted and passionate artists, as well as the people of the tattoo community who are committed to making the world a better place. Not only does this art exhibit show thanks to those who came before us to make our industry what it is today, but it also shows how grateful we are to be able to connect and give globally through this dynamic and influential art form.