'The Tattoo Shop' Artist Spotlight: Katie Gray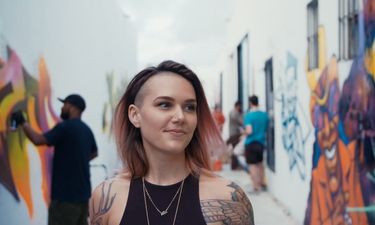 Ta

In this artist spotlight for 'The Tattoo Shop' we take a look at the life and times of Katie Gray.
In Episode 5 of 'The Tattoo Shop' we meet Katie Gray, an incredible Traditional tattoo artist from Chico, California. A firm believer in inclusivity, a constant goal of Katie's is to stem the tide of elitism in tattooing. "I care a lot about blue collar workers in the middle class and being able to provide an art service to people who couldn't attain it otherwise, that deserve to experience art as well." Although a California native, she lived in New York for years and worked as a resident artist in the well known mainstay, New York Adorned. With Adorned closing its doors to tattooing, Katie has decided to move back and forth between two of her favorite cities: New York and San Francisco, while also traveling in between.
Tattooing wasn't her first life trajectory. At first she was deeply interested in the fine art world, specifically sculpture, but her plans didn't turn out exactly how she envisioned. "I got out of graduate school with a masters in fine art in sculpture but after receiving a blow, being kicked out, I decided that tattooing wasn't going to be that challenging. I was wrong. It's extremely challenging. But what tattooing gave me that I didn't find in fine art is a community of people making art, connecting with clients more so than the fine art community." While continuing to evolve her style, her interests, and her skills she makes sure to acknowledge those that came before to build the foundations that support her work. "I have, myself, attached to an older generation of tattooers. Though my work is still an expansion on the things they've built, I don't honestly feel it can be fully successful if you don't learn the lessons that tattooing is meant to teach you."
And while Traditional may be her modus operandi, she's constantly developing and progressing. "I get so bored with just replicating. You know, even Traditional style tattoos I adore and I thrive off of but there's like this filtering process that goes through my brain where I just have to make it weirder. Replicating images I feel like I just get lost." Looking at Katie's work it's very clear that she's gleaned the knowledge to make tattoos that last a lifetime, and have a definitive personality all their own.