Top Tattoo Artists in Canada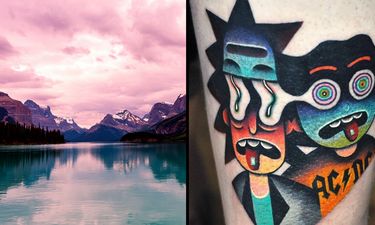 JR

Written by
Jennifer R Donnelly
Searching for the perfect artist to design your next tattoo? Look no further, as we guide you through our carefully curated list of the top tattoo artists in Canada!
If you've been looking for the top tattoo artists in Canada, you've come to the right place! Finding the right artist to create your piece is often the hardest part of the tattoo journey. To make things a bit simpler, we have compiled a list of our favorite top-rated tattooers in Canada. Spanning many styles and aesthetics, these artists have made their mark through their incredible skill level, dedication to the craft, and unique perspectives.
Read along to explore our picks for the top tattoo artists in Canada!
Top Tattoo Artists in Alberta
Liz Venom: Floral Realism Tattoo Artist in Edmonton
If you've been dreaming of a hyper-realistic floral sleeve or a full-color nature scene tattoo, Liz Venom's work will be sure to entice you! Through her use of vivid colors and photo-realism approach, Venom creates nature tattoos that wear like photographs on the skin. From tropical sunsets to gladiolus floral tattoo sleeves, Venom effortlessly creates pieces that feel like a permanent vacation. Not sure when you'll be in Alberta? Liz also travels throughout Australia when she isn't working at her shop Bombshell Tattoo.
See More:
Beautiful Audubon Inspired Blooms by Liz Venom
The +50 Best Tattoo Shops & Artists in Edmonton
Antony Flemming: Neo-Traditional Wildlife Tattoo Artist in Calgary
Antony Flemming can easily be described as one of the best tattoo artists in Canada, thanks to his exquisite Neo-Traditional animal portraits spanning everything from dachshunds to hippos. Master of foliage, flora, and fauna, Flemming creates stunning and clean nature tattoos featuring Ornamental elements and esoteric symbolism. So, whether you're looking for a small hummingbird tattoo or a large-scale goddess back piece, Flemming is sure to impress through his skillful mastery of Neo-Traditional tattooing.
See More:
Antony Flemming's Neo-Traditional Creatures
The +50 Best Tattoo Shops & Artists in Calgary
Top Tattoo Artists in British Columbia
James Lauder: Illustrative Queer Tattoo Artist in Vancouver
James Lauder is one of Canada's most innovative and provocative tattooers, crafting pieces that embrace kink, sensuality, and humor surrounding the LGBTQ+ community. Lauder's beautiful Illustrative style lends itself to his unapologetically sexual and bold designs, by creating a sense of juxtaposition between his soft technique and his fearless depictions of queer love. If you're a fan of socially conscious tattoos, comic book style art, or pop-culture heroine's, Lauder is an important Canadian tattoo artist to know!
See More:
Leather Barbies and Beefcakes: Interview with James Lauder
The +50 Best Tattoo Shops & Artists in Vancouver
Mackenzie Evanjeline: Vegan Fineline Tattoo Artist in Vancouver
If you're drawn to Fineline floral tattoos and stunning Blackwork foliage, Mackenzie Evanjeline may be the top-rated Canadian tattoo artist for you! Her floral designs work to complement the wearer's body while depicting the subject matter in a manner that feels both muted and nostalgic. So, whether you're looking for a Fineline portrait of a lion or a massive all-black squid tattoo, rest assured that Evanjeline is capable of working skillfully with any subject matter.
Heather Drew: Versatile Vegan Tattoo Artist in Vancouver
If surrealist mash-ups, impeccable portrait work, and Neo-Traditional wildlife scenes excite you, Heather Drew's work will be sure to draw you in! Working out of Unity Tattoo in Vancouver, Heather is known for her expressive and detailed pet portrait tattoos, stunning Photo Realism pieces, and highly versatile aesthetic. So if you're looking for an artist to design a Color Realism Amy Winehouse tattoo or a Black and Grey Realism style robot, Heather Drew can authentically tattoo anything that piques your interest.
Top Tattoo Artists in Quebec
Nick Wolf: Blackwork Anime Tattoo Artist in Montreal
Looking for an all-black Death Note tattoo or a high-impact Dragon Ball-Z piece? If so, you need to check out Nick Wolf, a top-rated Canadian tattoo artist who works almost exclusively within the imaginative realm of anime. His manga-inspired tattoos showcase his incredible line-work, stippling, and precision which lends itself to his fun and creative designs. Aside from anime-inspired tattoos, Wolf also enjoys tattooing all-black Traditional style subject matter like big cats, sacred hearts, and snakes.
Alfonso Bustamante: Highly-Versatile Tattoo Artist in Montreal
Tattooing for just two years now, Alfonso Bustamante has created quite the buzz for himself thanks to his versatile and clean approach to tattooing. Bustamante often experiments with different aesthetics, making him a prime artist selection for those wishing to get tattoos from varying styles. From soft Dotwork style flowers to bold American Traditional portrait tattoos, Bustamante is capable of delivering authentic and stunning designs in an array of disciplines.
Vero Imbo: Hyper-Realistic Portrait Tattoo Artist in Montreal
If you're searching for the best Realism style tattooer in Canada, you'll be hard-pressed to find many artists with the kind of skill and 3-D accuracy of Vero Imbo. From terrifying full-color clown sleeves to haunting Black and Grey film stills, Imbo delivers on all fronts, creating tattoos that possess a high-impact feel and a distinct personality all their own. Through her masterful usage of shade and light and her expert knowledge of anatomy and movement, Imbo's tattoos wear like pieces of fine art upon the skin.
David Peyote: Surrealist Tattoo Artist in Montreal
If you're drawn to geometric and galactic portraits, bold surrealist landscapes, and heavy ink saturation, you'll be memorized by the work of top-rated Canadian tattoo artist, David Peyote. From visions of mushrooms and automatons to Surrealist Rick and Morty Tattoos, David Peyote is a master of melding the otherworldly with the 3-D. So if you're a fan of psychedelic tattoos, outer-space themes, and innovative takes on pop-culture, you'll be sure to fall in love with Peyote's ethereal and magical style.
See More: 'The Tattoo Shop' Artist Spotlight: David Peyote
Shamus Mahannah: Traditional Tattoo Artist in Montreal
For fans of super-saturated traditional tattoos, Shamus Mahannah is easily one of the most talented Old-School style tattoo artists in Canada! From smiling grim reapers engulfed in flames to mandala style rose tattoos, Mahannah creates timeless and bold pieces that are sure to last. For fans of impeccable line-work, vivid orange and red hues, and inventive takes on Traditional tattooing, Mahannah delivers American Traditional excellence with ease.
See More: Solid Traditional Tattoos by Shamus Mahannah
Miguel Lepage: Neo-Traditional Psychedelic Tattoo Artist in Montreal
If you live in the Montreal area and possess a love for Neo-Traditional tattoos with a psychedelic flair, Miguel Lepage should be on your radar! From super-saturated bats ripping bongs to three-eyed werewolf tattoos, Lepage is consistently creating unique tattoos with a distinct metaphysical vibe. Thanks to his bold and unusual color palettes paired with his imaginative subject matter, Lepage crafts unique Neo-Traditional tattoos that demand attention.
See More:
Enthralling Neo-Traditional Tattoos by Miguel Lepage
The +50 Best Tattoo Shops & Artists in Montreal
Top Tattoo Artists in Ontario
Ruby Gore: Illustrative Botanical Tattoo Artist in Toronto
Do you love Illustrative style tattoos featuring botanicals and occult symbolism? If so, Ruby Gore is commonly recognized as one of the top Illustrative style tattooers in Canada, making her the perfect artist to complete your next nature-inspired next piece! Gore displays a true mastery of composition and style throughout her work, effortlessly crafting everything from muted mushroom tattoos to expressive wildlife portraits brimming with personality. For those who live outside the Toronto area, Gore also works in Philadelphia as well, so you can always try and catch her in the US.
Luis Fernando Puedmag Vinueza: 3-D Realism Style Tattoo Artist in Toronto
Luis Fernando Puedmag Vinueza has been creating incredible tattoos for over 23 years and is the owner of the beloved Toronto shop, Puedmag Inkpire Tattoos. If you have been searching for the right Toronto artist to craft your next hyper-realistic film still tattoo or large-scale Chicano-style backpiece, Vinueza may be your perfect match. His tattoos span a vast range of subject matter and encompass a full spectrum of emotions. So, whether you'd like a Black and Grey style Tibetan temple tattoo or a demonic creature bursting out of your skin, rest assured that Vinueza has the imagination and artistic integrity to bring any of these visions to life.
Lee (AKA: Rat666Tat): Queer Advocate Tattoo Artist in Toronto
If you're moved by thought-provoking and socially conscious tattoos, Lee (also known by the IG handle, Rat666tat), is easily one of Toronto's top Illustrative tattooers, primarily working with nature-inspired motifs and designs that create empowerment and visibility for the LGBTQ+ community. A common theme in Lee's tattoos is the depiction of the beautiful yet commonly marginalized aspects of our world, like chain link fence tattoos and representations of queer love. If you are queer or trans and have been searching for a safe and inclusive place to get tattooed, you should definitely consider booking an appointment with Lee!
Rachel (AKA Stickswell): Floral Dotwork Tattoo Artist in Toronto
Rachel (also known by the Instagram handle, Stickswell) is a highly-talented tattooer out of Toronto who works primarily with motifs like mandalas, flowers, beautiful women, and nature scenes. Her all-black tattoos range from Minimalist to Ornamental in style and often feature Dotwork aspects. Whether you're searching for a custom botanical piece from Rachel or you'd like to select from her wide array of flash, the options are endless. A truly versatile artist, Rachel is easily able to work in a Black and Grey Realism style as well, as evidenced by her highly popular third eye designs.
Tyler Halle: Realism and Illustrative Tattoo Artist in Toronto
Tyler Halle is a top-rated Toronto tattooer with a multi-disciplined background in art. Having worked in the film industry for over 5 years, Halle decided to pursue his passion for tattooing by beginning work in Los Angeles and then finally moving to Toronto where he resides now. Halle's work is diverse in aesthetic, ranging from smooth and stunning Black and Grey Realism pieces to colorful Illustrative tattoos, and large-scale Blackwork designs. His clean lines and expert use of shading contribute largely to the precise and beautiful look his work possesses.
Conrad Sandbacka: Traditional Japanese and American Tattoo Artist in Toronto
If you love traditional Japanese and American motifs like fierce panthers and Hannya mask tattoos dripping with evil, you'll be sure to fall in love with Conrad Sandbacka's clean and saturated designs! Working out of Toronto, Sandbacka is known for his versatile approach and bold creations. So whether you're in the mood for a bright Old-school style portrait or a powerful Japanese tiger tattoo, Sandbacka is bound to exceed your expectations.
Tracy Xu: Delicate Fineline Tattoo Artist in Toronto
If you love tattoos with a child-like innocence and Fineline aesthetic, Tracy Xu's delicate and cheerful designs will be sure to charm you. Working mainly in a soft and refined style, Xu crafts feminine and romantic nature-inspired tattoos, perfect for those who may not be ready for something bold, or who prefer a more delicate look. So if you're looking for a top-rated Canadian tattoo artist to design your new peony rib piece or a stunning array of butterflies, Xu is an excellent choice!
Sasha Made: Trash-Polka Realism Tattoo Artist in Toronto
Dog-lover and co-owner of House of Doberman Tattoo Studio, Sasha Made, is truly a name to remember when it comes to the best Canadian tattooers. Made's signature style blends aspects of Black and Grey Realism with Trash Polka elements and pops of soft ambient color. Some of her most popular motifs feature pet and wildlife portraits, depictions of bondage and submission, and portraits of beautiful women. Made's dark and sexy aesthetic brings to life visions of all kinds, offering them an unusual abstract twist thanks to her trash polka accents.
See more: The +50 Best Tattoo Shops & Artists in Toronto
Top Tattoo Artists in British Columbia
James Tex: High-Impact Irezumi Tattoo Artist in Blind Bay
James Tex brings a unique perspective to Irezumi-style tattooing through his Neo-Traditional influences and high-impact designs. As one of the top Irezumi tattooers in Canada, Tex creates exquisite designs that feature vivid color palettes, skillful linework, and an unparalleled sense of personality. Comfortable working with any size canvas, Tex is able to craft stunning head tattoos as well as large-scale back pieces and full sleeves. His designs often transcend the typical subject matter of Irezumi, stretching into the mystical and surreal, as evidenced by his out-of-this-world alien astronaut tattoos and depictions of otherworldly goddesses.
Top Tattoo Artists in Manitoba
Ed Perdomo: Japanese New School Tattoo Artist in Winnipeg
Ed Perdomo's tattoos are the perfect blend of strong Irezumi style motifs and playful, distorted New School aesthetics. His innovative tattoos feel highly expressive, often imprinted with strong emotion and palpable energy. Perdomo's distinct style carries itself into all of his designs, whether it's a colorful dachshund puppy sleeve or an-all black distorted Hannya mask tattoo. So, if you're searching for one of the top-rated Irezumi tattoo artists in Canada, make sure to check out Ed Perdomo!