13 Wildly Psychedelic Pop Culture Tattoos by David Cote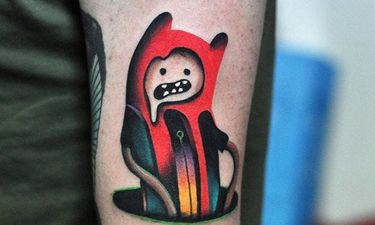 Graphic tattoo artist David Cote dips popular icons in his well-loved trippy style which results into vivid pop culture pieces.
It's been almost a year since I interviewed the tattoo artist David Cote and he's still spectacular as ever when seeing his fresh works. David has not lost that edge we all loved about him from the start, only that his tattoos are getting richer and bolder in color and dimension. You'll see how much more vivid and hypnotic they've gotten- with his signature color palette and on point negative spaces.
Before you get into a familiar trance over the rest of his delightfully psychedelic works, let's look back to some of the best pop culture-inspired pieces by David which he completely owned — totally massacred them and put DAVID COTE all over them. See Studio Ghibli characters, music icons, and film favorites turned into some trippy tattoos by the one and only David Cote.