15 Beautiful Praying Hands Tattoos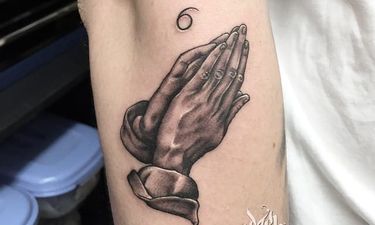 RD

Tattoo industry is filled with religious imagery, there are countless images, designs and styles that are found in tattooing.
Christian iconography has been a huge influence on religious tattoos and arguably one of the most classic religious tattoos is the praying hands. The image of two hands in a position of prayer is a widely used tattoo design with it symbolizing communication with Go. The design also portrays a person's faith and spiritual activity. It's safe to say that praying hands tattoos are a fairly personal tattoo!!

In tattooing praying hands usually follow the same basic template in the way they are styled and look. The origins of the image is created 1508 and the famous art is done by Albrecht Durer. The drawing shows two male hands palm to palm praying, the image is most likely a depiction of the artists own hands!
While it is true that praying hands is a common tattoo it is a tattooing classic, and you can never go wrong with a classic!