32 Adventure Time Tattoos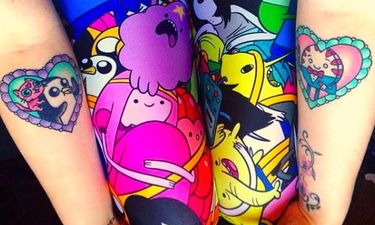 When it comes to the glorious nonsense that is the cartoon Adventure Time, writer Nolan Feeny explains it well in a March 2013 article:
When it comes to the glorious nonsense that is the cartoon Adventure Time, writer Nolan Feeny explains it well in a March 2013 article:
"Nobody really expected a cartoon featuring post-apocalyptic candy kingdoms and Korean-speaking unicorns to become a children's-television success story. Nor did anybody expect that same show to be a success story with just about every other demographic out there, either.
But that's exactly what happened to Adventure Time, an animated series following the exploits of Finn, a 14-year-old boy, and his best friend, Jake, a walking, talking and shape-shifting dog. Together, the pair has inspired a loyal legion of fans of that number in the millions. And, now in its fifth season, the show that began as a one-off animated web short is coming back to the medium on which it originally debuted: streaming video. Season one of Adventure Time will go live on Netflix Instant on March 30, with new episodes airing on Cartoon Network through December 2013. If you binged on House of Cards earlier this year, prepare your queue for a dose of trippy whimsy." Click here to read Feeny's complete article. To really get it you just have to watch it, and even then you probably won't but that's the best part! Random, exuberant, nonsense! Netflix has the first two seasons but they're only available until 3/30/2015. Finn, Jake, Marceline and all the others from The Land of Ooo have invaded just about every part of society so it only makes sense that tattoos have been influenced by the show as well. Enjoy the Adventure Time INKspiration!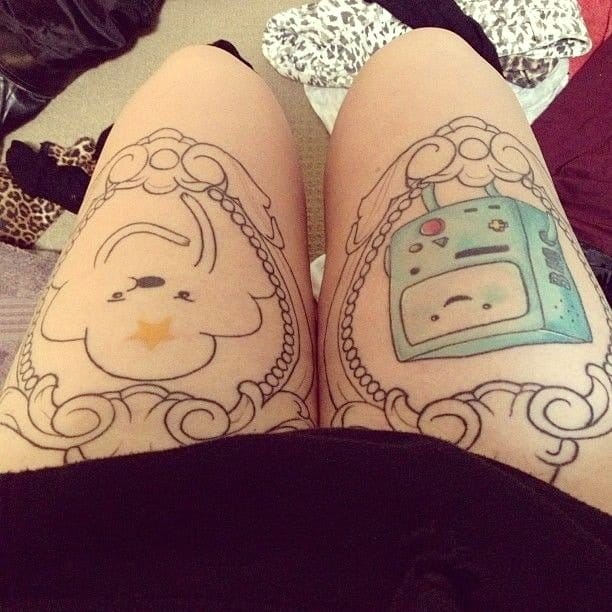 With a color touch-up these thigh tattoos would be wonderfully loud, artist unknown.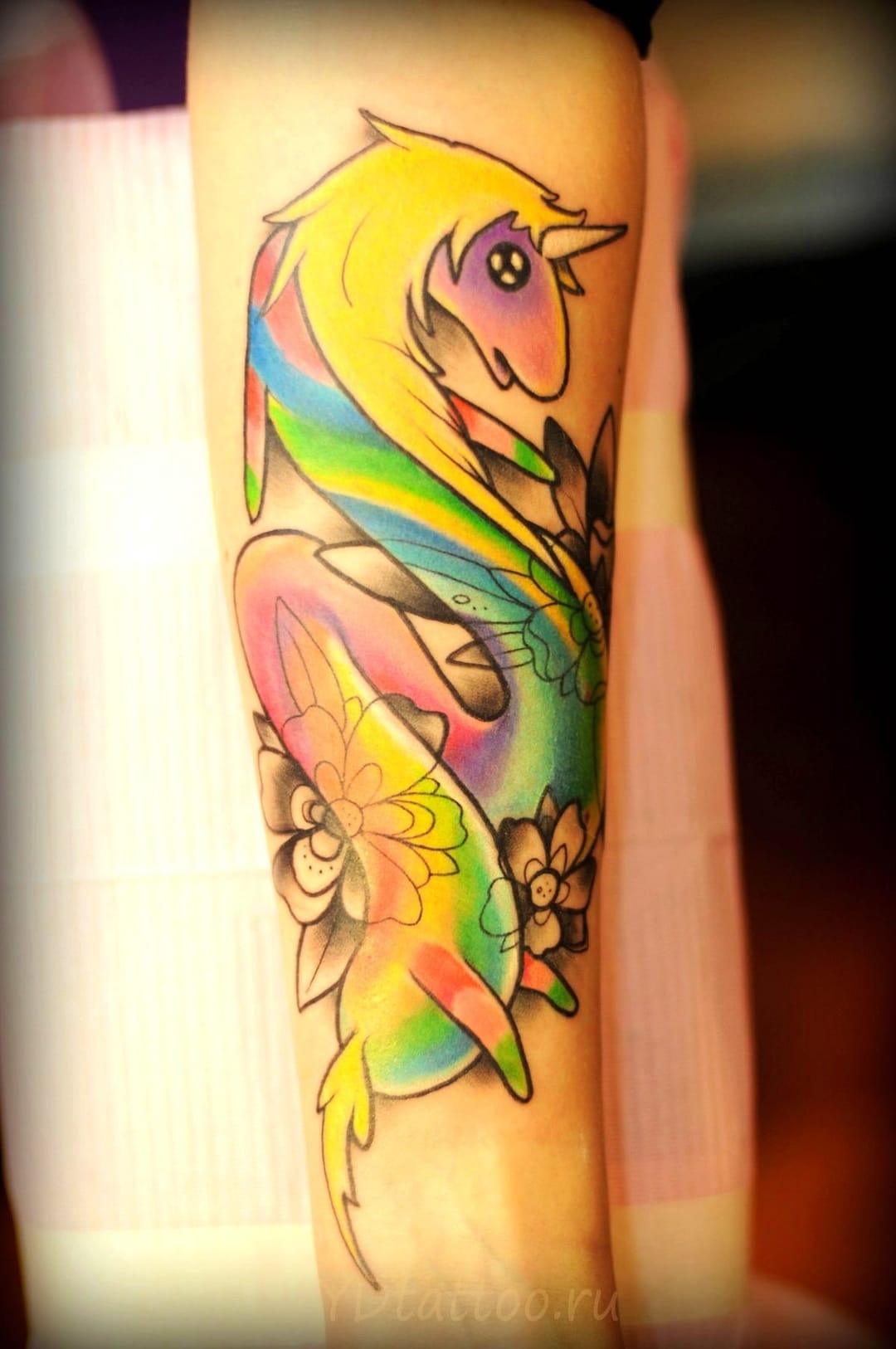 Rainbow Unicorn forearm piece has a slight water color tattoo vibe, artist unknown.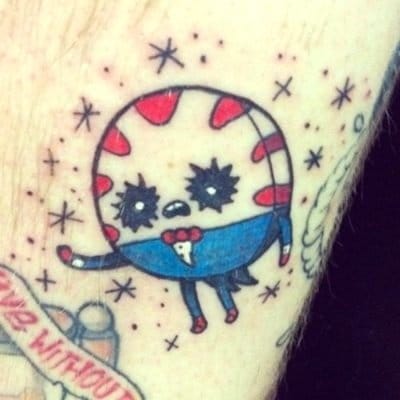 Click here for more cute tattoos like this Peppermint Butler, artist unknown.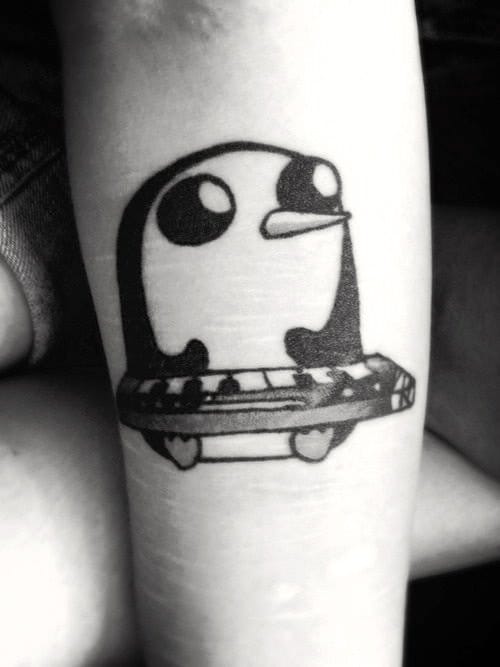 This is an adorable, feminine tattoo. Who did this cute black and gray Gunther?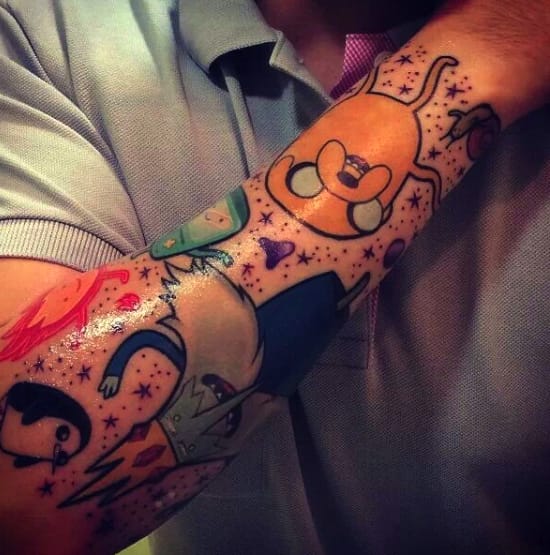 Artist Ashleigh Argyle, vibrant AT forearm sleeve would bring a fun tattoo vibe to the work environment.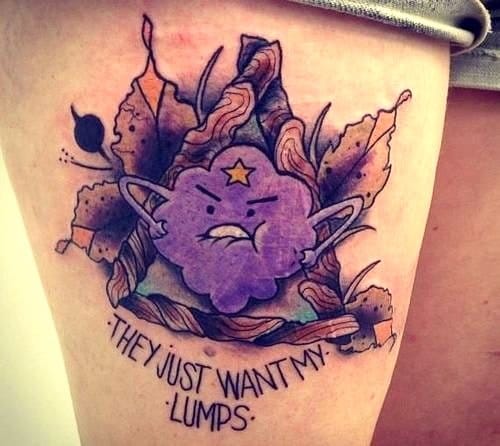 LSP and her lovely lady lumps, artist unknown.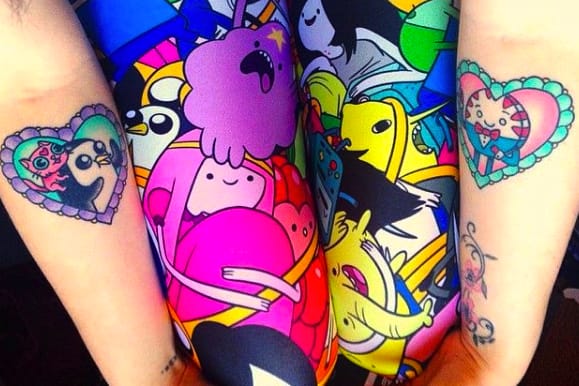 Artist Alex Strangler, these crisp and clean tattoos that come as a pair, great color scheme.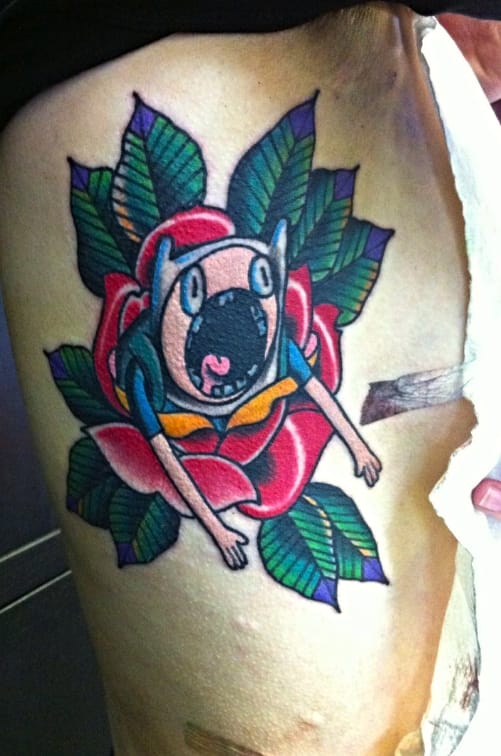 Artist Dan Hartley, Finn in a rose.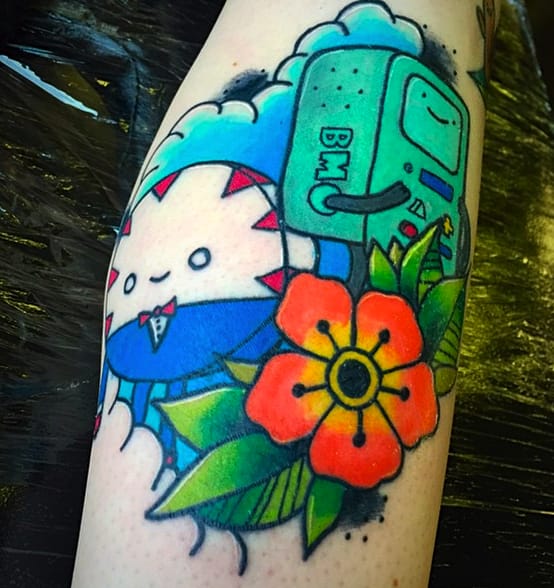 Artist Matt Daniels, Peppermint Butler with BMO, clean and simple.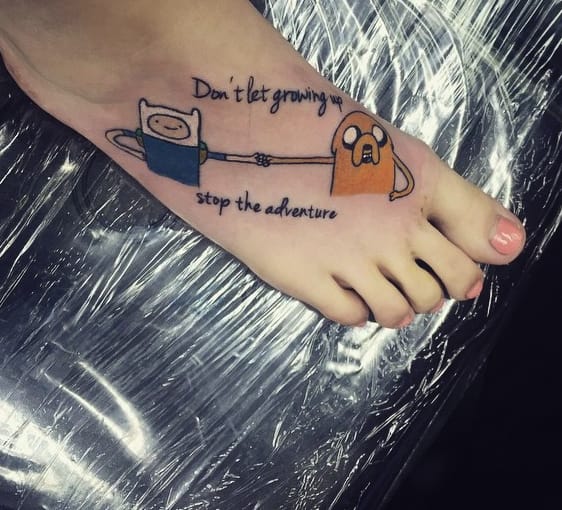 Artist Tom Wayden, adventure doesn't have to end with age.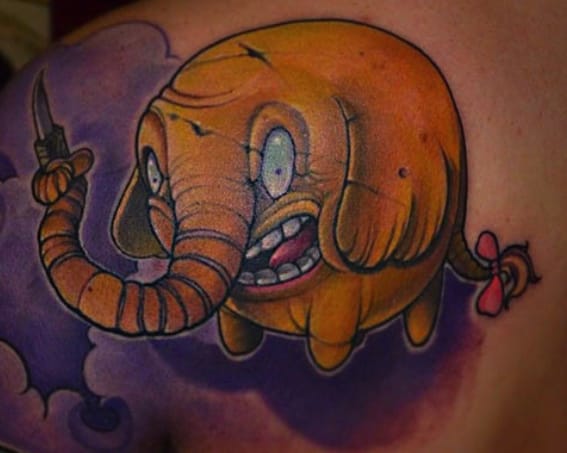 Artist Craig Foster, somebody ticked off the precious Tree Trunks!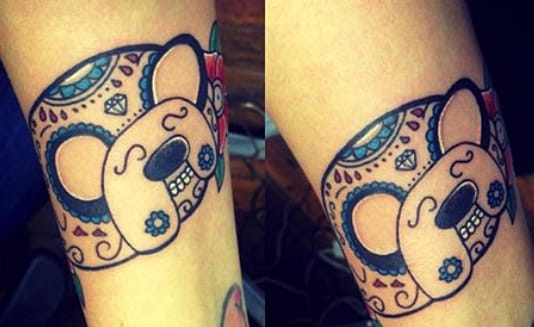 Love these identical Jake themed sugar skulls, artist unknown.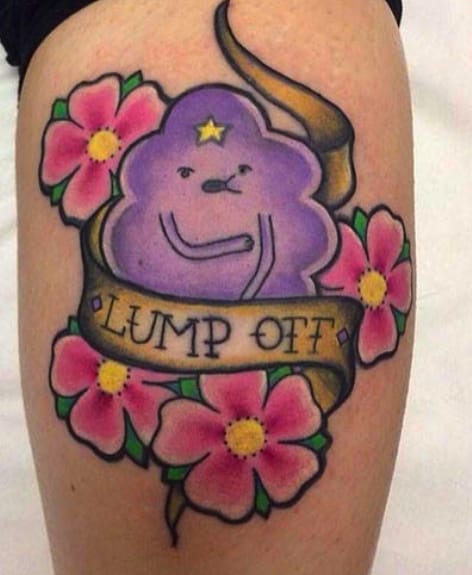 Everybody has those days, LSP has many, artist unknown.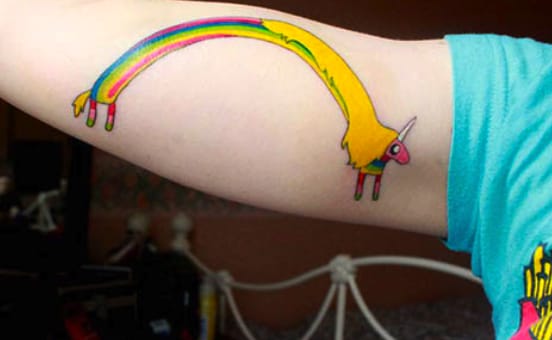 Rainbow Unicorn as a rainbow! Artist unknown.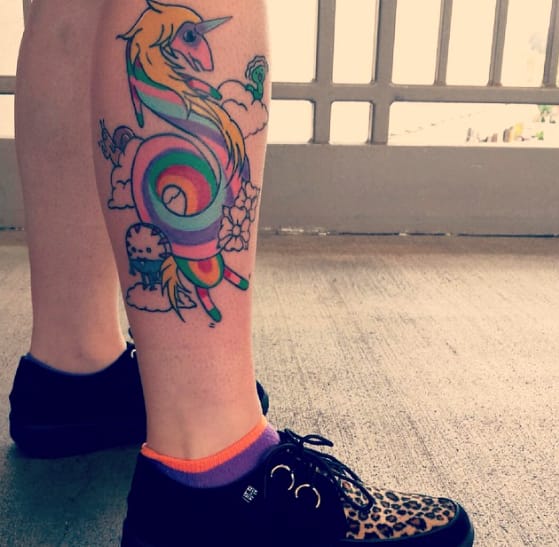 This outer-calf piece of Rainbow Unicorn makes for a great color tattoo, artist unknown.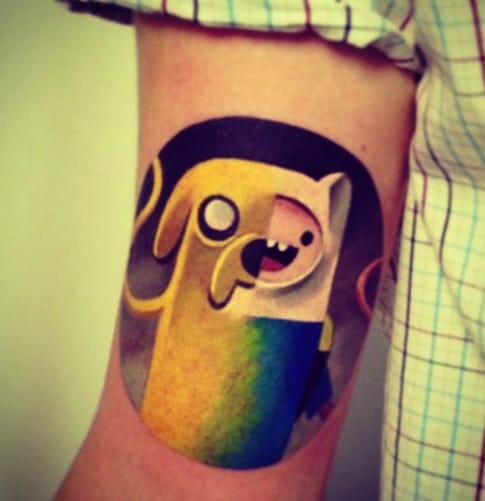 Artist Sasha Unisex, impressive as always. Surreal Finn and Jake mash up, perfect placement.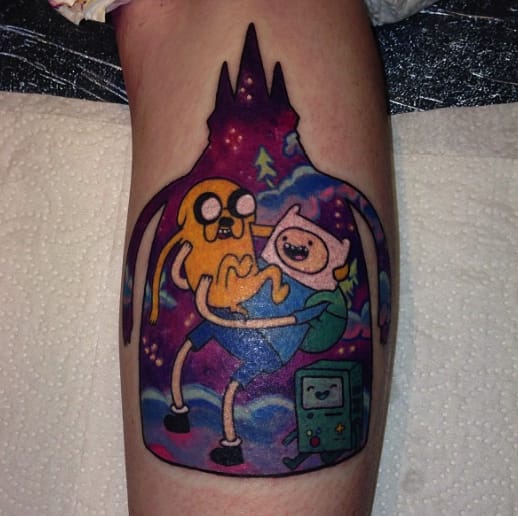 Artist Jonika Miller, Finn and BMO inside a galaxy colored Ice King.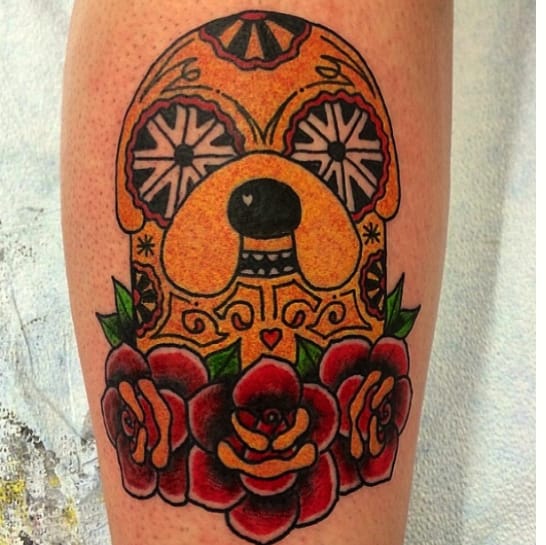 Compilation of roses with Jake the dog as a sugar skull, done at Dapper Ink Tattoo.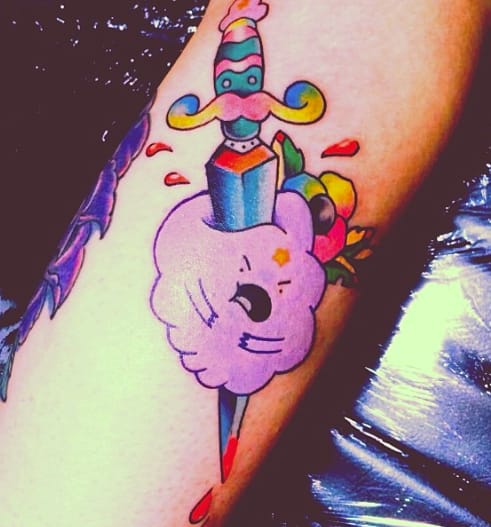 Awesome! Who tattooed this clever traditional themed design of a dagger piercing Lumpy Space Princess?

Personal Favorite, Marceline The Vampire Queen: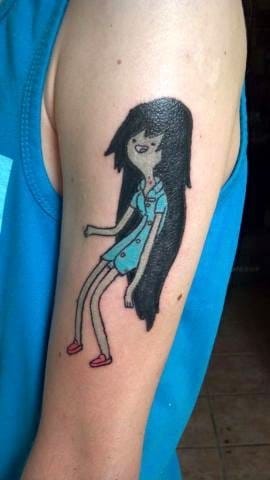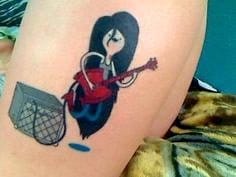 Artist unknown for both of these Marceline tattoos.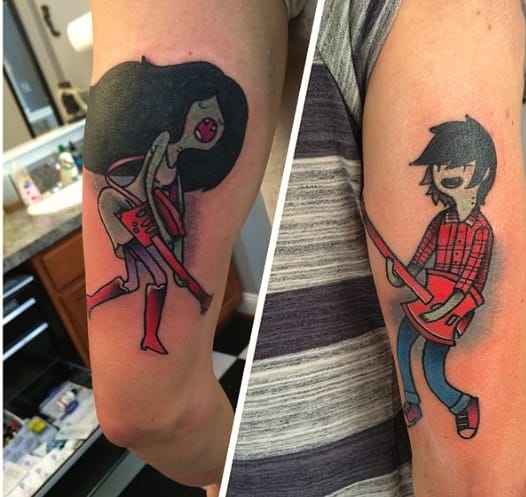 Artist Tre LaPole, Marceline and Marshall Lee, meant to be.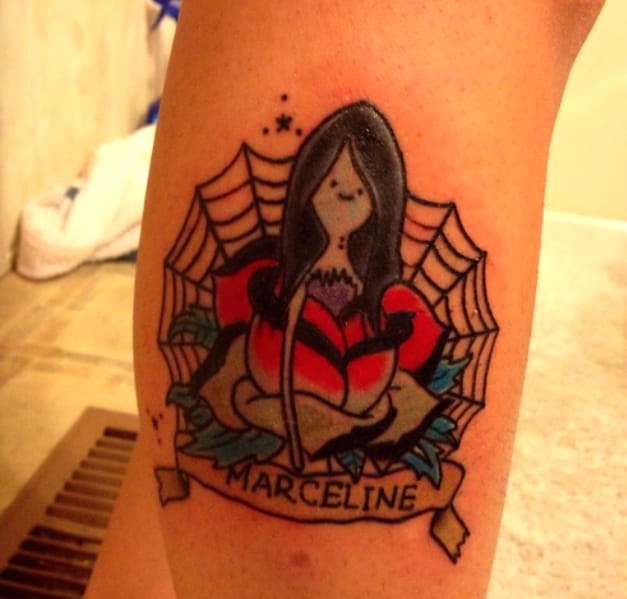 Traditional styled Marceline and web, artist unknown.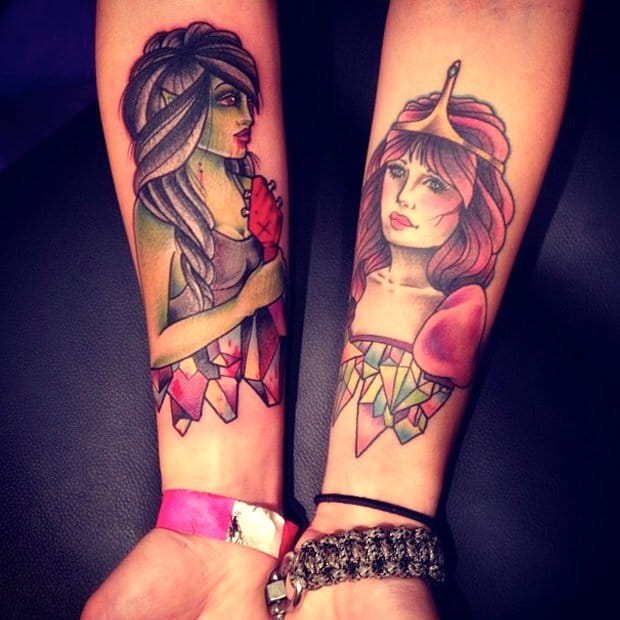 More into realism? Let us know who did these "grown up" forearm portraits themed after Princess Bubblegum and Marceline. Think these two are better together?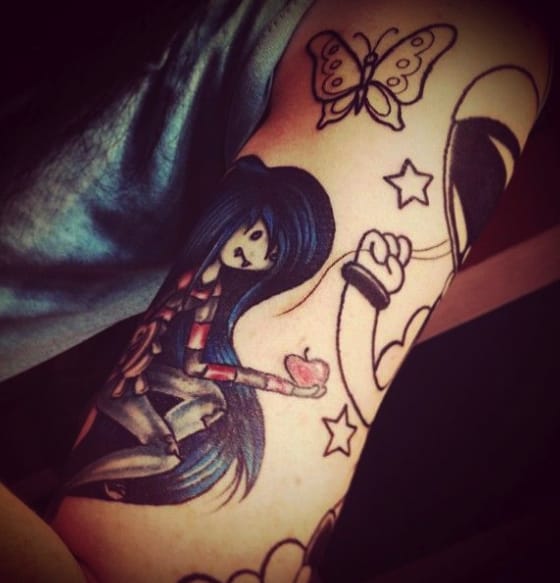 Artist Marci Belloni, the Vampire Queen who eats shades of red holding a pale apple.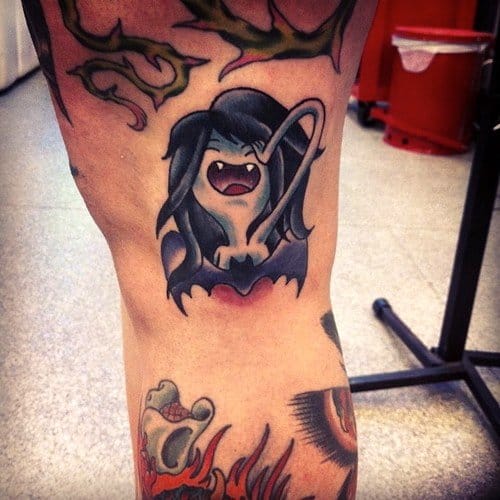 Great work! please tell us the artist. Love this spot for small detailed tattoos.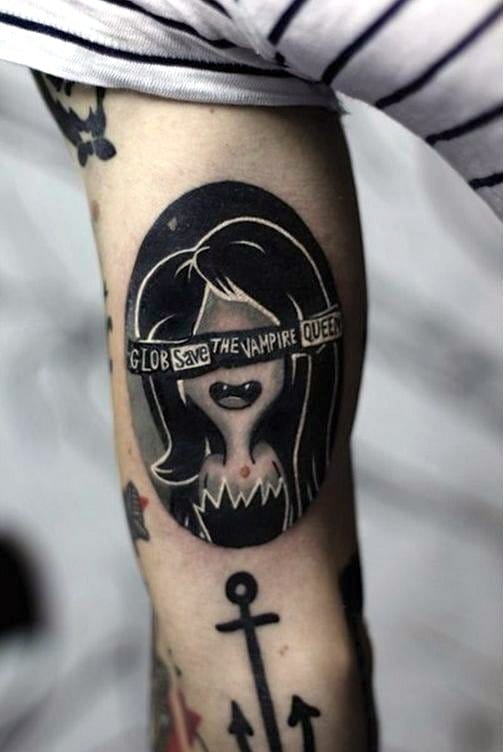 This one is fantastic, let us know the artist behind this Marceline/Sex Pistols tattoo featured in Inked Magazine.

Let's end with some flash/fan art that would make some awesome tattoos!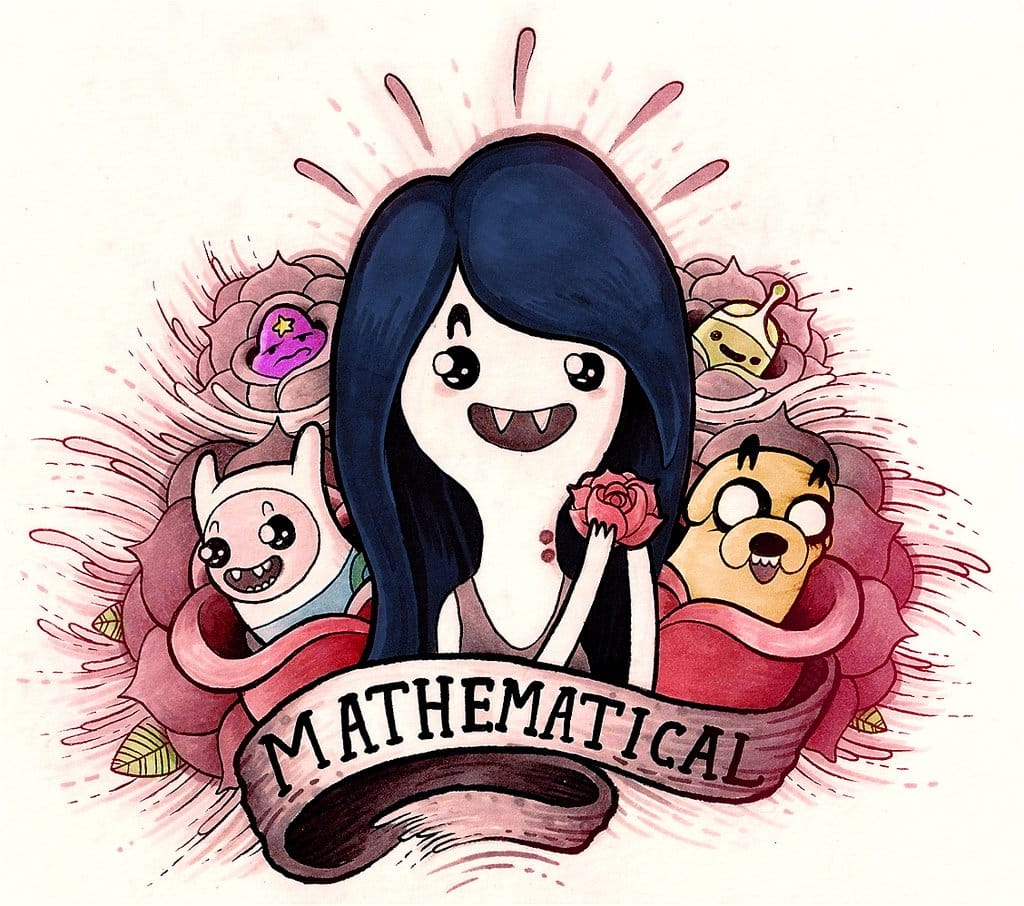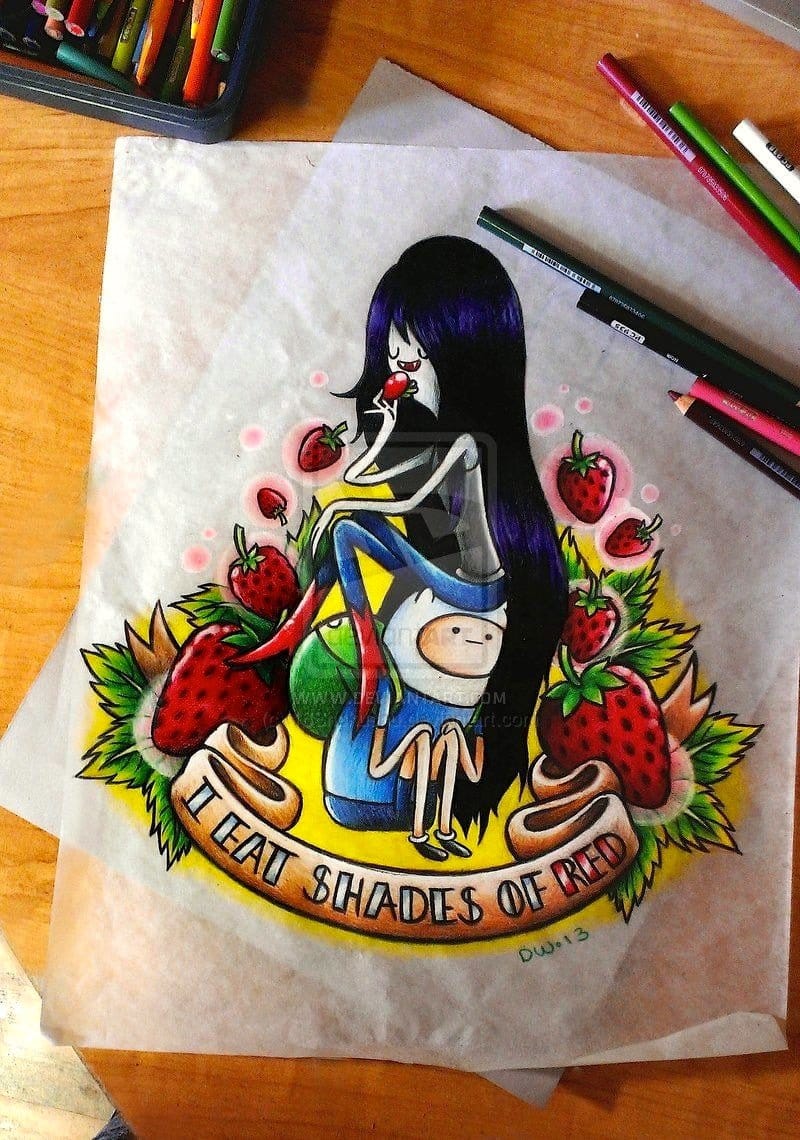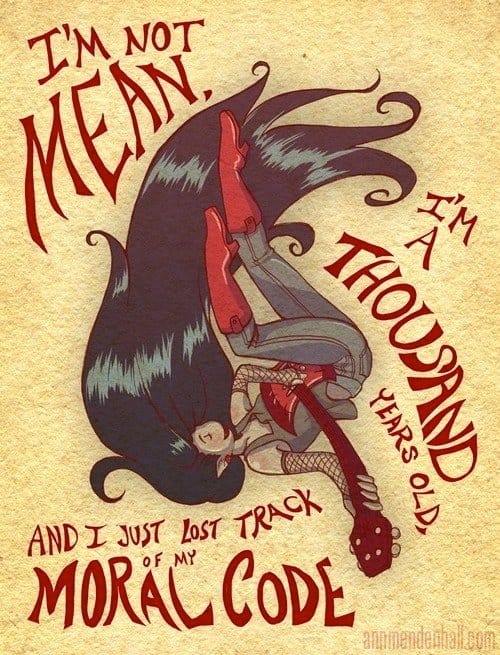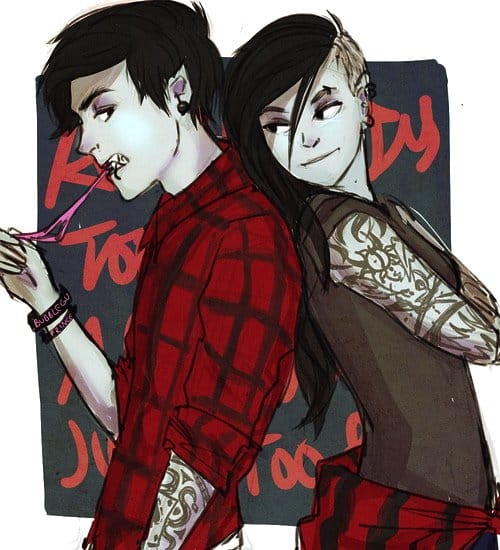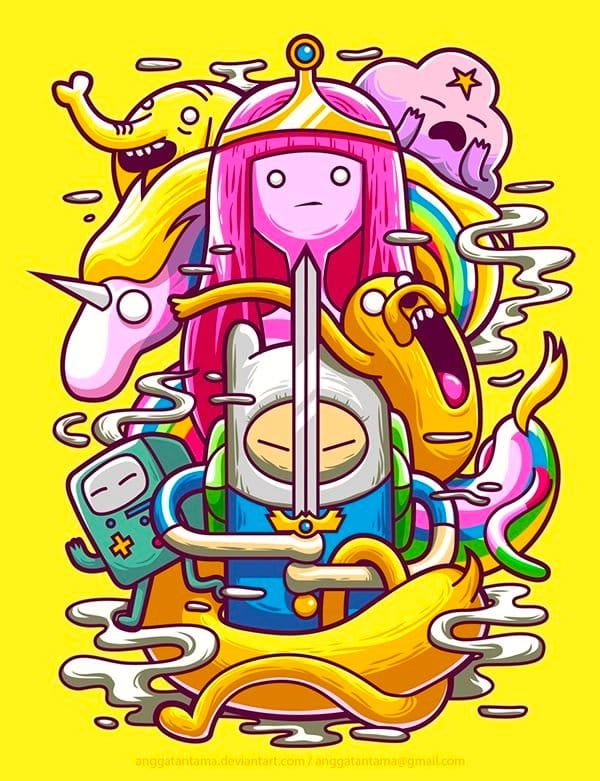 If you visited the Land of Ooo, who would you be? Take the quiz.

Remember even if you're not the "sexiest adventurer in the world" like Tree Trunks "You're beautiful on the inside like...your brain and stuff."-Finn