8 Steve Jobs Tattoos For All Apple Fans!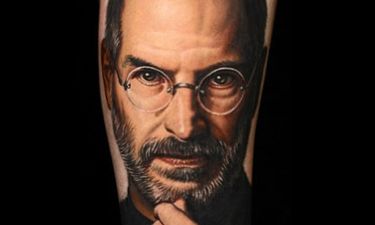 Technology genius and entrepreneur Steve Jobs shaped the world with Apple, he also makes some sweet body art in these tattoos!
Globally regarded as a pioneer of the microcomputer revolution of the 1970s Steve Jobs is most known for his role as co-founder, chairman, and chief executive officer (CEO) of Apple Inc. A leader in the world of technology, Jobs also served as largest shareholder of Pixar Animation Studios and was later a member of The Walt Disney Company's board of directors following its acquisition of Pixar. Sadly Jobs' life was cut short when he died of respiratory arrest related to a tumor on October 5, 2011. Yet Jobs legacy lives on in both his work and on people's skin!
Steve Jobs tattoos celebrate the legacy and achievement of a true genius and capture his energy and charisma in ink. A bold choice for a portrait tattoo, Steve Jobs tattoos are some of the finest portrait realism tattoos out there and have been tattooed by the best of tattoo artists.