A Welcome Gift: Interview with Sema Dayoub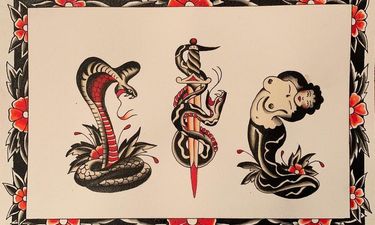 JM

In this interview with Sema Dayoub, they speak on body politics, trauma informed tattooing, and community strength.
There is a warmth that radiates from Sema Dayoub's work. Whether fire licking a throat or a deep red pomegranate, the particular glow from these creations is not only due to the colorful hue, but the underlying devotion Sema displays toward the craft of tattooing. An integral part of contemporary tattooing's push towards a more equitable and progressive industry, Sema sees the medium as a way to deeply connect with others while enacting mindful change for the greater good. Far from the commodified art world, these intimate works are full of grace and blessed with a foundation fully entrenched in the awareness of powerful politics gripping our world today.
Integrating their gender experience and Syrian-American heritage with the Traditional icons of old school, Sema Dayoub has carved out a space in tattooing that they hope will empower those who need it most. In this interview, Sema shares their love for tattooing, the changes we need to make for a better future, and the people along the way that has made their journey magical.
Can you give a little intro and background into who you are?
Most people call me Sema (pronounced see-muh), but I also go by Nassim. I'm a mixed Syrian-American gay boy dyke that makes paintings and tattoos. I helped open a cooperative studio called Time Being Tattoo. Right now I'm getting ready to move from Chicago to New York to work alongside Tamara Santibañez at their shop Flower World. I'm a tripleScorpio with a lot of passion! I come from a really big family and got involved in Punk/ DIY/ Anarchist communities at a really young age. I really believe in liberation and I'm so grateful to be able to incorporate the intersections of my identity into my tattoo practice.
How did you get into tattooing? Did you always know you wanted to be a tattooer or did you have other plans in mind?
I've been thinking about this quote from the Leu Family, "Tattooing came into our lives by accident. It was a welcome gift from the tattoo gods." I relate to that quote in so many ways. I got my first tattoo from a friend I met at a punk show when I was still in High School. I remember that friend asking me if I wanted more tattoos eventually. I knew I wanted to be covered, and a few years later I was!
I moved to Chicago and fell completely in love with tattooing and tattoo shops. I saved my tips at my coffee job to get as many tattoos as I could and spent all my time drawing tattoo designs. At this point, I couldn't admit to anyone that I wanted to tattoo even though it was all I ever wanted. Almost all of the tattooers I saw were older white men so it took a long time for me to be able to see myself in the industry.
I worked really hard to get an apprenticeship at a tattoo shop. I was dating someone who was just as obsessed with tattooing as I was and they started doing tattoos out of the punk house we lived at together. I stayed at my apprenticeship for about a year but I was learning so much from so many other places. I eventually joined my partner and we set up a little tattoo shop in the coach house behind the punk house. It was magical! I'm so grateful for the friends who trusted me to tattoo them at that early stage of my journey. I've always been here for the punks, the freaks and the outsiders. Those are my people.
Why do you think music, like the punk scene, and tattoos are inextricably linked? Has being interested in the Punk/DIY scene affected your personal artistic style?
Absolutely! So many of my heroes came up in the punk scene, like I did and started tattooing. I'm thinking specifically of Leo Zulueta who tattooed in California in the 80s. I totally agree that there's an inextricable link between music culture and tattoo culture.
I started drawing punk show flyers and zines when I was a teenager. That imagery lends itself so well to tattooing. There's, of course, the rebellious aspect but there's also so much self expression in the act of getting tattooed. And that's what music is all about, right? That's what art is all about for me: attempting to express the inexpressible. And just trying to make something cool.
Do you think of tattooing as political? How do you practice giving agency to your client while still feeling satisfied as an artist?
All tattoos are a collaboration between the artist and the person wearing it. And when you're working with people's bodies there's a certain level of politics involved. But again there's so much nuance in what it means to be political. I exist in a politicized body, as a visibly Queer Trans Arab person, and so do so many people who I tattoo. When I say that, I mean that for us it's not an option to separate politics from our existence. Sexism, racism, homophobia, transphobia, fatphobia and ableism exist in tattooing just as they exist in every aspect of our world. I believe these forces are violent and oppressive.
It's hard to work against a force if you can't name it. I want to try my absolute best to create a tattoo experience that is free from those things because that is the world I want to live in. I feel the most satisfied when I get to create a piece that honors both myself and the person wearing it. We come together and create something beautiful. It is political to reclaim agency over our bodies.
To quote Toni Morrison, "The best art is political and you ought to be able to make it unquestionably political and irrevocably beautiful at the same time."
Do you think the Traditional style of tattooing is being reclaimed? Can you speak more on New Symbolism and how that pertains specifically to the artwork you do?
Definitely! And it's so exciting! I love traditional tattoos so much, with their bold lines and classic imagery. They look good forever and have such a rich history. I think about traditional tattooing as a language made up of specific motifs such as skulls, daggers, snakes, hearts and roses.
Historically this style of tattooing has ties to sailors, biker gangs and the military. But tattooing itself is ancient and has been used as a healing practice in so many indigenous cultures across the globe. I'm intrigued by the motifs and symbols that make up the traditional tattoo canon but I'm also interested in adding something new with knowledge and respect for what's come before me. In this sense I hope to practice my favorite style of tattooing in line with my worldview.
I want to make imagery that is healing and powerful. Pomegranates, for example, come up a lot in my work. For me they're a symbol of abundance and prosperity. I've seen them in Arabic art all my life and it feels important to add them to my personal canon of symbolism. And daggers, the classic tattoo design can be a symbol of protection. Of course people find their own ways to connect to the imagery. I'm excited to see more Black, Brown, Indigenous and Queer artists doing traditional tattoos. Traditional tattooing is for everyone; we can learn from the style and history and build on it.
How do you feel about the current state of the tattoo industry? What needs to change and what needs to stay the same?
It's no secret that the tattoo industry, like most industries, has a problem with racism, sexism and rape culture. But things are surely changing and I'm honestly excited for what's coming! I consider myself a student of tattooing and have been learning so much. I personally have learned a lot from Faith Phillips, Doreen Garner, Jayind Hamilton, Jalen Frizzle, Julz Bolinayen, and Tann Parker specifically. Black and Indigenous tattooers need to be uplifted, supported and paid for their knowledge. I would love to see more cooperative shops where tattooers co-own the place where they work. I would also love to see more people welcomed into the industry who haven't had traditional apprenticeships. Think about who has access to these, and do they always make better tattooers?
I would love to see more trans, queer and formerly incarcerated tattooers taking up more space in the industry. I would love to see more black, brown, fat and disabled bodies with tattoos in people's portfolios. I would love to see more machine builders that aren't white men! I would love to see money from big tattoo suppliers redistributed to help more marginalized tattooers get started. I think these changes will benefit tattooing in every way.
I also know that there is so much to learn from people who have been in this industry longer than I have. Tattooing has been an incredibly hard place for women, queer people and people of color, and more so the earlier you started. Those experiences also need to be uplifted. I think younger tattooers have a lot to learn from older generations and vice versa. There is so much we can learn about equity, accessibility, history and technical skill from people who have been in this longer. And there's also so much to be learned from a fresh perspective. People come to tattooing from so many different places but I hope that a shared love for the craft can propel us into a better future.
What is the best advice you can give to people trying to self-educate and become better humans during this difficult period of time?
I don't know if I can give advice but I'm trying my best to listen. And to not be complacent in systems of oppression that I benefit from because of my proximity to whiteness. Things have been difficult for Black, Brown and Indigenous people in this country since its inception. And things have to change if they're going to get better. I am not free until everyone is free.
What do you love about tattooing and what have been some of your favorite moments during your career?
I truly love everything about tattooing. I love the friends I've made and I love being able to make art for a living. I love being able to help people feel more at home in their bodies. I'll never stop being grateful for this life.
I try to make a point to go and work alongside my favorite artists. Some of my favorite moments tattooing have been at Saved Tattoo in NYC (which is now closed), Spiral Tattoo in Ann Arbor and Old Soul in Canonsburg. I'm hoping once it's safe to travel again to work at Jacci Gresham's shop Aart Accent in New Orleans as well as Tres Leches in the Bay Area.
I've had the enormous privilege to travel and get tattooed by so many of my favorite tattooers who've really shaped this industry: Horioshi III, Leo Zulueta, Hanky Panky and soon Stephanie Tamez! I can't say enough how grateful I am to have had those experiences and wear their work on my body.
Beyond tattooing, what are you super passionate about?
I love cooking people food! And specifically I love plating food so it looks nice. I love building community and helping people to get their needs met. I'm super passionate about collaborating with other artists. I think there's something super magical that happens when people come together to make things happen. Anything is possible.
Anything else you want to share or say to the world? Any cool future plans that we should know about?
Thank you so much for this opportunity! I've loved so many of the interviews you've done with other artists and I'm honored to be included.
Right now I'm working on launching an interview series with AutoStraddle featuring queer voices in tattooing. I'm hoping we can have some really fun and important conversations. I'm also just really excited to be tattooing in New York. There are so many incredible artists there and I'm looking forward to becoming a part of that community. I'm really looking forward to working with Tamara Santibañez. Their book "Could This Be Magic? - Tattooing as Liberation Work" just came out through Afterlife Press. I think it's really going to shape the way that we as an industry approach our relationship to our work and clients. Tamara has been an amazing inspiration, supporter and friend and I'm really looking forward to sharing more time with them at Flower World.