Abstract Aesthetics: An Interview with Ryun Chae Yeong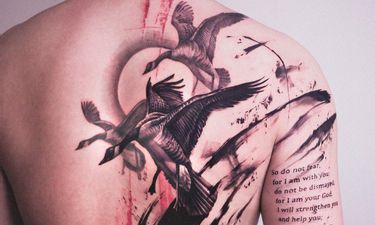 In this artist feature, we discuss how Ryu's DIY beginnings and influences led to the discovery of his spontaneous tattoo style.
Ryu is an artist that underlines his strong passion for art in all forms when you speak with him. His vision and purpose shines through his abstract tattoos and he speaks of the feelings of great happiness he gets when creating. In this interview he discusses the beauty of different perspectives, the dynamic between the art and the client, as well as his drive to learn and continue to create bigger and better.
Do you remember the first moment you were drawn to art? Are there any important memories that hint at the artist you would become?
I've had the hobby of copying comic books and other artists' paintings since elementary school. Even when I was a boxer in middle school, I drew pictures. Already before entering high school, I realized the future I wanted for myself was not to be a boxer, but an artist. There was nothing like the joy I got when I'd find good pictures, music, and movies. I was so happy in the moments when I was doing art related things that I never thought about quitting or pursuing something else, even when it was hard.
Why were you drawn to tattooing and what made you pick this profession? Who were the tattoo artists you would and still look up to?
At first, I was attracted to the lifestyle of tattooers. They seemed bold, free and happy to work. Nadi, who works in Korea, is the tattoo artist I respect most in the industry. Through her work, I realized that I was tattooing in the wrong genre and that I could do abstract art in the world of tattoos, which was what I liked the most when I was in art school.
Can you talk about your style and how it developed over time?
I didn't have the money or connections to learn tattoos in a more conventional way, so I taught myself. I started with small and simple tattoos. Over time, I challenged myself to do bigger and more detailed tattoos such as animals and characters. After that, I started mixing brush strokes and abstract elements with existing styles. Finally, now, I've fully embraced an abstract style that I've loved even before I started tattooing.
If you are able to pick, which is one of your favorite pieces you have tattooed?
It's very difficult to choose only one, but I like this tattoo the most among the recent ones I've done. I like the dynamic between the tattoo and the client. It has an abstract aesthetic, yet an elegant presence on the canvas.
Many artists have a philosophy about their work or why they create it. What is your artistic philosophy and your goals within it?
I like spontaneous art. It's better to be spontaneous when doing an abstract style, in my opinion. It's intriguing and beautiful that my interpretation of one tattoo and the customer's interpretation are different. I try to draw the essence of an object. For example; if you draw an apple, you can draw the most beautiful apple among apples if you feel its essence and draw inspiration from the synesthetic response your soul has to the apple.
What are your favorite parts about the tattoo industry and where would you like to see change? How do you feel about the future of it?
I love that I get to live a more free lifestyle because of my place in this industry, and it feels good to have customers respect me as an artist. I don't want to change the tattoo industry, I just want to change my place within it. I want to work in an area with a more boisterous tattoo community than where I live now. My art will shine in a place that allows it more visibility. I'm hungry for more diverse experiences. I want to work with/ learn from as many artists from as many backgrounds as possible.
Do you have any projects, events, or plans coming up in the future that you'd like to share?
I don't have any specific plans yet. I'm a tattoo artist, but I don't want to be an artist who only does tattoos. I want to draw installation art, conceptual art, or abstract paintings and exhibit them as a modern artist. I have wanted to do this since I was studying art in school.