Artist Spotlight: Haute Couture Tattoos by Marco Manzo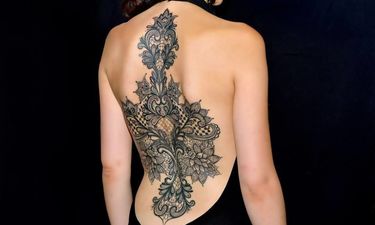 This Italian tattooist's work has vaulted tattoos into the world of high fashion.
Recently, Marco Manzo was honored by an exhibition at the Maxxi Museum of Roma, the Italian capital, as part of the Fashion Week. Dozens of his clients were gathered, clad in elegant black dresses, to show their incredible ink. The name of the exhibition? Tattoo d'Haute Couture... Yes, tattoo art is as close as possible to fashion with the tattoos of Marco Manzo. 
Every single one of Manzo's tattoos is a tribute to Italian lacework art and to the refinement and beauty of Italian women. Each of his ornamental tattoos is spectacular. Working with black ink, and using a combination of linework and geometric dotwork techniques, Manzo creates elegant and sensual tattoos on his female clients.
His pieces are also clearly influenced by Mehndi and neo tribal tattoos. They have won several prizes on international tattoo convention, and many Italian celebrities have called on his services. His lace tattoos are especially coveted, as they are strikingly beautiful. Women enjoy fashion and elegance, and they have found in this artist a new way to access Haute couture... permanently! If you want to leaf through the catalog of Marco Manzo's creations (he also does stunning 3D tattoos as well as geometric pieces for men), take a look at the following catwalk or at his Instagram account.