Beautiful Black and Grey Jesus Tattoos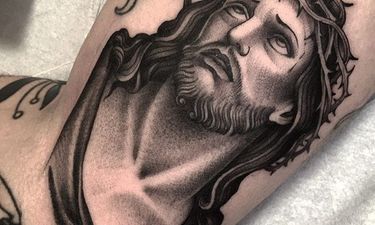 Black and grey Jesus tattoos are the classic religious tattoo!
An iconic image suits a timeless style! 
Religion has been a source of inspiration in western tattooing since the earliest days. Religious icons, paintings and sculptures have all inspired some stunning pieces of body art and continue to do so, but perhaps the most iconic religious tattoo is that of Jesus. From old school designs to more modern abstract ones Jesus has been tattooed in every tattoo style imaginable, though it is arguable black and grey what suits him best.
Black and grey Jesus tattoos are timeless design and a true classic in terms of black and grey tattooing. Whether it's a full upper back piece or a small forearm job these black and grey Jesus tattoos will show you why black and grey is the way to go!!