Beautiful Mortal: Interview with Kristianne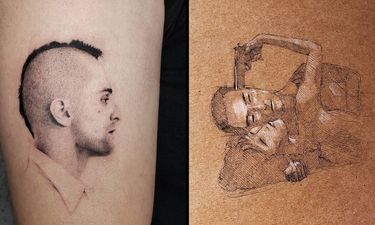 JM

In this interview with tattoo artist Kristianne, aka krylev, he talks about learning the craft and erotic dark art inspiration.
The delicate traces of rope marks on skin, the tiny threads of fishnet stockings...Kristianne, aka krylev, is known for his attention to detail and textural techniques. It is not only the soft, smokey aesthetic that makes these pieces visually arresting; most of the iconography digs deep into underground culture and emotes that special, unique quality that the tattoo community was once known for. Sexuality, violence, and even existential icon's like Tarkovsky's epic film Stalker, capture an authentic subversive mood that resonates with those who are looking for the deeper side of the mainstream.
Having moved from the Philippines at the age of 12, Kristianne has only been tattooing for a little over two years but the artistic outlet was just what he had been looking for. "I've always sought for a medium that can impact someone's emotion, you know, someone's life. And I thought that tattooing was just the perfect medium for it. For me, paintings, sculptures, illustrations, they just sit aside, you know, the beautiful immortal. But it just collects dust. When it comes to tattoos, it lives with a person. It evolves with the person, it experiences life with the person."
Looking over Kristianne's portfolio, one can see an incredibly diverse set of influences. Fine art, anime, dance, film….but he also mentions a soft spot specifically for Japanese creativity. "Initially I was very drawn to this Japanese style called Ero Guro which is erotic gore. Like Junji Ito and those guys, there's something about their work. I've also always studied Rembrandt, like his cross hatching is what influenced my work."
Among the pantheon of avant-garde artworks that Kristianne's clients have requested is Araki, a famed Japanese photographer noted for his Shibari work. These make for powerful pieces. Kristianne explains, "There's something about rope on its own. It's not a matter of...it's not just something that's sexual for me. I look at the essence of rope on whomever it is or whatever it is. For me, it's like, the main idea is you can restrict someone's body, but you cannot restrict their mind and soul. No matter how tied up you are, you're always free within you."
Although brimming with natural talent, Kristianne's journey into tattooing wasn't as effortless as it may appear. "I would say I definitely taught myself, firstly, you know, out of curiosity, like even before I thought I really wanted to be a tattoo artist, I got an Amazon kit and I practiced on fake skin. And then coming out of that, graduating from university and coming back from my stay in France, I went to this studio that I really liked...
They only taught me for about two months and then pushed me out of that apprenticeship into tattooing people, which I feel like was very wrong. I feel like they just pushed me to become a tattoo artist for them so that they could make money." However, with hard work and dedication, Kristianne continues his constant evolution to becoming the best artist he can be in a new studio, Soft Flex. "We're like a vacuum of life and love. I couldn't be happier."
This motivation to be a great creator is also connected to Kristianne's admiration for Japanese arts. Acknowledging that part of his interest in Japan may have to do with the history of Japanese colonization of the Philippines, Kristianne also postulates that it may have to do with the particular artistic and craft commitment within Japanese culture.
"It's not just because, you know, I'm stuck with it or I was surrounded by it. But even so it's like everything that's Japanese is just so magnificent. They have this mindset of just honing into a craft until one is a master. There's a master for making scissors, and then there's a master for sharpening those scissors, you know? And that's what I want to be. I'd rather be a master of one, because being a Jack of all trades is being a master of none. You know? I want to be the best person I can be. I want to be the best artist I can be."
For his clients, Kristianne's devotion and commitment to the craft, as well as his overall aesthetics, is stunning. But he also has a warm, friendly personality that puts people at ease during the tattoo process. "I love talking to people. I love when they share their stories with me and vice versa. I don't know, it's like the earth or the universe has been existing for billions of years. And the fact that in that moment, you're spending that moment with someone and sharing. It's so bizarre, unique. It 's so incredible."
"What I strive for is for people to come in and feel comfortable, as soon as they walk in. This is a perfect example: I had a client and her boyfriend came. While I was tattooing his girlfriend, he said, 'I feel so nice right now. Your vibe is so nice. The studio is so nice. I don't even know your style. I haven't seen your work, but I want a tattoo from you.' And I'm like, hell yes! It just made me so happy, you know? Comfort for everyone, you know? That makes me happy."
As for guidance for young artists trying to break into the tattoo industry, Kristianne's advice is to focus on the technical aspects of tattooing before delving into the creative. He explains that buying a cheap Amazon kit is also totally okay, "You know, that's just a way to discover what your role is and whether this is going to be just a fun thing to do, or your craft."
"But I definitely highly suggest looking more into the safety precautions. Understand how to use the machine, how much a needle or cartridge can absorb and how much it can run without having to dip. You know, it's just going back to observing. Observe what your machine is doing, what the needles are doing on the skin, and then understand that when you're tattooing fake skin, it's simply just to have a feel for the machine because fake skin to real skin is nowhere close."
Hoping to be Kristianne's apprentice? That may be an option...but he says it won't be anyone random, "As of now, it will be my brother. For me, growing up, I always looked up to my brother, like the way he painted, the way he illustrated. It was beyond me. Mainly, I want to teach him how to tattoo to share something that's dear to me, with someone that's dear to me, you know? And I also feel like he'll be a really great tattoo artist."
For Kristianne, the future is a positive place, but he's also enjoying the present; connecting with others and marvelling at the beauty of infinite space. "I was just in Joshua Tree. Everyone has always raved about it and it's such a beautiful place. Definitely out of the city. But I was just looking up at night and I saw the Milky Way. I saw stars behind stars behind stars. And I was just like...we're so tiny, you know, like we have zero impact in the universe. We're just a ball of rock floating around the sun. And you can just, you know, live your day normally. What's the purpose? Maybe there's no purpose. But I just happen to be lucky as I am now, you know, living my dream."