Center Your Mind With These Mandala Pieces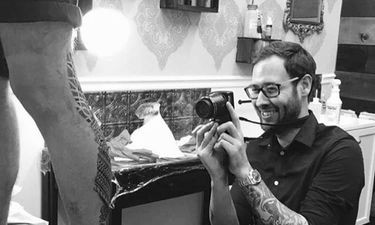 Kirk Nilsen's mandalas are here to aid in your meditative endeavors and mind-expansion.
Mandalas are traditionally used by Tibetan monks in a sort of prayer ritual, taking tiny grains of sand, and making them into a tessellating geometric pattern that can take up to weeks at a time to complete. At its most basic definition, the act of creating a mandala isn't supposed to be about the end design, in fact, the design acts as nothing more than a way to focus your mind on a single task, enabling your thoughts to flow freely through a meditative state. Artist Kirk Nilsen makes mandalas, too, but unlike his monk brethren, his aren't wiped away at their completion.

Nilsen is a traveling artist, who calls New Jersey, New York City, Philadelphia, and Los Angeles home as well as a constant rotation of several cities throughout the world. Nilsen tattoos exclusively in black ink, making his geometric patterns the stand out details of his work. Nowadays, it's not surprising that quite a few geometric artist use several computer programs to aid in their pattern making, but Nilsen prefers to hand draw everything — the old fashioned way. Watching him work is mesmerizing, so much so that it calls to mind the initial purpose and context of a mandala — to focus one's thoughts on a single act — meditation. The repetition of it all is hypnotic, and with each dot or line, our thoughts feel more and more centered, until Nilsen pulls his machine away to reveal the fruits of his meditative process.

The end result is just as soothing as the initial process, a constant reminder to find your center and focus. We're just glad Nilsen's masterpieces can't be blown away in a gust of wind or wiped into oblivion with a quick sweep of the hand.