Connectivity Through Artistic Expression: Interview with Ichi Hatano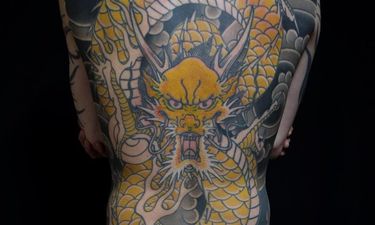 In this interview with Japanese tattoo artist Ichi Hatano he talks about connecting with others globally through the tattooing art form.
It is not often that I meet artists who are so thoroughly dedicated to their work. Meeting with Ichi Hatano, a tattoo artist with his own studio Ichi Tattoo Tokyo, felt special. Having just celebrated his 20th anniversary as a tattoo artist with a solo exhibition of his work, Ichi is devoted to the craft of tattooing. His incredible portfolio, studio, and kindness, is a testament to his hard work and artistry. 
Spotlighted in our Tattooed Travels: Tokyo, Japan edition, this interview with Ichi goes a bit more in depth with the man behind the work. He reminded me that the beauty of tattooing is not just the visuals, it's also the global connectivity that we, as a community, share.
Can you tell us about the history of the shop? How did it begin?
The shop started out as a private artist studio. But over time more and more overseas clients contacted us and we are now the shop you see today.
What is the Tokyo tattoo community and culture like?
There is a uniqueness to the community here and it continues to grow and develop. In recent years, the community here has become more diverse because many artists come to Japan on a working holiday for around a year.
Can you tell us a little bit about the artists who work at your shop, like their style and background?
The first artist to join was an Australian, and from there we have had guest artists from around the world continuing to be a part of the shop. The artist styles are very traditionally based (bright, bold, flat, solid) inspired by Japanese culture. All the artists that work here come from a range of backgrounds, our current guest artist is a graduate from a Spanish art university.
What do your artists love about tattooing? Why do your artists feel connected to tattooing?
Essentially, it's just because they like Japanese style tattoos. Enjoying and working on something you like allows for a great sense of self-expression. It's really rewarding to think that what we're doing connects people all over the world and allows us to meet so many great people.
Why do you think tattoo culture in Japan is unique from other countries?
I think it's specifically because of the uniqueness of Japan. It's traditional, but continuing to develop and grow.
Can you tell us about the historical significance of tattoos in Japan?
Firstly, the word for tattoos in Japanese has different meanings depending on which one you use (Tattoo, Irezumi, Horimono etc). Even the kanji used for 'irezumi' can change the meaning (e.x. 入れ墨 and 刺青 ) Each has its own significance and a deep meaning. I'm sure you could write an article on just this question alone.
What is your philosophy about your art?
My philosophy continues to develop, challenging new ideas and trying new things.
What makes your work unique?
Taking the traditional Japanese style and creating original pieces that fit each individual person's body.
Can you compare Japanese art culture with other art cultures?
In my opinion, Japanese paintings, such as Ukiyo-e, capture the subject in outlines without using a perspective. The use of negative space is given special attention to in the composition.
Can you talk about how you express yourself through art?
I feel that I express myself through moods and sensations. With my experience and knowledge, I have created a standard for myself. Through this I can make choices that show who I am through my art.
Can you tell us about your exhibit in June and your 20-year anniversary?
In June I celebrated my 20th year as a tattoo artist. For this I put on an exhibition called "Femme Fatale of Horimono." The collection came from art I have created over the years with the theme focusing on the beauty the femme fatale.
I also had the great pleasure of having some fantastic special guest artists provide their own work for this exhibition including Luke Atkinson, Filip Leu, Ivan Szazi, Paul Stottler, Luca Ortis.
Although it was just a small exhibition it was a very proud moment for me as an artist. I hope it will lead to more exhibitions in the future.