Demons and Deities: Interview with Sven Anholt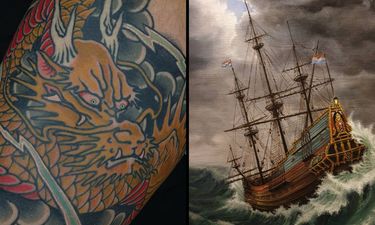 JM

In this interview with Sven Anholt, he talks about pagan icons, self-taught tattooers, and authentic art.
A tattooer with a magnificent array of skill and style, Sven Anholt is known for his mastery of Traditional, as well as Japanese, tattoo techniques. His natural predilection for esoteric folk arts has birthed a series of frisky demons who skitter across skin banging pots, slurping wine, and causing a charming amount of chaos. These particular monsters are only half of Sven's incredible portfolio; other designs include pearl encrusted deities, Namakubi's bedecked with blood spurts, and everything in between.
In this interview, Sven Anholt shares how he got into tattooing, his secret to creating the best art possible, and how his demon designs came into being.
When do you first remember getting interested in art? Are there any childhood memories that hint at the artist you would become?
My earliest memory of drawing comes from a family holiday to the French Alps. I would have been around eight years old. I had been shown the movie "Monty Python and the Holy Grail", had watched it many times over, and had me drawing knights in great helms and tabards. I think it laid the foundation for my love for folklore and medieval themes. Not something I had ever expected to be including in my tattooing.
How did you get into tattooing and why were you drawn to it?
I never really had a desire to become a tattooer, it more-so kind of happened. My plan was to study Game Art In university. I had no intention to do anything with tattooing until someone mentioned I should, considering my drawing talents. I had two tattoos at the time, was not interested in tattoo culture, nor even aware of its existence. My grandfather and uncle were tattooed, and it had little special meaning nor appeal to me. Once the seed had been planted however, I started to dig in; browsing the internet and buying tattoo magazines and trying to draw designs with classic themes; anchors, skulls, roses, mermaids etc.
At the age of 20, the opportunity arose to work at a tattoo studio as a floor manager, it was a foot in the door, and a choice to be made; studying game art at the university, or tattooing. I chose the latter.
Working within a large team that covered four studios in the Netherlands, I got to meet a lot of tattooers early on. Most of them were eager to point me in the right direction with tips and tricks of the trade, and showing me works from the likes of Emily Rose and legends such as Filip Leu. One of those tattooers was Roby Marciano. It is through him I got my first set of tattoo machines and some insight into tattoo culture and its scope. He, however, gave me much more than that. In a way he opened my mind to a wide range of subjects, gave certain lenses through which to view the world. It was so much bigger than simply learning about a trade or skill, and I will forever be grateful for it.
A few years later I moved to Melbourne, Australia. I had a shoddy portfolio comprised of tattoos I had done from home, but managed to get into a tattoo studio. It would be the first time I'd work in a studio as a tattooer; I was dead scared. One of the tattooers working there was Will Pacheco. He, like Roberto, did not just influence my drawing and tattooing, but the way I see the world.
I suppose these things are intertwined; drawings and work produced being a reflection of the mind, and even vice versa, seeing tattooing takes up so much time and energy. It can truly be a way of living, more than a job, a hobby or passion, something more intimate, more deeply connected.
Not only do you do Japanese but you also do Traditional and Dark Art demons. How did you master all these particular styles?
The first few years of tattooing I mostly focused on Old School and Neo Traditional. The works of Emily Rose and a few others were absolutely inspirational to me. A few years passed and with the discovery of ukiyo-e style artwork, the focus shifted towards Japanese tattooing. Although the workload, due to working in commercial shops, was always a mixed bag style-wise, I was always drawn to strong, bold and simple imagery. The works that inspired me urged me to simplify, embolden and flatten my designs. I often feel my goal is to make every aspect of the tattoo as if it were a pattern, or part of a pattern, to be printed on fabric.
This inability to keep focus on one style, or rather, the attempt to find and apply the similarities of these styles helped me become a tattooer with a decent all-round skill set. Save for photo realism, God forbid I try my hand at photo realism.
How did the demons series develop?
A few years ago, life reignited my interests in European folklore, paganism and themes of the like. I started reading the Edda, among other works, and lots of material on the internet, mostly in search of a spiritual connection. I think this birthed the darker themes found in my more recent work, including the first drafts of a devil or Krampus-like figure.
During a visit to Lithuania, which is still deeply sated with paganism partly due to being the last European country to convert to Christianity, I visited the Devil's museum in Kaunas. Three floors of carved devil figurines, statues, masks and other curiosities. It is here that my demons adopted their merry, comical and satirical character.
You also have a traditional oil painting practice. Can you talk about motifs or iconography you're directly drawn to or prefer to paint? How much is painting connected to your tattoo work?
I started oil painting some years ago to pass time. I was unable and unmotivated to generate clients, and the studio where I was working from at the time was unable to provide work. It was an artistic output when tattooing did not provide it. I can hardly call it traditional though, as I have very little knowledge on technical application, and simply just do. I have dabbled with portraiture, landscapes and still life paintings, and each have their own appeal to me. The style of the old masters however, using dramatic contrast and dark backgrounds, absolutely does it for me. Painting did, in part, landed me my job in the tattoo studio where I am currently working from. It's an incredibly artistic crew with most of them painting either in oil, or ink, besides tattooing.
What is your advice to young tattooers looking to find their style? What do you think about tattooers, now, shunning the traditional apprenticeship and learning on their own?
I feel I managed to connect my inner self to tattooing after almost a decade of exploring the profession and its' many forms, resulting in a wildly more rewarding workflow. I have never tattooed this many of my own designs, and there is this abundance of inspiration to keep on creating, as if I have only reached the surface of something much more expansive.
It now seems to me that in order to create something unique, it has to come from within one-self, and one's own experiences, whereas I used to put too much attention to what I believed others wanted to see from me and my work, acting as a reflection more than from my own being. In other words, experiences will provide the tools to express the self. Obtaining this experience can be incredibly hard work, or simply take time, and there are no shortcuts. A traditional apprenticeship can be the means to gain valuable experience, but often comes at a price.
Luckily, though, as tattooers, we have a profession that provides us with this incredible foundation for growth; being surrounded by inspiring and creative people, the option to travel and work anywhere, being able to support oneself through creativity, so on and so forth.
How do you feel about the future of the tattoo industry? What needs to change and what should stay the same?
It is in my understanding that the tattooing industry has been changing and evolving quite rapidly. I think it has now opened up so much that it has become reflective of society. Self-taught tattooers are abound, private studios pop up left, right and center, changing the viability of street-shops as trends come and go in quick succession. Although I'm sure the meaning of tattooing has changed many times throughout history, from shamanistic practice to straightforward capitalistic endeavours, right now, people from all walks of life tattoo and get tattooed. All of those tribes are represented within the spectrum of the tattoo industry.
Looking at the world, and therefore reflected within tattooing, one can see a movement towards a dystopian, capitalistic future, where anxiety and hurt, masqueraded in majestic grandeur through social media, lead to the over-evaluation of appearance, exterior aesthetic, money and dominance, at the cost of all else.
On the other hand one can see people detaching from this relentless machine, reconnecting with the natural world, becoming more aware of themselves, their place, and the effect they have on their surroundings. People are positively becoming aware of wholesome ideas; personal, political and spiritual, and this too can be seen in the tattoo industry.
As everything changes, what it means to tattoo and get tattooed changes. What is yet to come remains to be seen, but I think genuine, personal pursuit of one's own authenticity is key.
Do you have any projects, events, or plans upcoming in the future you'd like to share?
I have many more plans and places to go with my demon friends, many more areas within tattooing to explore, and I hope to one day actively and positively contribute to its society.