Edo Inspo: Interview with Akuma Shugi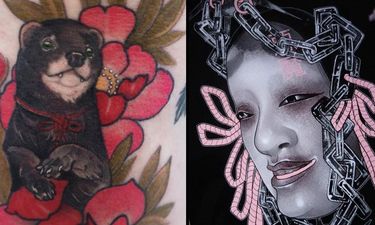 JM

In this interview with Akuma Shugi, he talks about becoming a tattooer and inspiration.
Switching from pop pastels to dark inky tones, Akuma Shugi has found a home within the genre of Pastel Gore, but he's most certainly made it his own. Part Dark Art, part Neo Traditional, but fully entrenched in the nostalgic layers of anime and manga that so many millennials were brought up with, his artwork resonates with clients around the world who find comfort in mythical creatures, Japanese inspiration, and the symbolist quality of nature.
In this interview, Akuma explores his connection to the arts, describes how he got into tattooing, and shares his advice for a harmonious life.
How did you get into tattooing? Did you always know you wanted to be a tattooer or did you have other plans in mind?
I got into tattooing by chance about 9 or 10 years ago now, through a friend and fellow artist who was pursuing a career as a tattoo artist. We had both finished at art college and he had managed to secure an apprenticeship. Free-lance art jobs at the time were very low and I wasn't doing too much else, as I was hanging out in the studio quiet often, they offered me the chance to learn to tattoo. It wasn't really something I had planned, even though I was into tattoos and had many at the time, I always wanted to pursue comic based art, but it was just not meant to be. I'm very happy with the outcome though. Tattooing is a very interesting and challenging art path.
How has your style evolved over time? What or who inspires you the most?
Style wise, it's always changing as I came from a background of mostly drawing comic based/ manga style art and sometimes realism. At first, I found it quite hard to migrate it into a working tattoo, I still do to be fair. I was heavily influenced by music, film, and Japanese culture at the time. I had a lot of fun drawing animal-based pieces and merging them with things I was influenced by like Edo period japan. Style is a funny thing though in art, constantly finding myself over analysing work and wanting to change or improve aspects. peoples' influences can change a lot through time, I see this as a good thing though. There are many artists that I look up to, almost every artist in their own way but some such as Caravaggio, Bartolomeo Manfredi to Masashiro Ito Yoji Shinkawa. Henrik Aa. Uldalen. I could just go on forever really, and that's just art based, not even mention film directors and musicians but this would just go on for too long.
How do you feel about the current state of the tattoo industry? What needs to change and what needs to stay the same?
Quite honestly, I'm a pretty quiet person, I normally just keep to myself so I miss a lot of what's going on inside of the industry, but I think just like anything it should be allowed to flow and evolve to the new ways and styles. Everything changes with time, I know a lot of people aren't too fond of change, but you can't help the fact it will so just keep doing what you love and let other people do what they want to do.
What do you love about tattooing and what have been some of your favorite moments during your career?
Just like any art form, the constant path of learning, you can never know everything about tattooing, always learning new tips and tricks from so many different amazing tattooists. It can be tough as it always bums me out that I'm never that happy with my work but that's what helps you grow as an artist and want to improve, pretty sure everyone Ive ever spoken to says the same haha. I very much enjoy the experience you have with each customer though, having someone put that much trust and support into your work really means the most.
Beyond tattooing, what are you super passionate about?
I touched on it earlier but film, music and video games aha probably a bit too much, but they are a great way of unwinding and drawing so much inspiration from when you have lowered your guard.
Anything else you want to share or say to the world? Any cool future plans that we should know about?
I don't have too many plans at the moment as most of the world is on hold for god know how long, but once things have hopefully returned to the new normal, I'd love to try and travel more and try and plan some quest spots. Other than that, I just want to keep working with art and I'm excited to see where my art style leads to in the next few years!
Be kind to people and find you passion in life no matter what it might be, have fun and try your best!