Exploring Avant-Garde Blackwork Tattoos with Ben Volt Pt. 2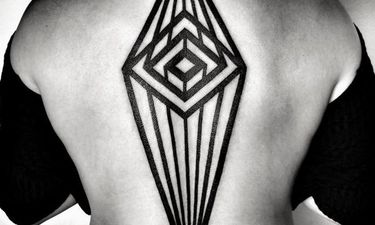 RH

The concluding segment of our two-part interview about postmodern ornamental tattoos with experimental blackwork extraordinaire, Ben Volt.
Today just about anyone can walk down the street, find a shop, choose a design, and walk out with a brand new tattoo in about an hour. But there are still some people who believe that getting body art should be taken more seriously, almost like a sacred ritual or rite of passage. Inspired by ancient tribal styles such as Polynesian and Marquesan, Ben Volt's tattoos express a reverence for the idea behind those traditions: a tattoo is something that's earned. We recently spoke to him about how he got into the industry and the process behind his art, but now here are his thoughts on the theory behind his approach to creating such groundbreaking blackwork.

Tattoodo: What about blackwork attracts you to the style?
Would you mind elaborating on the idea of earning tattoos a bit more?
Your work seems simultaneously futuristic and traditional. How do you manage to find a balance between these two extremes?
What do you think is the value of bridging the ancient and the avant-garde? 
This overwhelming desire to connect with something greater than himself is what makes Volt's work so visionary. He is attempting to bridge a cultural divide brought about by modernity through creating art that's so in touch with its ancient roots but also infused with the spirit of the new millennium. Getting tattooed by him is not only an act of empowerment; in many ways, it's an initiation into a larger community — a tribe of forward-thinking blackwork enthusiasts.

Follow Volt on Instagram to see more of his groundbreaking blackwork, and be sure to check out the other half of the interview, where he talks about how he got into tattoos in the first place and the process behind his postmodern ornamental body art. If you'd like to get one of Volt's bold and boundary-pushing pieces, he can be contacted via his website.