Forever Humble: Interview with Jesus Antonio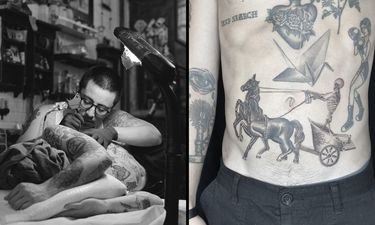 JM

In this interview with tattoo artist Jesus Antonio, he talks finding mentors, evolving styles, and advice for getting an apprenticeship.
Hailing from Los Angeles but based in New York, Jesus Antonio is blending West and East coast aesthetics to create something entirely personal. Though the influence of Traditional and Chicano is beautifully present, Jesus also brings a sense of purpose and devotion to his work that is a refreshing source of constant inspiration. Acknowledging that artists have a responsibility to the world, Jesus consistently brings joy and happiness his artwork, something that the tattoo community thrives on. In this interview, Jesus shares what success means to him, how he got into the tattoo industry and what he loves about it.
Above portrait of Jesus by Will Tran.
How did you get into tattooing and why were you drawn to it?
I got into tattooing through my friend Jonny. One day while we were out skating he told me about how he had just started tattooing and asked me if was interested in getting a tattoo. I had never really thought about getting tattooed before that but I jumped at the opportunity because it seemed cool. Next thing you know I'm sitting in his garage getting the Thrasher logo over my knee. Not much thought was put into my first tattoo but I knew that I liked getting tattooed. I think I got three more within that first month. Anyhow, Jonny knew that I was really into drawing at the time and he encouraged me to get into it and that's where the seed was planted.
I tried to get started on my own but I quickly learned that I was going to need some help if I was going to learn how to tattoo properly. I put together a portfolio and applied to over a dozen shops around LA looking for an apprenticeship. I got turned away from all but one which was this shop in Glendale, CA. Looking back on it now, I'm surprised they even took me in because I was still a 17 year old kid in high school. I tried my best to just be a fly on the wall and help with whatever was needed. Unfortunately, my apprenticeship only lasted a few months because the shop ended up closing down.
At that point, I felt that I had learned enough so I started practicing on my friends. I definitely shredded a couple of kids' legs but it was part of the learning curve, which I don't recommend. Can't forget to mention my mentor that I picked up along the way, Matt McCormick, who helped me out immensely when I was just starting out with tattooing. I can honestly say that I would not be tattooing at the level that I am at without his guidance, and for that I am forever grateful.
Can you talk about your style and how it's developed over time?
It's hard to think about my tattooing in a specific style because I don't want to pigeon hole myself. I'd like to think that my work is constantly evolving. What does seem to remain consistent in my body of work is the lack of color throughout.
When I first started tattooing I was drawn to bolder American Traditional imagery and Chicano style tattoos. Growing up in LA, it was hard not to take notice of those classic West Coast images worn by so many of the residents.
As of recent, my work has evolved to include architectural and more playful cartoon like imagery. I am trying to step outside of my comfort zone and challenge my idea of what tattoos should look like. In the future, I'd like to deconstruct some already made tattoos or to make tattoos based on basic shapes, almost sculptural, on a large scale. These are still ideas in my head so I am not even entirely sure what that entails on paper.
What do you love about your job and the tattoo community at large?
I love the fact that people are willing to pay me, their hard earned money, to draw on them. I am forever grateful and humbled that my clients allow to me to do this for a living.
I love how many great people I have met through tattooing. All different kinds of people who share the same common goal: making good tattoos. This effect is magnified even more so in a city like New York. The city is so compact that you are working next to some of the best artists in the world in a 5-mile radius. Needless to say the competition is stiff and it keeps you on your toes.
Shoutout to all my friends and coworkers Black Square Tattoo, y'all the best.
What is your advice to young tattooers looking to find their style? What do you think about tattooers, now, shunning the traditional apprenticeship and learning on their own?
If you are a young tattooer, looking to find your own style, my best piece of advice is to draw every day and eventually you will see your style develop. And don't be afraid to be yourself, your personality will show through in your work.
I know tattooing has evolved a lot even in the past 10 years but I think the traditional apprenticeship still holds true. It is still the best way to get into tattooing. Although I didn't have a traditional apprenticeship, I still wish I did because there were many things that took me twice if not three times as long to learn because of the lack of mentorship early on. There were also many things I had to unlearn once I started working in professional settings that I otherwise would not have had to deal with, with the proper guidance.
I know it's hard to try to land an apprenticeship but I'll offer a few tips because I see too often people approaching it from an improper manner.
You want to establish a relationship with the shop, meaning going to get tattooed often or even offering some type of service whether it be cleaning or answering emails. Nobody likes a one sided relationship where only one person is giving and the other is not reciprocating. You also want to have an extensive portfolio. Too often I see people seeking out an apprenticeship but having no real work to show.
How do you define success and do you think artists have a responsibility to the world?
I relate success to happiness. At this point in my life I am not interested in doing anything if it doesn't bring me genuine joy. Being able to express myself creatively whether it is through tattooing, painting, or drawing is what makes me happy and it turn that's how I define success. The most prized possessions on this earth are meaningless if you can't find happiness.
I think artists do have a responsibility to the world. I think as artists we need to be more considerate of how we exist in the world.
I can't speak on behalf of all artists but something I'd like to be more considerate of moving forward is how I can minimize my carbon footprint while I spend my time on earth.
I actually recently found this new company, Minimal Ethic, that makes biodegradable tattoo supplies. They're still prepping the products for larger production but definitely a step in the right direction and hopefully many of us can follow suite.
Do you have any projects, events, or plans upcoming in the future you'd like to share?
Working on a new project that is not necessarily tattoo related with my good friend Henry Palmieri. It is still in the infant stages, nothing has been materialized as of yet, but we are looking forward to sharing with you guys very soon.
I will also be spending more time in Los Angeles in the future when all this Covid stuff is over. Definitely looking forward to that as well.