Going Animal Style With In-N-Out Tattoos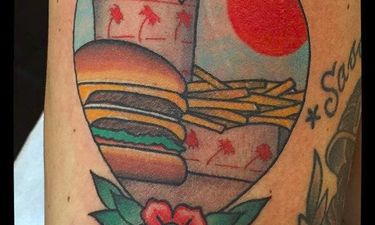 In-N-Out, the world's most secretive burger joint, has inspired some not-so-secret tattoos
I recently took a very ill-planned West Coast roadtrip over the course of a week. My visual cortex overdosed on the sites this expansive country has to offer, and I love every place I visited – with the exception of Las Vegas. I didn't plan to go to Vegas, but rather drive right by it. I've been. It's like a Slayer album, specifically Hell Awaits. But as I was passing by, I saw the one thing that would make me pull off into that festering shithole of a desert town – an In-N-Out Burger.

I'm sure you're scratching your heads, wondering why a vegetarian would get so excited at the prospect of a burger joint. Simply put, because of the novelty. In-N-Out is a magical place, existing only in a West Coast bubble, the company having steadfastly refused to expand eastward. And from what I can tell, their marketing consists solely of having been mentioned by characters in the Big Lebowski.
But the real thrill of In-N-Out burger is the feeling that comes with knowing that you are in on a secret. When you walk in, their menu literally just has burgers, fries, and shakes, with no options. To get a quality meal at In-N-Out, you have to be well-versed in their "secret" menu. Using a host of keywords not found anywhere in print within a franchise, you can really ramp up your order.
The most commonly uttered secret phrase at  In-N-Out is "animal style." This means whatever you order will come covered in some sort of cheesy onion sauce, the exact makeup of which is probably kept on a piece of paper in a vault somewhere. I don't really care what it is, it's delicious. I have had many a dinner that consisted solely of fries covered in this glorious sauce.
Another favorite is the Neapolitan shake, a layered serving of all three available shake flavors resulting in a delicious treat far superior to the sum of its parts. But it doesn't stop there. If you know the right keywords and phrases, you can practically do anything.
Speaking of secrets, if you examine the cups and wrappers at you will notice the names of verses in the bible printed in the most obscure locations on their products. As the company is family owned by the descendants of its founders Harry and Esther Snyder, they can do whatever they want. So they choose to tuck references to the bible on their wrappers and cups. But that's it, just the name of the verse. It's very subliminal proselytizing and a price I don't mind paying for deliciousness.
Just as the Snyders may be part of some obscure Christian sect, so has the company developed its own cult of fast food lovers. There is a lot of West Coast pride tied to In-N-Out. Having stayed localized to the region, it's become a source of local pride in a way that no nationwide franchise could. It makes all the sense in the world that some of these fast food fanatics would take to tattoo machines to show their love for this wacky little restaurant with In-N-Out Burger tattoos. We've gathered a few here because we're stuck in New York and unable to enjoy anything animal style other than these fleeting images of burger love.
These In-N-Out tattoos will either have one of two possible effects on you. Either you'll be rejoicing that you live in an area where you can run out and grab dinner animal style whenever you want, or you'll be cursing the soil you live on and start contemplating a move to California. We here at Tattoodo are all firmly in boat number two on that one.