GxBxT and Masato Okano: 3rd Ethos Art Exhibit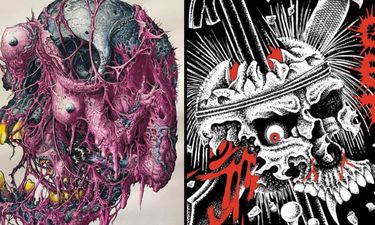 JM

GxBxT and Masato Okano are hosting a group show exhibiting art by all your favorite tattooists in Brooklyn, NY.
Tonight GxBxT and Masato Okano are coming together to exhibit artwork by some of the best tattoo artists around the globe. The opening event will take place Feb 15th from 6pm to 11pm, and promises to give you everything that hardcore punk is all about: PMA, sick af art, awesome music, and good company. 
What is GxBxT all about and how did this group show come into play? How does it connect with the other work you do?

Originally we were a music group put together by members from NYC and Tokyo. GxBxT came from Gambatte in Japanese, that kinda means like PMA, and it's my lifestyle. From music I branched out into clothing for fun and it seems to really be catching on with people.

The artists surrounding me came together from all my life experiences. Tattooers, musicians, and other artists from various mediums that also share this mantra and lifestyle of GxBxT.

Was there a particular theme to the show, or is it just the best work from some of the best artists out there?

I didn't have any particular concept for this show. No central theme...just friends having fun and doing projects they wanted to do. But all of the participating artists, my friends, know about GxBxT very well. So they could make their best GxBxT artwork for this show.

Why was 3rd Ethos the perfect place for this particular group show?

My friend Masato is gonna hold his art show at the gallery, and I got the opportunity to join this show as GxBxT. When I met the gallery's owner the first time, I felt very comfortable with her and the gallery, and I feel confident this show will be a success.

New York City and Tokyo have been Sister Cities for over 50 years. What do you think is special about each of these places, and how do you think they are similar?

Oh I didn't know that they are sister cities! They may be similar, but completely different like banana and plantain.

Haha, cool. Anything else you'd like to share?

GxBxT all day everyday!