How to Hide a Tattoo with Make-up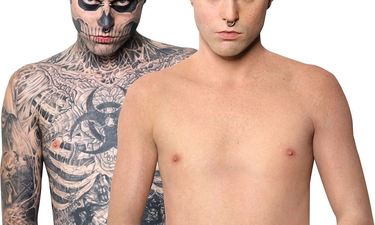 An easy step-by-step guide to hide a tattoo with make-up, featuring Rick Genest aka Zombie Boy
Society has come leaps and bounds in the last 20 years regarding tattoos and heavily tattooed folks. We're in a way different place than we were in 1987, for instance. But there are still times when it's awkward to sport a tattoo — maybe there's a family gathering or a job interview. No, you don't have to remove your tattoos — cover 'em up with some make-up.
Here's an easy step-by-step guide featuring Rick Genest, popularly known as "Zombie Boy," using cosmetics to conceal his tattoos from top to bottom.  

So your mom called asking you to attend an important family gathering this week and you're bummed 'cause you look like a zombie amongst your non-tattooed family members. You don't wanna scare them, and you definitely don't want annoying questions and unsolicited advice about your tattoos. Hmm... what to do?! 

STEP 1: GET A GOOD CONCEALER THAT MATCHES YOUR SKIN TONE
Ask for assistance from a sales person in the cosmetics department and be sure to test the concealer on an existing tattoo. It should melt in your skin and blend well, looking as natural as possible. 
TIP: You can get a make-up primer (a make-up base that will lock in the concealer) for optimum results and find a concealer that has a lot of benefits like SPF as our tattoos needed protection from the sun! 
STEP 2: WASH THOROUGHLY
Wash the Area with tattoos that you intend to cover-up with make-up thoroughly with soap and water, then dry it up. 
STEP 3: APPLY CONCEALER WITH BODY SPONGE OR HAND
If you're as heavily tattooed as Zombie Boy, get a big body sponge applicator to apply the concealer with ease. Or you can ask help from friends for hard-to-reach areas. Start by swiping the product all over body, and do a second coating (if not satisfied) by dabbing the product over the tattoos for maximum opacity. Leave to dry for a few minutes. 
STEP 4: CHECK YOURSELF
Check self in the mirror if anything's covered up well, making sure that the concealer you got is long-wearing, as some can easily melt and disappear if the quality's not good. Set with powder if needed (some skin types can appear oily or dewy). 
STEP 5: SET WITH MAKE-UP SETTING SPRAY 
For optimum and long-lasting results, set the concealer with a make-up setting spray to lock in the product and prevent it from melting off. You can skip this step if you don't really need it. But for heavily-tattooed people, this would make sure the tattoos won't ever show.