I Create and I Destroy: Brutal Beauty Goddess Kali Tattoos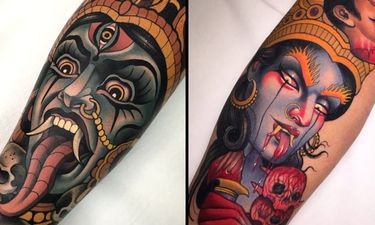 Ta

To continue our week of celebrating bad ass babes, we bring you this collection of Kali tattoos.
Tomorrow is International Women's Day, and we've tried to pull some special things together to celebrate women of all kinds: including warrior goddesses who lust for blood, and bestow liberation to their people. In steps the Hindu goddess, Kali. As you can see in these Kali tattoos, she's usually depicted as having a third eye, a long serpentine tongue and, usually, blue skin. You can trace back her existence to around 600 AD, which means there are plenty of stories to inspire your next Kali piece...most people use her as a symbol of strength: one that includes the strength of the entire universe...the source of all creation and death.

While you may think the extended tongue of these Kali tattoos is just the expression of a really bad ass, punk as fuck goddess laying her wraith and protection across the universe...it's actually usually interpreted as her reaction when she realized that she's standing on the chest of her consort and cosmic husband, Shiva. If you're at all acquainted with Kali, then you've probably seen many paintings or illustrations where she is on a great battle field, wielding a sword that severs ignorance, ego, and the many heads of her foes...apparently, she's so wrapped up in destruction that Shiva lays down to kiss her feet and calm her anger.

As with most Hindu goddess's and god's, the stories are never ending. Do a little research and you'll find that though many depictions of Kali, these Kali tattoos included, make her look like a deep well of intense and powerful anger...her personality has as many layers as would be expected of a goddess who has survived for thousands and thousands of years...for example, dig her jewelry and lavish crown? Her earrings are apparently embryos that she carries with her as a symbol for her love of people with childlike hearts and souls. Pretty incredible, yeah? Mother Earth incarnate.