If Disney Princesses Actually Got Tattoos (Part 1)
Xa

Last month, Buzzfeed re-imagined Disney princesses with tattoos. We thought: what if these princesses really had gotten a bunch of tattoos?
Last month, Buzzfeed re-imagined Disney princesses with tattoos. We thought: what if these princesses really had gotten a bunch of tattoos?
I mean we don't know all their deepest darkest secrets but at least we have some kind of head start with what went on with their lives!
I mean, if you grew up watching Disney princess movies and not Hannah Montana, then you never had the chance to actually see your childhood heroines grow up then soon get an awful lot of tattoos (looking at you Miley). But at least we can imagine what it would have been like if they actually had tattooed Disney princesses. And no royalty should ever had the dishonour of getting some really shitty tattoos.
Snow White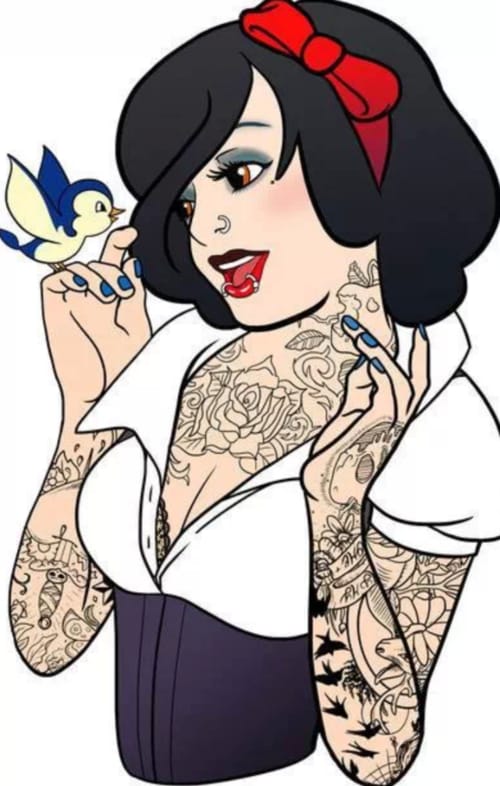 The first Disney princess in the franchise. Youngest one at that (the chick is fourteen!). But the fact that Snow White [movie] originated in Germany and how dark the story turns at some points makes for a really interesting tattoo story to take lead of. The story is dark enough as it is, even without the origins.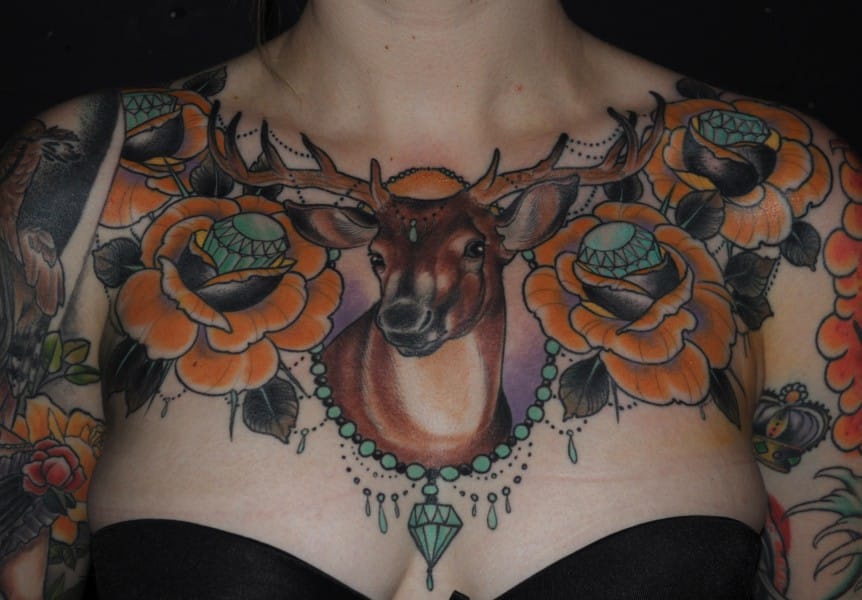 I specifically wanted Snow White to have a chest piece and when I saw this, I knew it was the one. In the movie, you see a lot of animals aiding the princess and hanging out with her. The deer is one of them and aside from its significance factor, it looks so damn majestic. The jewels can stand for how the dwarves were miners, and all the jewels they have found.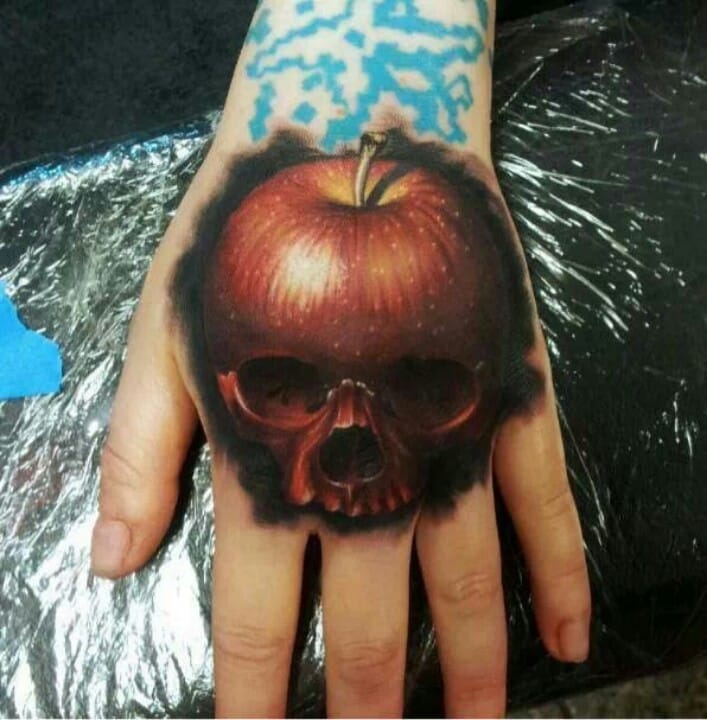 The famous deadly apple. Aside from looking totally wicked and badass, this particular piece is vital in the story. It's what put Snow White into an eternal sleep, and soon became the reason she met the prince.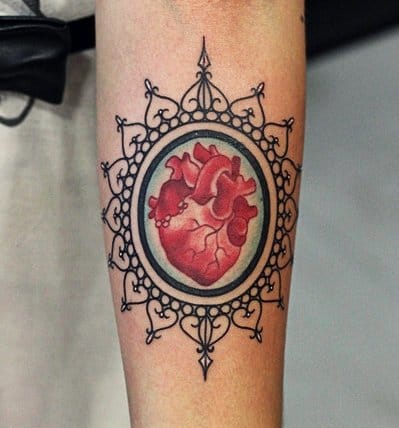 We know how the Queen tried to kill her, hiring a huntsman to do the deed. She asked for Snow White's freaking heart as proof she's dead (but really, in the story the Queen intended to eat Snow White's heart for youthful looks). But either way, the huntsman, pitying Snow White, gave the Queen a deer's heart instead. So that's how I got the idea of an anatomical heart. Let's use the frame as supposedly the mirror the evil b-tch used.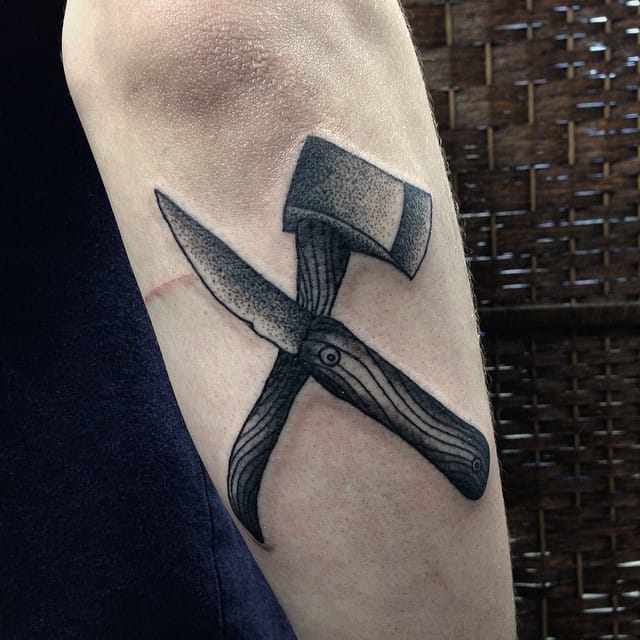 Giving another credit to Snow White's rescuer, this can stand as a tribute of Snow White for him. The axe, since he's a huntsman/woodsman, and the knife, which is supposed to have been his murder weapon, became his tool to save her.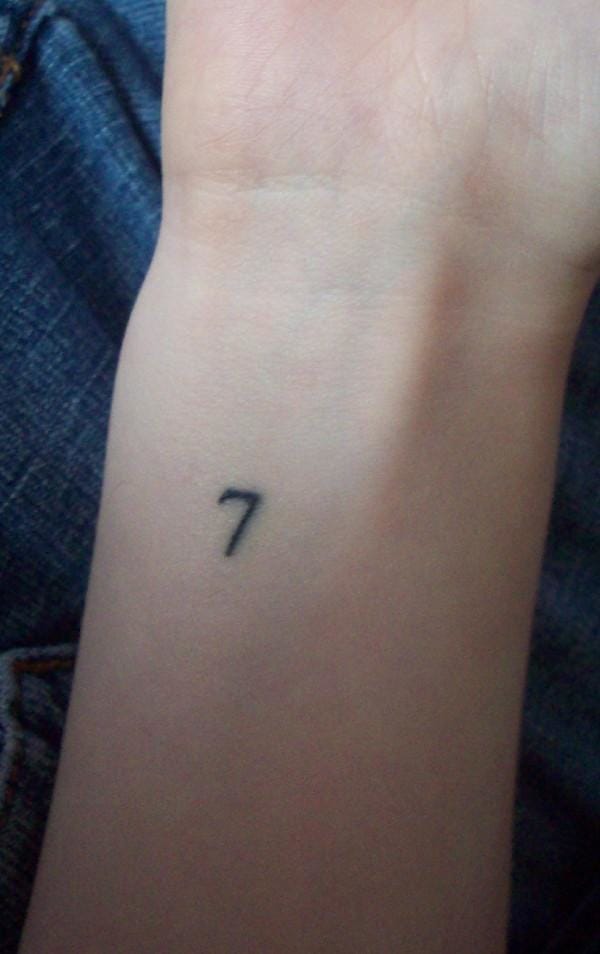 And of course, can't forget about that. I mean, if we were the prince and we got married to someone with the names of seven men (no matter how little), we'd be pretty iffed, won't we? So, there you have it. A simple '7' to remind Snow White of those who opened their home to a helpless young girl. I also think that the dwarves need more tribute, but I can't find a decent dwarf tattoo or anything.

Cinderella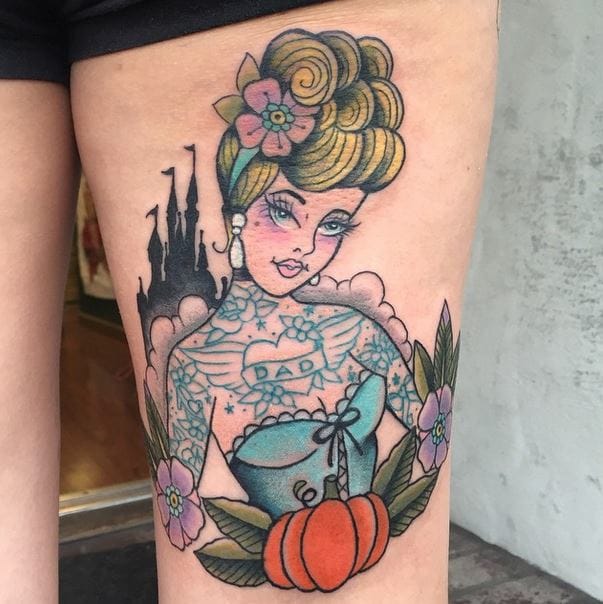 You also probably knew a couple girls who looked up to Cinderella. That's where all these fantasies of having a guy put on your shoe came from.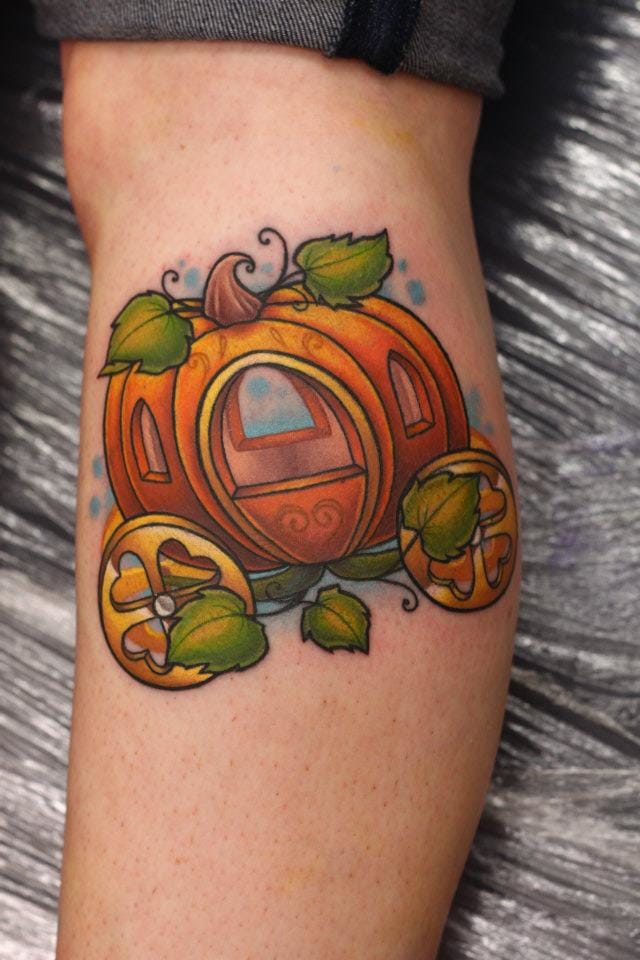 Ah, the pumpkin carriage.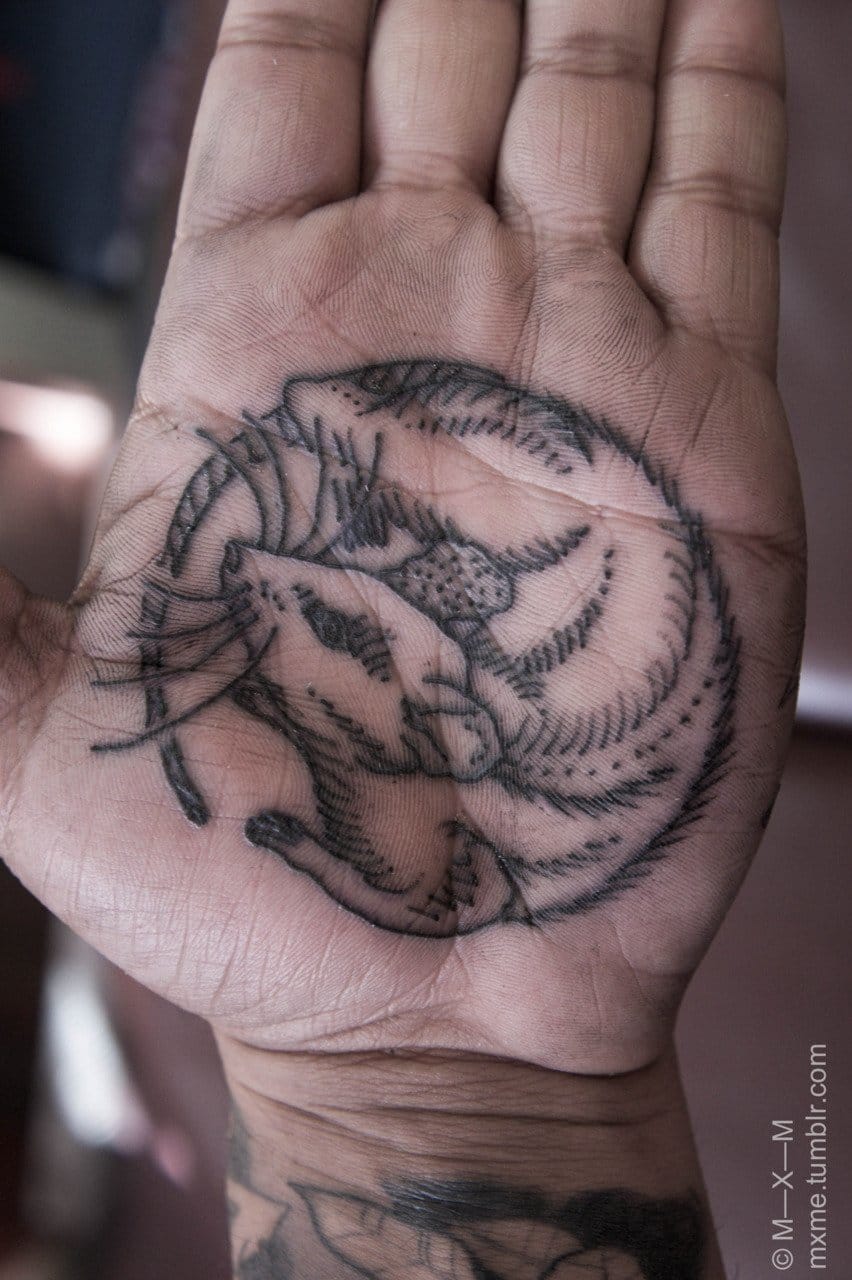 Alright, for a girl like Princess Cinderella, this may not exactly be the best choice of tattoo, but let's not forget that it was a couple of mice who kept Cinderella company in her darkest hours.
Since wands are a bit too much, let's just put in several tiny stars like Kat's into Cinderella's supposed tattoo. She needed magic to make all of those happen to her, after all.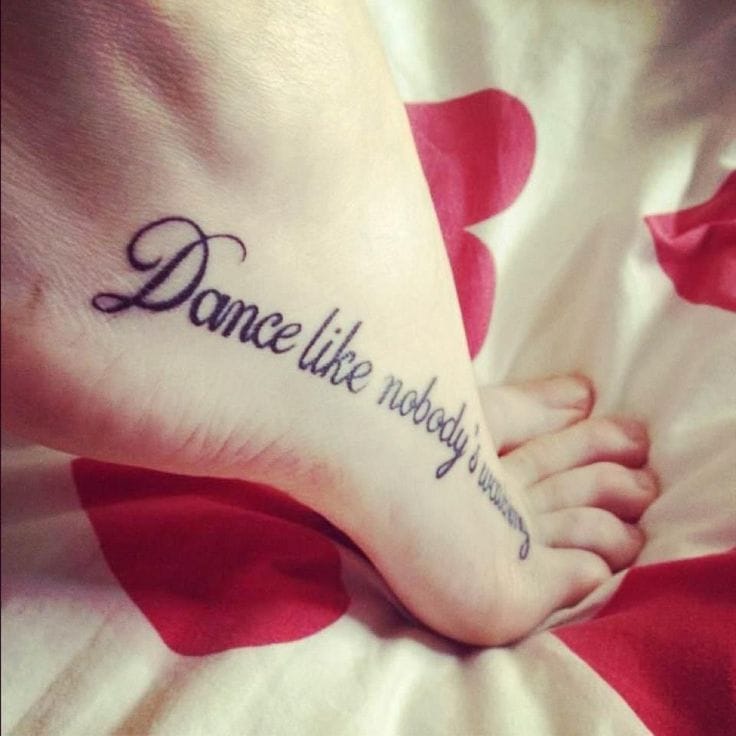 Cinderella was quite the dancing diva! Actually losing a shoe after all that dancing, she must have some wild night!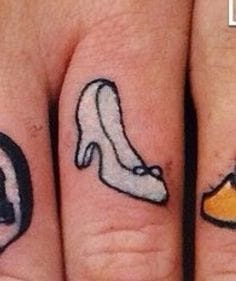 Aurora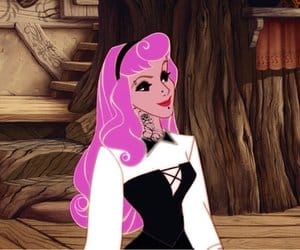 Okay, I'll have to confess that of all the princesses, I liked Aurora/Briar Rose the most. That's coming from the girl who claimed to worship Wednesday Addams. Okay, the dashing Prince Henry may have something to do with it, but that's not all. The movie Sleeping Beauty had something so gloomy and dark in it despite it being an animated movie aimed at children. But even as a five year old, I really liked it.

This is pretty obvious. Do I have to explain? You're good? Alright, good. (Would have preferred 'zzz...' tattooed on the eyelids though.)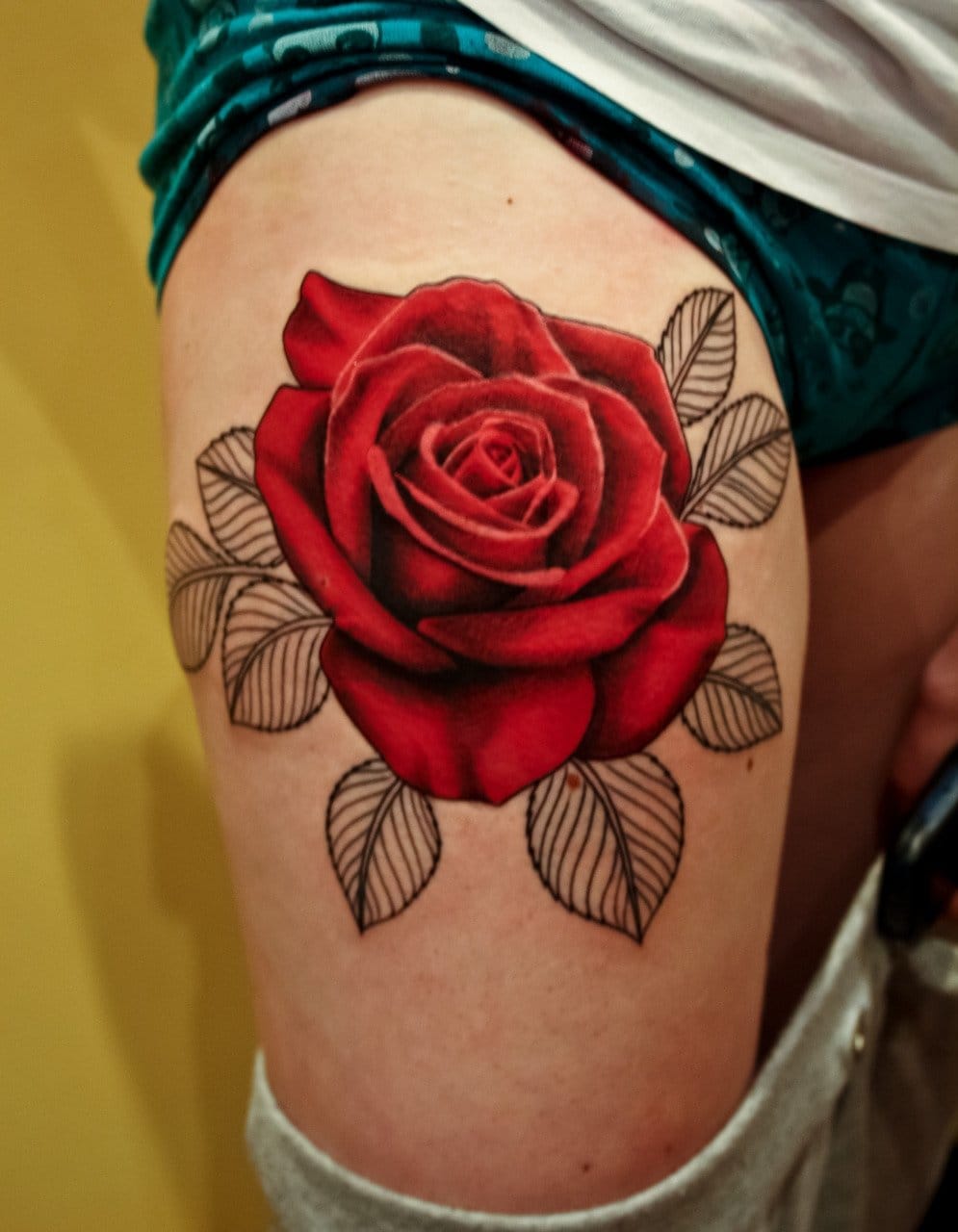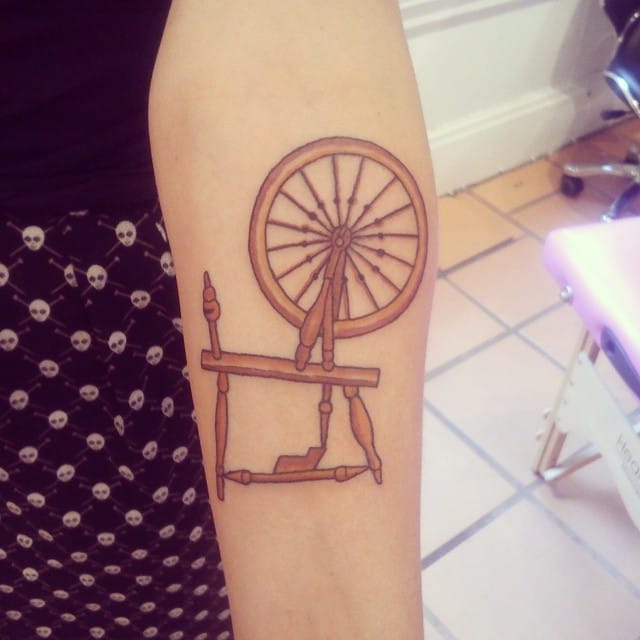 The sixteen-year-old princess fell into a sleeping spell after pricking her finger into a spinning wheel. I know, it's pretty cruel to make the instruments that almost killed these princesses as their tattoos. But like what they say, tattoos tell stories.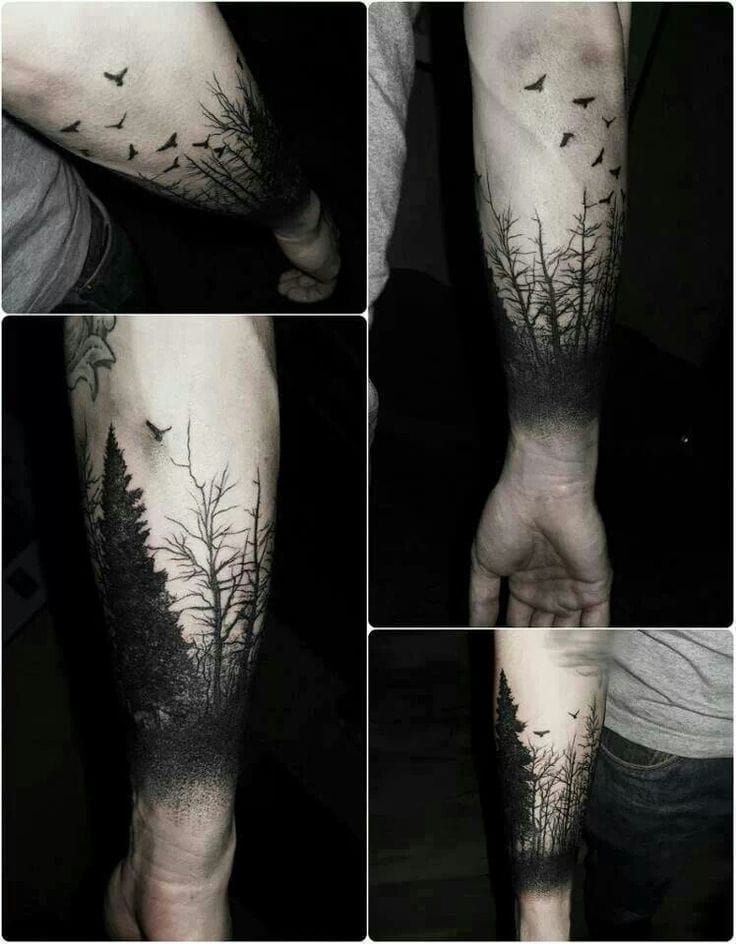 In the movie, Aurora was raised in the woods by the three fairies as Briar Rose. Not only that but the woods were also pretty dark, which makes up a good part of the almost-gothic movie.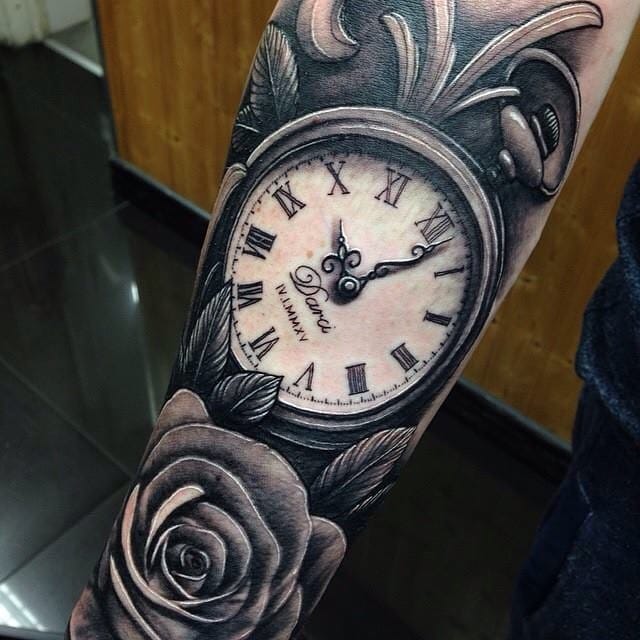 No clocks were actually significant parts of the movie. But seeing as actual time passed by without any sign of life from the palace, it's pretty symbolic. In the older Sleeping Beauty stories, the princess actually fell asleep for at least a hundred years between she was found by a prince. But in the original version, it was a king who found the princess and it's a pretty long and creepy story, read at your own risk.

We're back at this again, re-imagining tattoos Disney princesses would have gotten
Ariel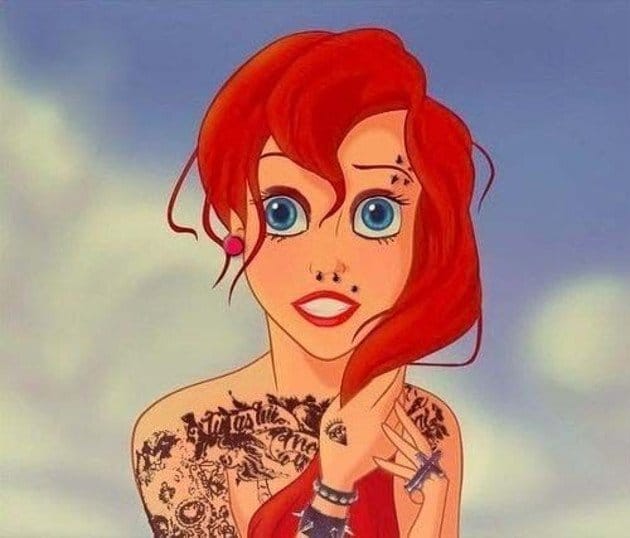 Ariel is probably the most-edited Disney princess online. People love her naturally red hair, then all they need to do is to add tattoos. I agree, she does look great in them. For Ariel, I chose mainly traditional style tattoos, most of them nautical, to match with the movie theme.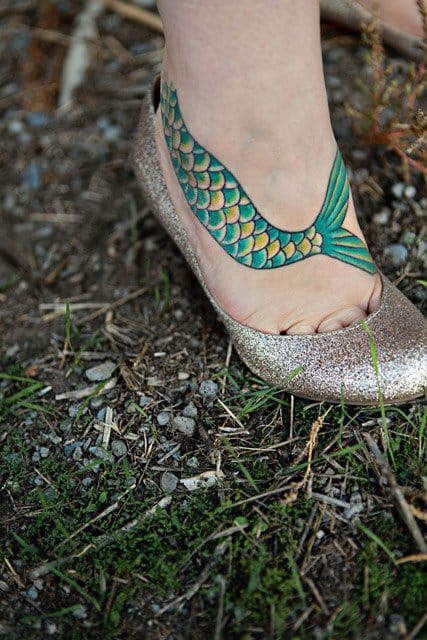 Ariel can't be a mermaid again, as she chose love over a really cool tail (what a nob). So she kept her old mermaid tail tattooed on where it used to be to remind her how f-cking cool it was to be able to swim a thousand feet below.
It was that fateful encounter on the ship Eric was in which led Ariel to her human fantasies. Anyway, bitterness aside, it's significant because if that ship didn't sink, Eric wouldn't have known she existed.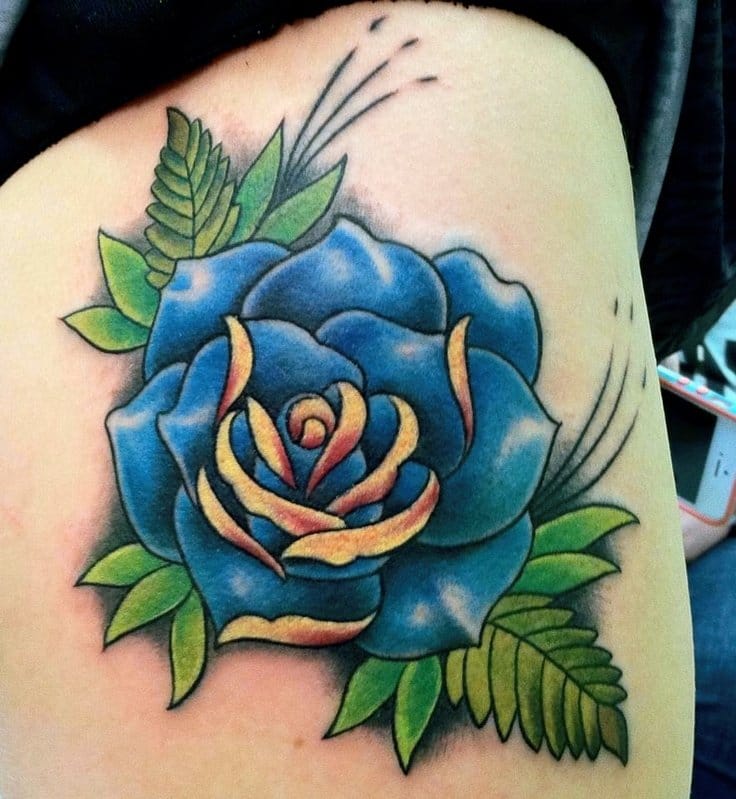 Remember Flounder, Ariel's fish friend? This is how she keeps him close, by getting a trad rose with his colours.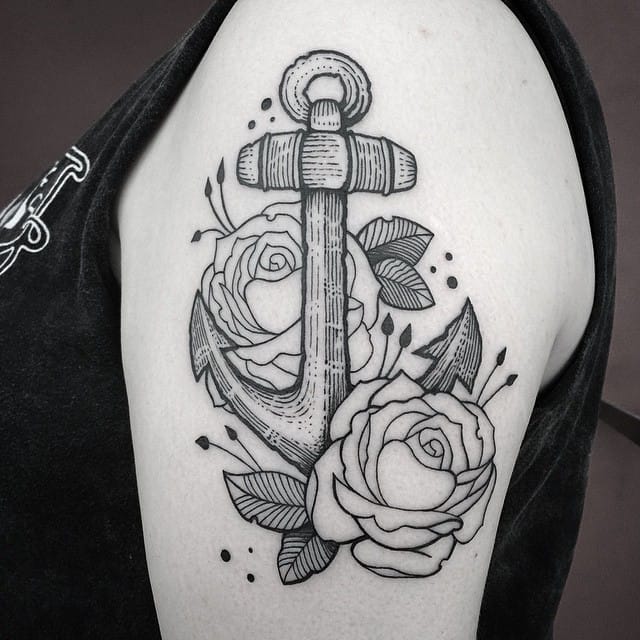 The anchor has no particular significance in the movie, but seeing as we're going for the nautical theme, might as well throw it out there. Also, to remind her of the sea.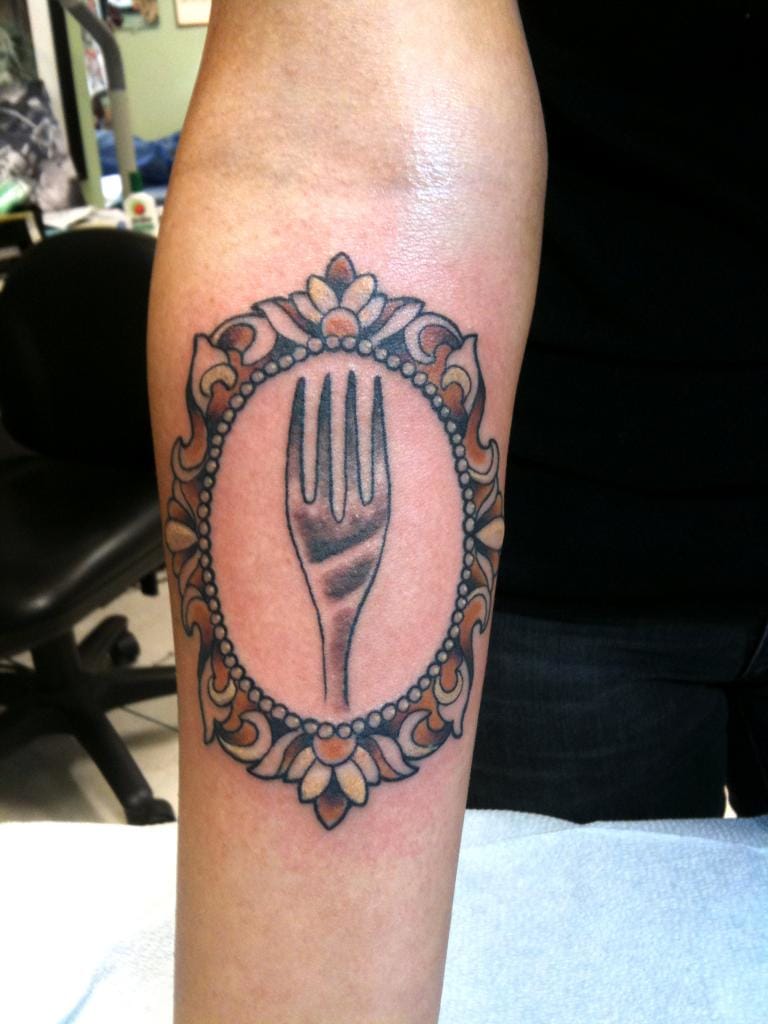 Ariel was an underwater scavenger! She mistook a fork she found in one of the wreckages as a comb.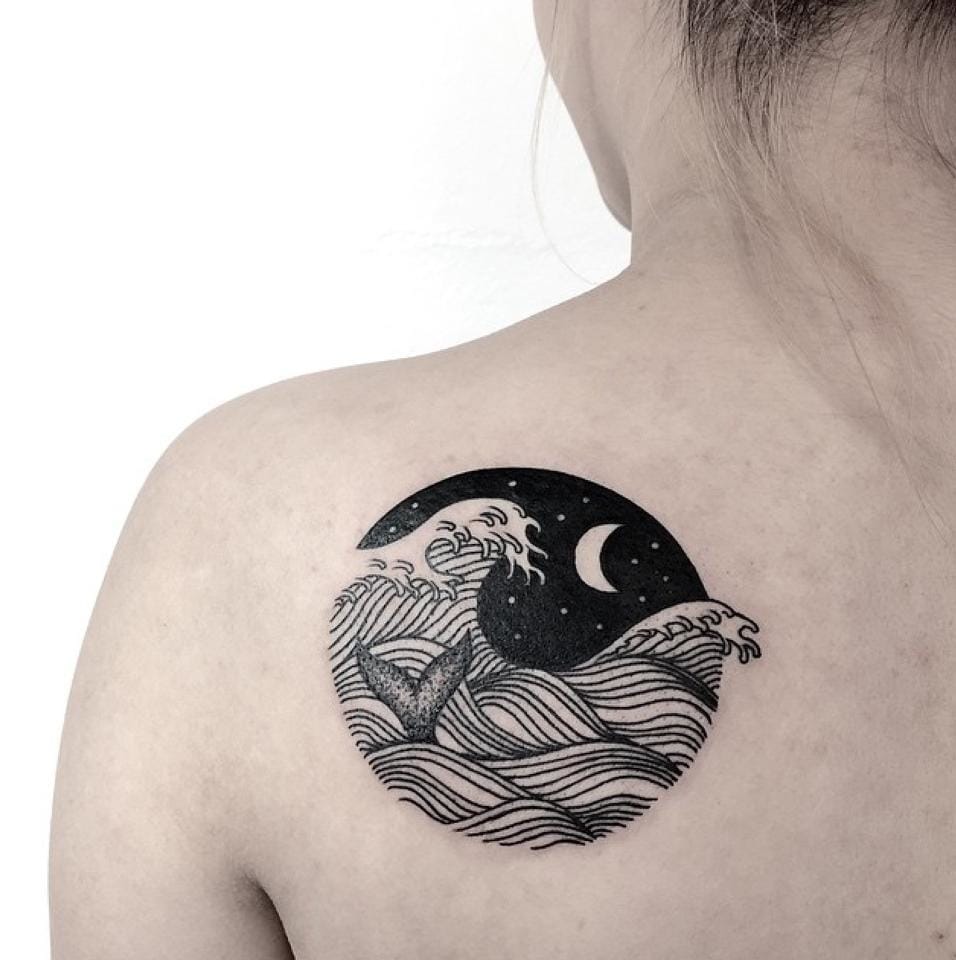 The see itself, Ariel's true home.

Belle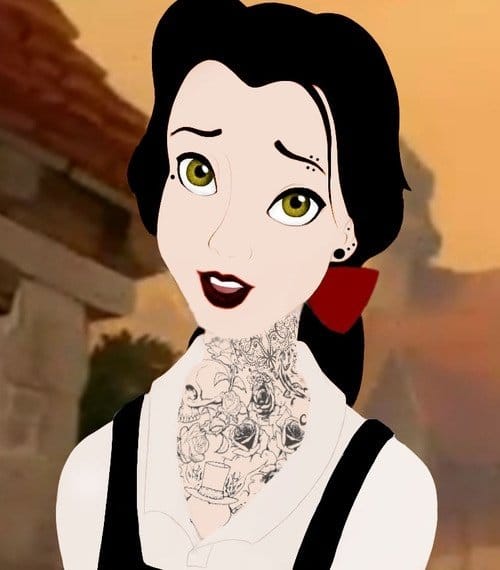 Her love story is a tale as old as time. When you were younger, you didn't realize how differently you'll see this movie years after. Then, you were sure not judging people based on their looks is the moral of the story. But the reason why Beauty and the Beast holds a dear place in people's hearts is the basic concept of the story where they can see themselves in. It's about loving someone regardless of  how angry and awful they'll get but nonetheless, there's always their true selves hiding underneath.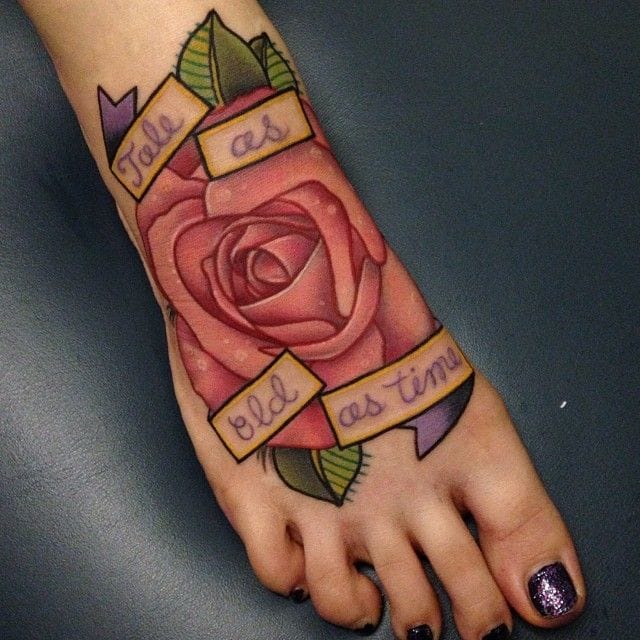 The rose played a big part in the movie. Beast's time depended on it. Once all the petal falls off, his time is up. Roses were also the reason Belle was held captive by the beast.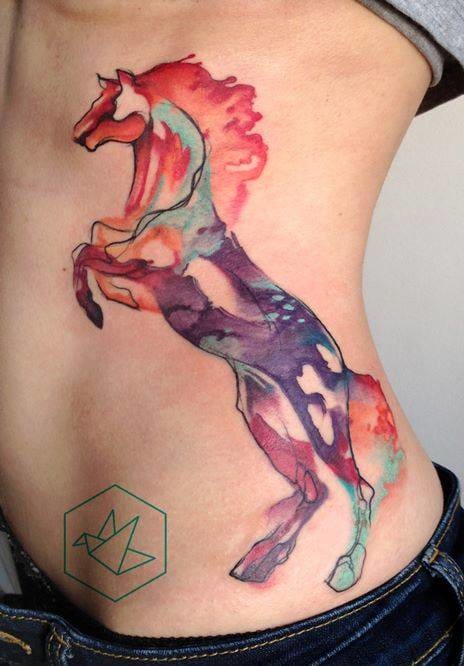 There are people who get portraits of their beloved pets tattooed on them. Belle is no exception. She has a horse named Phillipe which she rode to the beast's castle.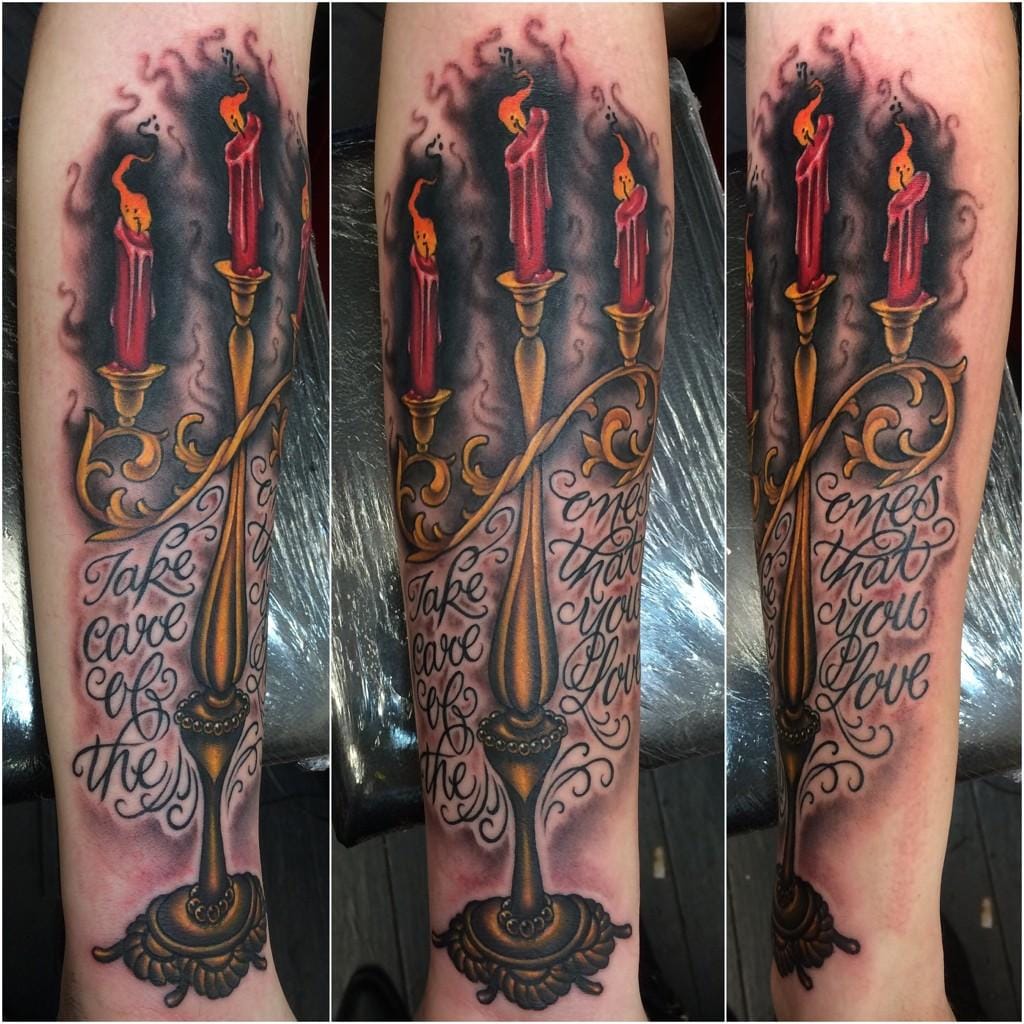 Belle's first companions in the castle was a clock named Cogsworth and a candelabrum named Lumiere. Between the two, it seemed that she has grown closer with the latter. He's like an uncle to Belle where she runs for advice.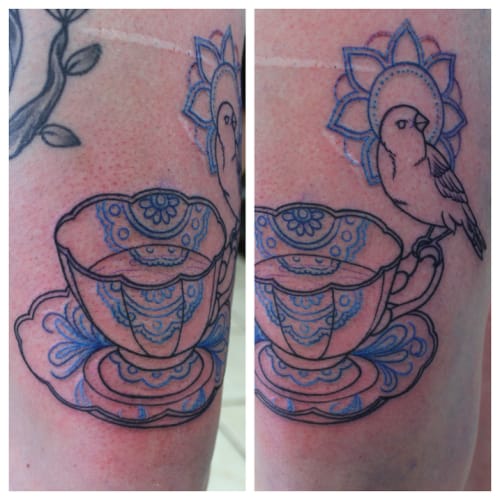 Another one whom Bell grew closer with was Chip, the little teacup son of Mrs. Potts.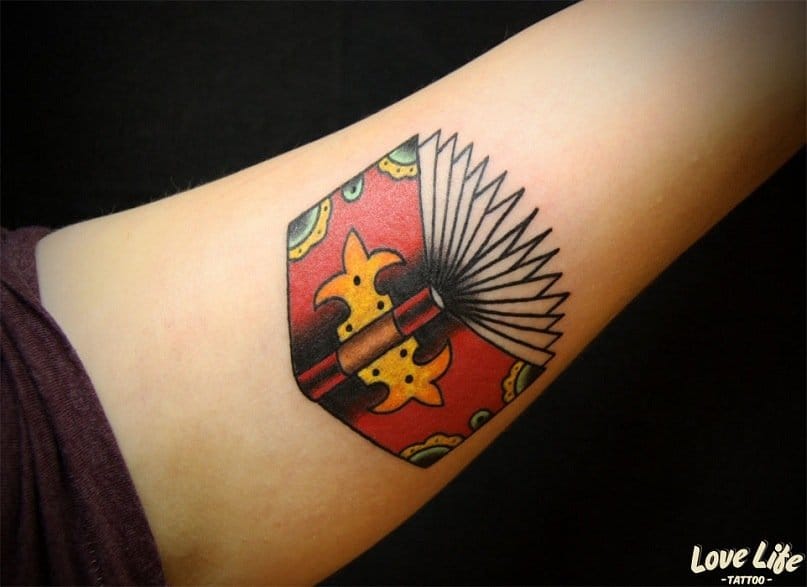 Belle is a big bookworm, it's one of the first things you notice about her. Beast actually gave her a library in his castle.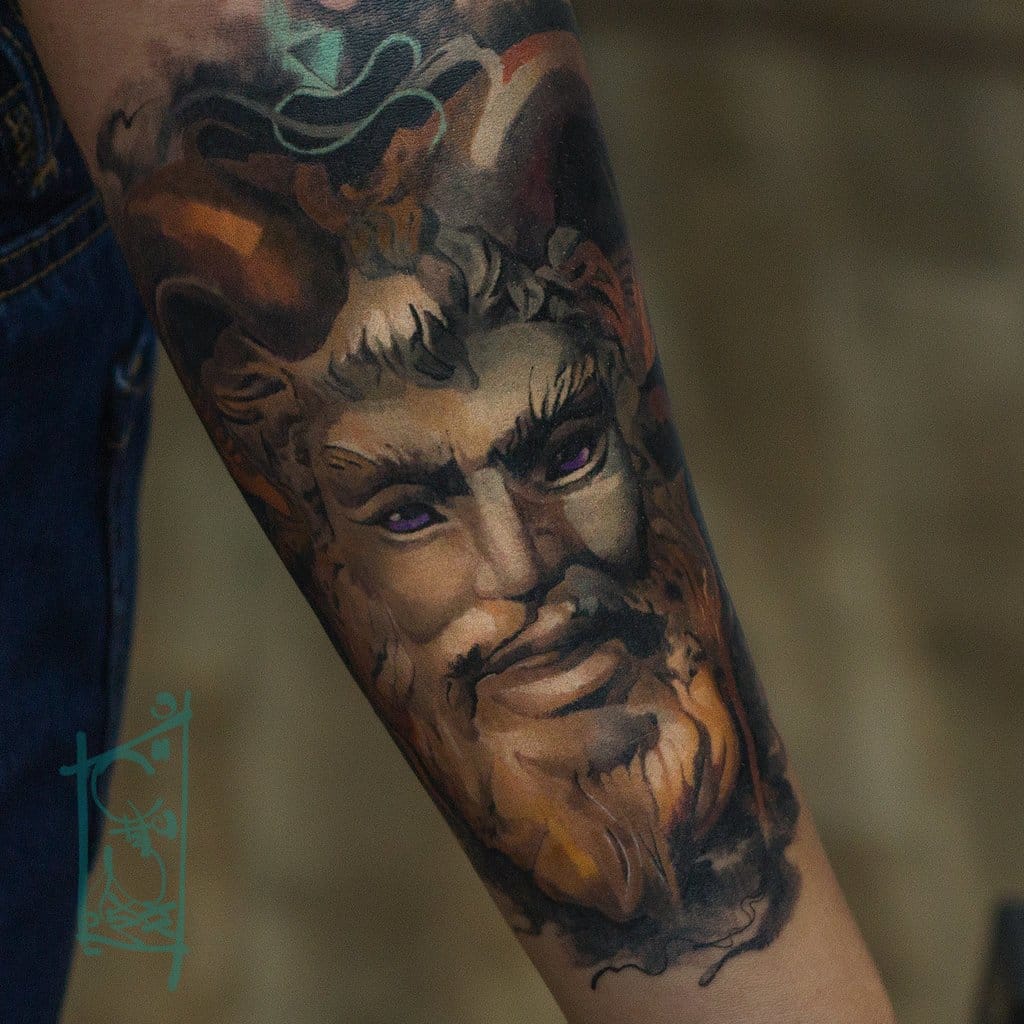 A beast's face was the first face of Beast Belle first knew. It's important. It's what reminds them of the curse that brought them together. And that's the last of them. For now. That was fun. Look out for the next one!