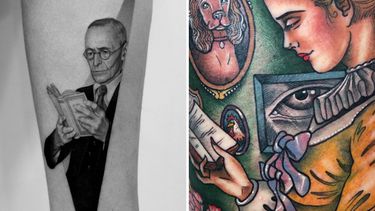 In Love with Literature: Book Tattoos for World Book Day 2019!
Ta

Book tattoos, portraits of authors, or our favorite written characters: literary tattoos celebrate World Book Day in the best kind of way!
In this lovely collection of literary illustrations, we celebrate World Book Day 2019. This particular day keeps sacred one of our favorite pastimes, reading. Each one of these book tattoos depicts many different aspects of the written word: portrait tattoos that perfectly capture our favorite authors, quote tattoos from our favorite novels, even some of our most beloved book characters like the White Rabbit of Alice in Wonderland or Peter Pan. You may think that no one reads anything anymore, but we're delighted to tell you that that tall tale has no grounds in our world! And perhaps the popularity and continuing trend of getting awesome pieces proclaiming love for literature will also tell you that books, essays, and articles aren't goin' nowhere. Thank goodness.

So, what is World Book Day? If the name wasn't enough of a hint, World Book Day is a huge, global celebration of all things books. Created by UNESCO in 1995, the original idea was conceived by "Valencian writer Vicente Clavel Andrés as a way to honor the author Miguel de Cervantes." April 23rd was the day that Cervantes happened to have passed, but it's also the date that a few other literary heroes have died as well, including the Great Bard himself, Sir William Shakespeare. Speaking of Shakespeare, did you know he is the best-selling fiction author of all time? Around 4 billion copies of his plays and books have been bought. Included in this selection of book tattoos is, actually, a portrait of the man who penned Romeo and Juliet, A Midsummer Night's Dream, and about 35 other different pieces. He even collaborated on more!

If you've read all of his works, then you're wonderfully on your way to reading every book every written...and how many are there, you ask? Well, apparently, Google Books Project, "a six-year-old task to digitize as many of the world's books as possible, is an incredibly difficult and ambitious undertaking." Pretty incredible to think about, right? Which means even if you can't read them all, you can certainly find them all in one place. When taking into consideration the amount of books that they would have to turn into a digital file, that was sort of difficult to pin point...people write books every day! But they finally came up with an answer, "After we exclude serials, we can finally count all the books in the world. There are 129,864,880 of them. At least until Sunday." 
That's another thing about these book tattoos, and World Book Day in general: not everyone in the world receives the gift of being taught how to read, or even has access to all the wonderful books in the world! Another thing World Book Day tries to promote is education, free books for all, as well as connecting a global community of readers who want everyone to find novels or stories out there that really resonate with all! Because "17% of the world population remains illiterate.", and although that is definitely a huge change from the Victorian era, we still want that number to go down...we want everyone to have books and book tattoos!! Or even film tattoos based on books, because there's a whole lot of those out there too.