Inking the Victorians: The Story of Sutherland Macdonald - Britain's First Professional Tattooist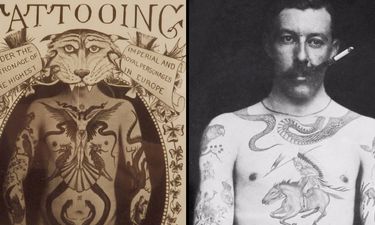 Tattooing is at an all-time high in the UK. Wonder where it all began? Meet Mr Sutherland Macdonald, Britain's first professional tattooist.
With around one in three people in the UK now having at least one tattoo, body art is clearly becoming more mainstream in today's society. Its popularity has continued to increase over the past decade and tattoos are now more widely available than ever before. However, the tattoo trend is not a new one. In fact, tattooing has been around for centuries. Here we bring you the story of Sutherland Macdonald; the first tattooist in Britain to permanently ink his artwork onto paying clients back in the late Victorian era.
Sutherland Macdonald was born in 1860 in Leeds, Yorkshire. At just 16, he joined the Royal Engineers as a telephone operator, and it was during this time that Macdonald was first exposed to tattooing. While body art was already common amongst sailors, by the second half of the 19th century, troops were also being advised to get tattooed so that casualties were easier to identify.
Macdonald was discharged from the Army in 1881 and moved to the garrison town of Aldershot, where he worked as a chiropodist. By the late 1880s, he was employed as Superintendent of the Hammam Turkish Baths in Jermyn Street, London. It was here, in a prominent position next to Piccadilly Circus, that Macdonald set up a professional tattoo studio in the basement of the baths. With the permission of this employer, he began tattooing in his spare time in 1889.
Macdonald's studio was decorated in an oriental theme with plush furnishings, in a bid to attract wealthy travellers returning from the East, wanting to replicate high-end Japanese-style tattoos in London. Drinks and cigarettes were available for patrons and drug-use was also reported on the premises. A journalist reporting on Macdonald's tattooing in 1889 stated that: "Victims, though, I must not call them, for I was assured that by the use of cocaine, which is injected under the skin, the operation causes not the slightest pain."
In 1894, Sutherland Macdonald became the first professional "tattooist" to be registered in the Post Office Directory – the equivalent of today's Yellow Pages. As a skilled artist, Macdonald is said to have created the term "tattooist" from the words "tattoo" and "artist". His intention was to differentiate his services from other more everyday trades such as "bricklayer". The category was therefore created especially for him and he remained the only entry listed for four years.
Macdonald also received a British patent for his electric tattooing machine in the same year. Having worked with hand tools for a number of years, he continued to do so for shading and heavier work. However, in an 1895 article "A Chat with a Tattooer" in The Sketch, a reporter described Macdonald's use of a modern machine for the tattoo outline: "a little instrument [which] makes a somewhat strange whirring noise" and commented that he used it as "easily as an etching pen".
A pioneer of the industry, his tattooing process was ahead of his time. Not only did he use an electric tattoo machine, he also printed outlines of tattoos and transferred them onto his client's skin using ink. Most other tattooers drew the design on freehand. Macdonald is also credited with broadening the choice of ink shades and creating the first green tattoo ink. In his 1889 Pall Mall interview, he explained: "it is a speciality of mine. As a rule it is very poisonous, but mine is quite harmless. Of course, they all need to be specially prepared as the amount of lead in ordinary colours would inevitably cause blood poisoning." He would not, however, disclose his secret formula.
Despite tattooing in Britain being traced as far back as the 16th century, Macdonald's is the first tattoo studio with paying customers on record. Art Historian Dr Matt Lodder of the University of Essex, explains that the art of tattooing used to be: "much more ad hoc, not people turning up and paying for a tattoo as a commodity until the late 19th century." Following the Industrial Revolution and rise of the middle classes, many Victorians had more spare time and funds for leisure activities. Tattoo popularity also increased due to Britain's King Edward VII and his son boasting body art from their international travels. For those who could afford it, tattooing became a form of fashion. As the only professional tattooist in London at the time, Macdonald's artistic skills were widely sought after and highly praised.
He was famed for his larger pieces, including wildlife designs, dragons and tigers. Macdonald also recreated famous paintings in his body art, such as French artist William Bouguereau's Cupid & Psyche. However, he started off by tattooing smaller designs, like flags, badges and names. The last of which caused Macdonald some problems. In a Pall Mall interview in 1889, he claimed that clients never returned unhappy with his workmanship, but instead: "usually when they have had a lady's name tattooed on their skin, and they wish to have it removed." Clearly some things haven't changed over the last century!
Macdonald's clientele was very varied. As well as tattooing servicemen with regimental badges, members of elite groups also visited him. He tattooed both celebrities and royals - notably the Kings of Norway and Denmark. Macdonald also claimed to have tattooed members of the British Royal family, but this was never proved. In his 1953 book, Memoirs of a Tattooist, Macdonald's former trainee George Burchett recalls how: "For nearly forty years, crowned heads and famous people climbed the narrow staircase in Jermyn Street to visit Macdonald and to leave bearing some of the most wonderful ornaments ever placed on human skin."
But it didn't end there. Macdonald also tattooed women. At the time, floral pieces and wrap-around designs for the wrists and ankles were popular and pieces that could be covered easily were preferred. According to Gambier Bolton in his 1902 article "A Tattoo Artist", Macdonald even created a form of cosmetic tattooing at the request of an American woman fed up of having to rouge her cheeks every day. He explains: "a single mark in the wrong spot or put too heavily into the skin would have meant disfigurement to the lady for life; but the experiment was an altogether successful one, and the fair American left his studio bearing the freshest and daintiest of complexions, one warranted not to wash off."
By the 1930s, business was declining as walk-in trade decreased and retirement approached. However, Macdonald continued tattooing as late as 1937, when he was reportedly still tattooing "without glasses" aged 77. Five years later in June 1942, Macdonald died at his home in Surrey. On his death certificate, his occupation was simply listed as "water colour artist". But, given his revolutionary inventions and wide-ranging popularity in the Victorian period, it is clear that this legendary British tattooist was so much more than that.