Interview with Joanna Świrska: Psychedelic Animal Tattoos and More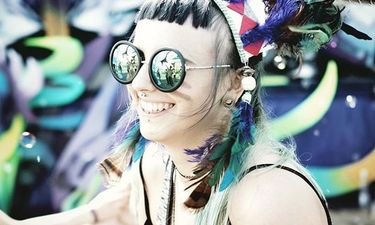 Xa

Free-spirited tattoo artist Joanna Świrska talks to Tattoodo about her psychedelic creations, travels, and inspirations.
With her vibrant tints, swirling details, and marvellous flora and fauna elements, it's hard not to love Joanna Świrska's psychedelic tattoos. With an immense fascination of nature and an ever-growing desire to learn and see the world, Joanna treats tattooing as a creative outlet to her visions and ideas. 
Originally from Wrocław, Poland, the young tattoo artist is currently spending her time travelling, making art, and growing, one adventure at a time. I recently got to talk to Joanna about her career as a tattoo artist, inspirations, and travels.

Can you tell me about how you started tattooing and how long you've been in the business?

My adventure with tattooing started about three years ago in art school. At first, a lot of my friends asked me if I can prepare designs for their tattoos. It was the first step to start doing [tattoos] on my own. I've always loved free painting on canvases so my first tattoos were like abstract drafts. It was hard [for me to transition] because paper is much easier than skin.

You have a very striking tattoo style. How would you describe it?

I can't describe my style in one word. I like the eclectic mix of psychedelic and nature art. It's the area where I feel the best. I try to tattoo only things which I know and understand. I don't treat this kind of art very seriously, so that's why I'm choosing themes with a cheerful sense of humor — for example, mushrooms, cats, and silly animals.

What inspires you to create your mostly nature-themed tattoos?

I love the forest and the mountains. The fresh air and the forest sounds inspire me the most. I also get good inspirations [for my art] from flea markets. I try to go there once a week only to take photos for projects. The climate, the people, and the whole hubbub of this place have pretty much influenced my art greatly. It's a mine of ideas.

Any future plans for your career as an artist – travels, projects, etcetera?

I'm working on my own brand, mainly on fabrics with my psychedelic patterns. But it's a bigger project in progress so I can't tell anything more [yet]. I'm also preparing to live and work more on the road — my plans for next year are trips to Asia and America. To be honest, I hope that Asia's gonna give me plenty of inspirations and change my way of thinking in both smaller and bigger adventures from now on.
What sort of tattoos would you like to work on in the future?

I really don't know. My style is still changing. I can't predict it - I think it will be a surprise for me also.

If you weren't tattooing, what would you have been doing?

A few years ago, I planned to work with movies as a director. It was my dream for many years so I will probably continue this or just start travelling as a homeless traveler — I'm still thinking about this (laughs). I'm also interested in the natural way of healing by herbs and rituals. Now, I'm working on making [my] knowledge of this deeper. Maybe I have a future in it.

See more of Joanna's work with the Delightful Watercolor Tattoos by Joanna Świrska
All images from Joanna's Instagram.