Les Niaiseries: Interview with Yannick NorY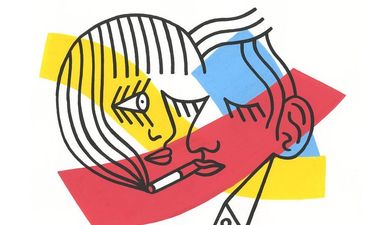 In this interview with Yannick, owner of Paris studio Boniments Bleus, we talk community and inspiration.
With a flair for visual poetry, Yannick NorY creates illustrations and tattoos that pull from our greatest loves as inspiration. Capturing moments from favorite films, recreating works of Fine Art, or designing portraiture of flora and fauna in perfect harmony, Yannick, also known as Les Niaiseries, has evolved a personal style that resonates with clients around the world. Whether depicted in fine black line, or splashes of bold color, Yannick's tattoos have a joy and humor that is quite refreshing to the eye.
In this interview, Yannick speaks on his journey to becoming a tattooer and how his love for this craft, as well as community, is a deeply satisfying part of his life.
Can you give a little intro and background into who you are and what you do? How did you get into tattooing? Did you always know you wanted to be a tattooer or did you have other plans in mind?
My name is Yannick NorY, or YNY, I am a tattooist and illustrator based at Boniments Bleus located in Les Puces de Saint-Ouen, a flea market in Paris, France.
I have been fascinated by art and tattoos since I was a little kid. When I was 19 years old, I got my first tattoo. A few days later I was in a bar and I met up by chance with my tattooist. After a few drinks I asked him if I could be his apprentice. The next day I passed by his shop and showed him my book with a few sketches. Finally, he did not become my master but gave me the best advice he could at that time: to take some drawing lessons!
So, I followed his advice and took some lessons, and one thing led to another. I finally earned a Master's degree in Illustration at the Académie Royale des Beaux-Arts de Bruxelles in Belgium. I became a freelance illustrator in press and edition and started tattooing five years ago with the help of a tattooist friend.
How has your style evolved over time? What or who inspires you the most?
My style evolved a lot over time and still continues! At first, I loved Traditional tattoos with bold lines and classic colors like blue, green, red, yellow, but on the other hand I'm really inspired by modern art, such as by the artwork of Fernand Léger, Joan Miró, Pablo Picasso, Jean Cocteau…
I just made my own graphic vocabulary after times with all this inspirations. I use a lot of symbolisms, eyes both open or closed, stars, tears, plants, animals in my work and I try to tell a story in all my compositions.
Can you talk about your mashup concept? What is the process like in getting a tattoo from you? How do you create your designs?
I have a mashup concept, Le Projet 27k, inspired by Cent Mille Milliards de poèmes de Raymond Queneau, 1961. The book is a set of ten sonnets printed on card with each line on a separate strip. I applied this concept with 30 pages of designs on three separate strips. Any lines from a strip can be combined with any from the two others, allowing 27,000 different combinations. And to cap it all, 3 dice, one red, one blue and one black, with 30 faces to represent each strip. But it is really much easier to understand the concept by watching the videos on my Instagram. ;)
I created some tattoo flash too inspired by art history, pop culture and a little bit of everything that passes by my eyes. One of my professors of illustration always said that "every creative person needs to be a sponge"; to get inspired continuously by absolutely everything around us and now I think I really understand it after all these years.
I also love to realize custom tattoos! Like many other tattooists, sometimes it's from a photo of a person, souvenir or a pet, a movie, a special moment or not, or just a vague idea. It's always really cool to create something with an other person that will fit her or him only. :)
And I classically hand-drawn all my designs, with a pencil and paint markers on paper.
How do you feel about the current state of the tattoo industry? What needs to change and what needs to stay the same?
The fact that the tattoo industry is bigger and bigger everyday is a good and a bad thing too. It is truly a good thing because we have more and more amazing tattooists all over the world with such unique different styles. And we have a larger audience for tattoos than ever too.
In addition, the materials and products get better and better and we see more and more organic or biodegradable products coming so it's a really good thing and we hope it will continue that way for our planet and the health of our customers.
But it is a bad thing too because the bigger the audience, the more you have people attracted by profits or fame more than tattoos…
What do you love about tattooing and what have been some of your favorite moments during your career?
I really love tattoos because this practice always existed throughout human history all over the world and I really feel like a craftsman with an immemorial legacy doing it. To create and share a moment with a person that will have a tattoo from you for all his life is really speechless.
I will always remember that it was my friends who offered me my first tattoo machine for a birthday and I knew at this moment that I would never give up my old dream to be a tattooist. Now most of my oldest friends left Paris but all of them got a tattoo from me and I will always be really thankful to them for their present and their trust!
Being a tattooist is, for me, the best job in the world; it's a lot of work but I don't believe how lucky I am to make a living for my family through something that I love, to have my own studio, surrounded by awesome tattooers and friends like Yeye, Florine, Hippolyte, Vinzhu, and Anaëlle!
Beyond tattooing, what are you super passionate about? Any cool future plans that we should know about?
I really love all forms of art and culture in general. Right now I really miss traveling, exploring museums and exhibitions and sharing it with my two kids. I'm also passionate by graphic novels and illustration books. I was lucky to publish an illustration book for children few years ago called L'Expédition du Mokélé Mbembé (Ed. Versant Sud) and I just finished a second one, Le très chanceux Monsieur Confetti (Text by Emilie Chazerand, Ed. Benjamins Media).
Now I'm preparing a collective exhibition at Boniments Bleus with our team and I'm trying ceramics for the occasion. And also a limited edition of an embroidery on canvas with @Vangart will be released soon and I can't wait to see the result!
Anything else you want to share or say to the world?
To conclude, I just wanted to thank all of my family and friends, and sending love to all my fellow colleagues tattooists all other the world. I know it was and still is a really difficult period for most of us but tattoos always existed and always will.