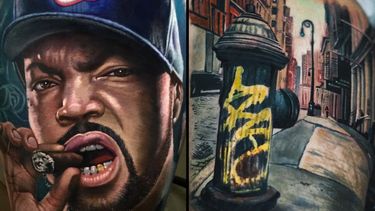 Living Art: Incredible Realism Tattoos
Ta

This collection of realism tattoos will not only blow your freakin' mind...but also make you crave new ink like never before.
We love all styles, of course, but realism tattoos really, often, break the mold. Not only is it hard to believe that some of these are actually just tattoos...instead of real people...but the artistry and mastery of the tattooing craft to create these works of art is so inspiring. And, believe it or not, although Realism is a hardcore trend in the tattooing community today, it wasn't always that way. What are the roots of this incredible style?

In an interview with NPR, Freddy Negrete speaks about how much of the black and grey Realism tattooing has origins in the 1970 Chicano prison culture of California. Behind bars artists would use the materials they had available to them, including pen ink, sewing needles, and the like. Negrete describes how burning baby oil would create a black soot, which was also used for ink. He also talks about how, due to homemade machines only having one needle, finer lines were the norm. Segregation within prisons meant that Chicanos were together, and that tattooists worked within their own culture creating imagery. This meant Catholic iconography, Aztec stonework, and heroes from the Mexican Revolution were all added to the repertoire of Chicano ink. Later, when Freddy Negrete was released from jail, he headed to Good time Charlie's Tattooland where he and the shop started to make tattoo history with their devotion to black and grey Realism tattooing.

But the Chicano style isn't only where many tattooists got their inspiration from to create realism tattoos. Like many aesthetics within the tattoo industry, Realism is also inspired by past art movements. Masters like Michelangelo, Da Vinci, Rembrandt, and Titian set the stage for contemporary artists to exceed expectations and illustrate life as closely as they possibly could to the truth using techniques like measuring facial features, perspective and the Camera Obscura. Later, in the 19th century Realism movement, artists like Courbet and Millet relied on these Old Masters for lessons on techniques and tools, but embraced new philosophies to create inclusive depictions of authentic life. In fact, many Realism tattooists also look to the Old Masters for style and subject matter to this day, but it wasn't until the invention of the camera that the realistic approach in the arts really took off and photorealism was invented.

In fact, in this collection of realism tattoos, you can see a few different pieces that take direct inspiration from past ancient artworks. Greek sculptures, paintings of Socrates...these are definitely Old Masters inspiring new tattoo masters. But there's also a few more recent artistic movements that have supported this style in tattooing. Realism, within the fine art world, did not have a serious mainstream emergence as a movement until, as a direct opposition to the Abstract Expressionists and Minimalists of the late 60's and 70's, Photorealism materialized as an evolution of Pop Art. And this is where we can find some of the roots of stylings and techniques of Realism Tattooing. There are tons of tattooists today doing realism tattoos that actually blend all of these styles together, such as Tattoodo Ambassador Chris Rigoni. His works use abstract shapes, bright colors, and realism all in a beautiful blend.

If you love realism tattoos, make sure to check out our app. We have thousands upon thousands of images just waiting to be discovered by you!