Lovers Paradise: Interview with Ana and Camille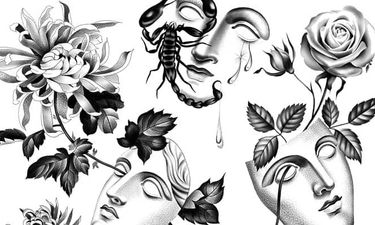 JM

In this interview with Ana and Camille, a tattooist and visual artist duo, they talk about how they met and how art is powerful.
Ana and Camille create work that is like finding a secret, hidden spot..a paradise of flourishing sentimental value, true love, and everlasting beauty. They bring the aspect of collaboration to a whole new level within tattooing: working together as creative life partners, their oeuvre is a blend of skin, sweet tears, and ever thriving blooms...a reminder that true romance and bliss does exist. 

Can you talk a little bit about your background? Did you always want to be artists as children, did you go to art school, etc.?
How did you two meet, and why do you both work together? What is the process like collaborating?
How did you, Ana, get into tattooing and why was it something you were drawn to ?
Who are your artists heroes, tattooists or not? Are there any films, books, visuals, that you feel influence your artis- tic output?
Paris has a wealth of artists and culture within the history of the city. Can you talk about the tattoo com- munity of Paris, and how it is different/special from others? Beyond Paris, where is your favorite place to be and why?
Do either of you have an artistic philosophy ? What motivates you to create art and why is it important to you?
Beyond tattooing/creating art, what do you both like to do in your spare time? What do you do on vacation?
Are there any plans you have for 2019 that you'd like to share? Travel plans, collabs, merch releases, etc