Marco Manzo: Interview With A Haute Couture Tattoo Artist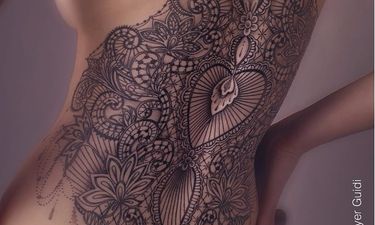 Je

Discover the secrets of the man behind elegant lace tattoos.
The tattoos of Marco Manzo are fascinating the international tattoo community. With their large scale intricate designs, inspired by lacework and mehndi, they celebrate femininity and art.

These ornamental masterpieces are the creations of an Italian creative duo: Marco Manzo and his wife Francesca. Their collaboration is pretty intense, with a lot of research and many hours of work to make sure their clients are ending up with the perfect tattoo. In Italy, Marco Manzo is a celebrity, an acclaimed artist, exhibited in museums and Haute Couture events. As his influence is spreading through Europe and the world, I have met Francesca and Marco at Paris Tattoo Convention 2016. They kindly answered my questions.

Can you tell me how you are working together ?
First, Francesca is really patient (laugh) ! She does the design and I make sure it would fit the body of the client and the tattooing process. The compatibility with the body of the client is our most important goal. Our tattoo designs need to enhance curves and soften the imperfections. Our designs need to improve the lines of the body, with subtle optical illusions. Just like an inked corset. For example, a protruding shoulder blade can be « corrected » with the appropriate effects. Black tint areas are flattening shapes, while light areas are highlighting them.


How did you come up with the concept of these lacy tattoo designs ?
For 4 or 5 years, I was wondering what could be the most beautiful kind of large scale tattoo for a woman to highlight her beauty. Big tattoos tend to be too massive. I was looking for something lighter, to combine the delicacy of women and the artistic aspect of tattooing. My tattoos are all unique, custom made for each woman: each person has a different design, created with our experience and expertise. Our own requirement is to make a tattoo that can be shown in every situation, especially the classiest ones. Just like a piece of jewellery. It must be for life, in the literal sense. I want to show that tattoos are compatible with other worlds, especially Haute Couture. That's why I collaborated to an event last year, with a museum in Rome, for the Fashion Week. I made a customized version of the motorbike BMW nine T, with lace designs and gold leaves. It was exhibited with my tattooed clients and it was a huge recognition.




You have tattooed a famous actress. Do you think celebrities can help introducing tattoo as an accepted art?
Working with celebrities can be the way to show that tattoos can be elegant too. I have tattooed famous Italian actress Asia Argento. She showed her chestpiece on the red carpet at prestigious international film festival of Cannes, in 2015. It helped showing that a tattoo can be a synonym of feminine elegance. We need to change the popular ideas on tattoos, especially for tattooed women.


You are strongly linked with fashion and Fine Arts, do you
have other projects connecting tattoo with other arts ?
And after, what do you plan to do ?
Go into retirement ? (he laughs) No, certainly not. I will go on campaigning for tattoo as a contemporary art. I want it to be shown as another aspect of the Italian excellence. My future exhibition will be a first step. I am recognized as a contemporary artist now, and I want to make it possible for the whole tattoo world. I want to push the limits to include the whole tattoo community, not just for me. I want to contribute to changing the vision of tattoo.


Does being here in Paris is important for your career ?
Paris tattoo convention is a very important event for me. Le Mondial du Tatouage is a real celebration of tattoo as an art. It is a real honor to be here, among other prestigious artists. Many of my clients are French too and I won many prizes, which is cool!
Want to see more masterpieces by Marco Manzo and Francesca Boni? Follow their work on Facebook and Instagram.