Maud Stevens Wagner — The First Female Tattooist in the US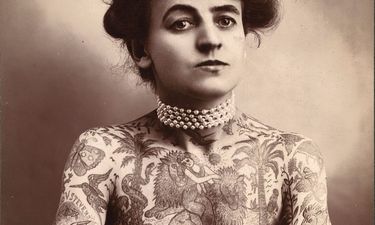 This heavily inked woman pioneered the way for other women who tattoo in the United States.
Maud Stevens Wagner has to be one of the most interesting and outstanding figures in tattoo history. Not only was she one of the earliest professionals in the field but, more impressively, she was the first known female tattooist in the United States.  Simply put, she was a total badass. 
Wagner was born in 1877 in Lyon County, Kansas. In 1904, while working with a traveling circus as an aerialist and contortionist, she met the man she would soon marry, Gus, at the St. Louis World's Fair when he gave her her first tattoo (pictured above). Not long after that, she agreed to go on a date with him in exchange for a tattoo lesson. The rest was, figuratively speaking, history. The two were soon married and had a daughter, Lotteva, who also became a tattooist, starting at the tender age of nine. Wagner apprenticed under her husband, and the two eventually left circus life and entrepreneurially made their own touring business, doing hand-poked tattoos in places like fairs and arcades, before finally settling down in Lawton, OK, where Wagner passed away in 1961.
Though there are not a lot of primary documents other than these select photographs to tell us what Wagner's personality was like, one can glean quite a bit about her from the types of tattoos that she wore. For instance, several of them were patriotic, and the fact that she had so many tattoos in a time period when most women wouldn't dream of getting one tells us that she was a daring individual with a passion for visual art. From what we can see in the sparse documentation that we have, she must have been one of the most interesting women of her time.
We hope you enjoyed learning about the life and works of America's first professional female tattooist. We plan on writing more about incredible figures from the history of tattooing around the world, so keep an eye out for our next post about the art form's rich history and the individuals who helped shape it. Until then remember, the past, like tattoos, stays with us forever.