Micro & Monochrome: An Interview with Young-gi Cho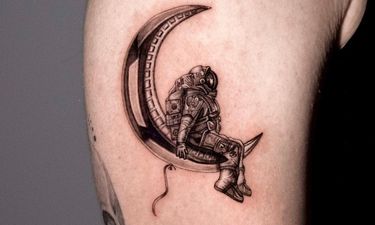 In this interview with Young-gi Cho, he talks about how he found his career in tattooing and his stylistic approach to the medium.
We had a chance to speak to Y.G. of the hardships of becoming the artist he is today and how important perseverance was. We also discuss his new found love for the micro-tattoo style as well as his views on the industry. When it comes to his work philosophy, he explains why it is important to him to have a client with a similar style and what makes it easier it is to work together and create something special.
Do you remember the first moment you were drawn to art? Are there any important memories that hint at the artist you would become? 
The first thing that drew me to art was music, not tattoos or even drawing. I have been learning piano and composing since I was little. I've had a love for listening to music since I was young. I worked harder in playing as I began winning awards in various competitions. After I stopped playing the piano and composing I still liked to listen to music. I replaced playing with attending live music events. I have an inquisitive mind, so the more I gained interest in new artists, I found myself researching the songs while listening to music. I thought that it would be interesting to live as an artist. Since I was no longer pursuing a future in piano, I went to college in a department that had nothing to do with art, but it seems to have come back naturally to art again.
Why were you drawn to tattooing? and what made you pursue this profession? Who were the tattoo artists you would and/or still look up to? 
The reason I first became interested in tattoos was probably because of my older brother (@seunghyunjotattoos), who was a tattooer. Watching Hyung's work, I thought that it was really cool and seemed like a lifestyle I wanted for myself. I think hanging around his shop was the beginning of my journey to becoming a tattoo artist. I thought it would not be easy to learn tattoos because I have no base for physical art but I couldn't stop the desire to learn without realizing it. As a student for a long time, there were many difficult times, and there were times when I faced my limitations while working, but there were also many times when I was mentally exhausted. I feel proud to see myself persevering when I reflect on those harder times. The lifestyle of a tattoo artist is freer than that of ordinary people and there's always an energy and passion to create new things. Those good energies seem to make this job more attractive the more you do it. There are a lot of artists I admire, but I really respect the work and mindset of my older brother Potter, my teacher (@Kiljun), and my mentor (@coldgraytattoo), and I like the work of Dr. Woo and Carlos Torres among foreign artists.
Can you talk about your style and how it developed over time?    
At first, I started mainly with big pieces, but recently I fell in love with the charm of micro tattoos, and I try to do each of these styles justice, with my own flair. Micro tattoos have the charm of small details and small accessories, not unlike fashion. Recently, I have been trying to find a material that I like, and now I am thinking of doing a sleeve-like design. I am always thinking and working on ways I can improve upon my craft. I want to create sound, beautiful work – as beautiful as the human mind can create or behold.
If you are able to pick, which is one of your favorite pieces you have tattooed? 
It is very difficult to choose one among the pieces I've done so far in my career, but I think this (above) one is the most memorable. For the first time, I think I had to change and touch the stencil design dozens of times to figure out how the client wanted it. When I see this piece now, I can identify certain things I'd like to have done differently but looking back on the memory of doing it brings me a lot of joy. I also tried to come up with a different concept design through this design, so it's influenced a lot of the work I've done since then.
Many artists have a philosophy about their work or why they create it. What is your artistic philosophy and your goals within it? 
It might be improper context to consider this a philosophy, but I think there's a greater synergy when my clients have a similar taste to my own, since my work will be worn on their skin. Since I am working on a realistic basis, I am constantly trying and struggling to create my own feel, texture, and vibe while still keeping the images integrity. I think tattoos are made with the customers. I can't force my opinions on a client but I find that they're happiest with the work when they're willing to trust my vision, while still giving their input. Lastly, no matter what kind of work I do, I want to create pieces that any artist can recognize to be my tattoos. I want to become an artist who is always humble but confident, always working hard and having fun.
What are your favorite parts about the tattoo industry and where would you like to see change? How do you feel about the future of it? 
I don't know everything about the tattoo industry, but I like the culture of sharing work with many artists, learning from one another, respecting each other in and out of the workspace. Also, it seems like a really fun and wonderful thing for people from different races and different backgrounds to go to each other's countries, do guest work, and have the ability to meet and share their work as well as their life. There is a sense of joy in the industry from the many artists who have come before me, pursuing their passions in this sort of nontraditional, eclectic way. These days, social media helps connect all the tattoo communities around the world- for me, this is great because my country doesn't value the industry as much as most first world nations. One downside of social media is that it's become so easy to get to know each other's work online that I think some of the respect we have for longevity and versatility has gotten lost in the hype for social media fame. I hope that the upcoming conventions will turn out artists in numbers like they saw before as we come out of the global COVID-19 pandemic.
Do you have any projects, events, or plans coming up in the future that you'd like to share? 
I wouldn't call it a project but I'm working towards working on a larger scale than I've normally done. In the past I've done many pieces that range between very small and eight inches in diameter, roughly. This year, I'm trying to branch out into sleeves and back pieces. I've always liked the large, intricate, well put together back pieces that have many elements tied together well by the artist – I wanted to wait until I could execute this beautifully before diving in and I'm really looking forward to it. I also would like to eventually develop my own recognizable style within the Micro-Realism community.