Miss Vampira: Interview with Mary Minahan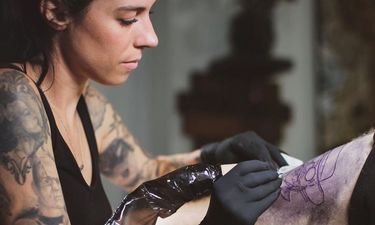 Ta

In this interview with Mary Minahan, aka Miss Vampira, she shares why she got an apprenticeship and what she loves about tattooing.
Already known for her Blackwork and Realism works of art that glean inspiration from pop culture, Mary Minahan aka Miss Vampira, talks about being a tattoo apprentice, what success means to her, and why she loves the tattoo community so much.
How did you get into tattooing and why were you drawn to it?
I've always been an "artist". I've been drawing and painting my whole life. Plus, I've been getting tattooed since the moment I turned 18. I've also managed a couple of well known shops, so I guess it was meant to be in one way or another. I'm so thankful for tattooing and so happy to finally be doing it. I'm 32, so it took a while but I'm here! You're never too old to follow your dreams.
Can you talk about your artistic style and how it's developed over time?
My style has constantly changed, if you told me I would be drawing portraits just 3 years ago I would've laughed. I think it's good to always change and grow and not get stuck doing the same thing. Right now I'm focusing on Blackwork as well as Black and Grey. Pop culture and horror are huge inspirations for me and I don't think that will ever change. But I am excited to see my style evolve as I grow in this field.
What do you love about your job and the tattoo community at large?
I love the tattoo community, always have. People think tattooer's are assholes but I've always been friends with them and have always been accepted, even when I wasn't tattooing and I love that. I also love the people I work with; everyone is so inspiring and encourages each other to grow, which is amazing. What I love about the job is that it doesn't feel like a job. I get to do something that I love everyday and I meet so many cool people. All of my clients are so amazing and I am so thankful everyday!
What is your advice to young tattooers looking to find their style? What do you think about tattooers, now, shunning the traditional apprenticeship and learning on their own?
I 100 percent believe in getting an apprenticeship and learning from someone who you admire as a person as well as an artist: do research and don't settle. My mentor, Grant Lubbock, is incredible and has taught me so much more than just the art of tattooing, because it is more than that. Everyone wants the easy way these days, I am older so I have a different view than some of the younger generation. But I believe hard work, dedication and love for the craft is important. I also would say get tattooed. Don't come into this for the money, come into it because you love tattoos. And keep drawing, never stop drawing!
How do you define success and do you think artists have a responsibility to the world?
Success to me is to love what I do everyday and to enjoy life to the fullest! I think the artists responsibility is to keep creating art and to deliver a quality product to their clients! And to remain humble.
Do you have any projects, events, or plans upcoming in the future you'd like to share?
Not at the moment but I am always open to an awesome opportunity! I was recently featured on Inked's YouTube show "Artists React" and that was a blast. I would love to do something like that again! And, the shop, Red Baron, is always hosting events, so that's something for people to always keep an eye out for! I'm just looking forward to continuing to do more tattoos and keep growing!