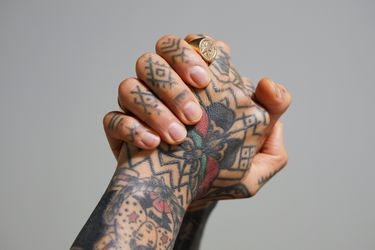 No Hate Policy
Ta

Tattoodo is adopting a zero tolerance No Hate Policy. We share our new guidelines.
During these particular moments of time, kindness and compassion have become paramount to the health of any community, including the tattoo community.
It has become apparent, however, that many of our followers across our social media platforms do not recognize this.
Because we stand in solidarity with many movements that are bringing positive change to the world, going forward Tattoodo has decided to adopt a zero tolerance No Hate Policy.
Tattoodo has made it one of our goals to be a positive influence within the industry, and this policy is an extension of that.
The guidelines are as follows:
Tattoodo does not allow objectionable content that includes defamatory commentary, imagery and/or hate speech about race, religion, gender, or any other targeted groups.
Imagery or commentary that is racist, sexist, homophobic, transphobic, body shaming, or engages in any other form of discrimination will not be tolerated and will immediately be removed.
Tattoodo reserves the right to restrict users of our app and followers across our channels who comment, create, upload, or request imagery or tattoos of this kind.
As for our site, app, and social media platforms: millions of designs, thousands of customer reviews as well as comments, are hosted. We will do our best to monitor this content, but we also ask that people support this initiative by reaching out to us at hello@tattoodo.com if they notice anything that is not in line with our policy.
We deeply appreciate you for being here and for being a part of a community we cherish.
Thank you.
The Tattoo Team