Oda And King: Married In Heart And In Art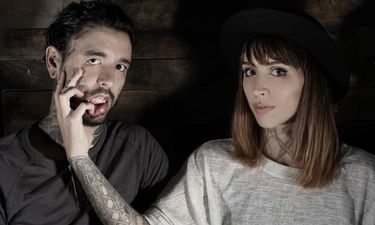 Xa

What makes us say they're living the dream?What could be better than doing what you love side by side with the person you love- Oda And King
What makes us say they're living the dream?What could be better than doing what you love side by side with the person you love- Oda And King
Hyperrealism artists and married couple Kit King and Corey "Odda" Popp managed to squeeze in some time for us Tattoodo folks to talk about their collaborations, working with oils, tattoos, and being married to a fellow artist.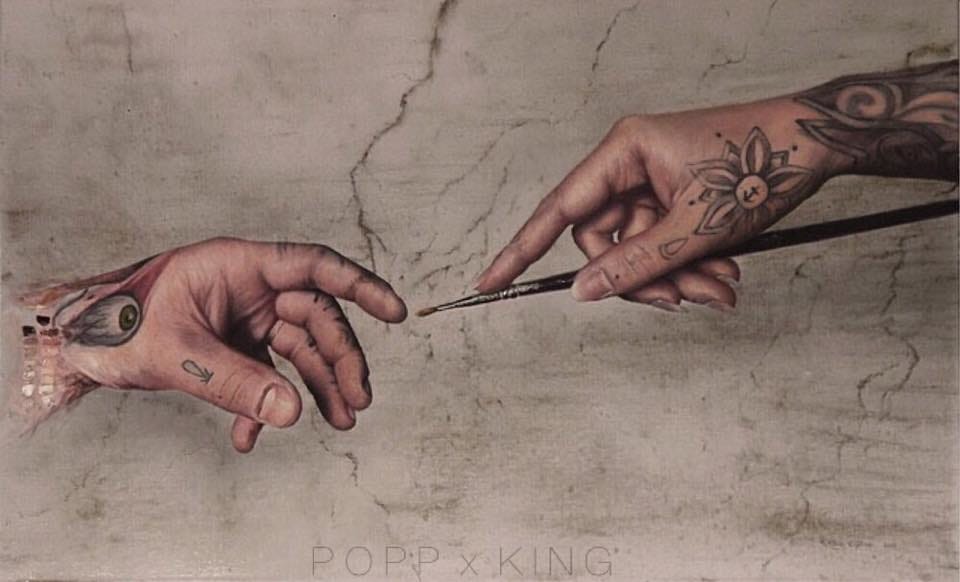 First of all, we truly loved "Creation". How did you come up with it and how was the process?

Well, thank you kindly. We are always bouncing ideas off one another. We had already begun painting collaboratively on smaller projects, and really getting a sense of how wonderful it was to work together. It clicked for us, and we knew that was how we wanted to paint all the time. Together; side by side, working seamlessly like a dance of canvas.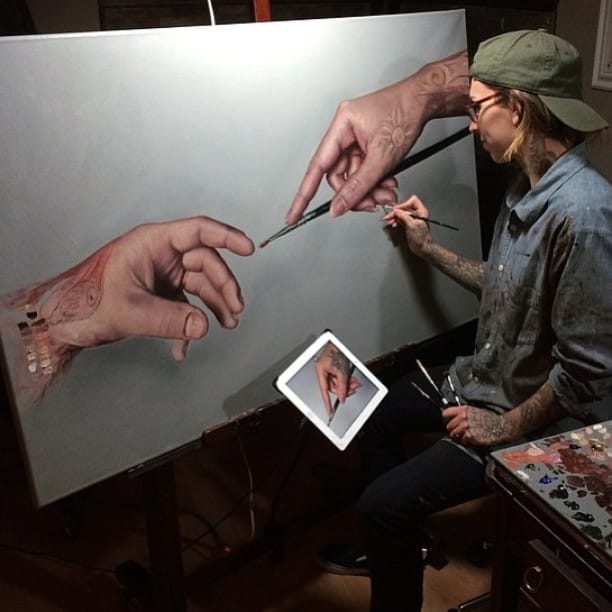 After we married and decided that we would become one painting duo, we wanted to come out with a bang, a larger piece than we had ever previously done and something that spoke about us and our art. Oda never painted before and learned everything he knows from Kit. So we wanted to express that in our piece. We felt, what better way than the an interpretation of "Creation" but in the sense that Kit is creating the hand of Oda, while Oda is creating his own hand from the pallet Kit provided him.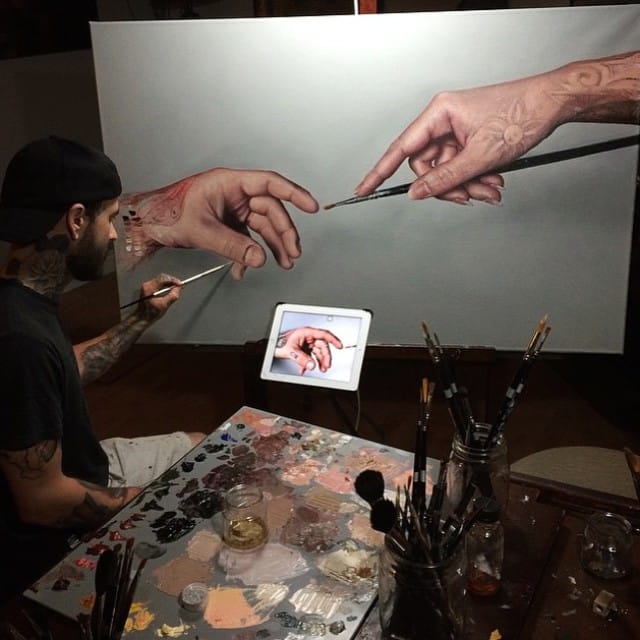 It was our largest piece and Oda's first attempt at true hyperrealism. During the process, we did have some banter back and forth as it was difficult for Oda to produce hyperrealism to match the quality of Kit's work, as it was equally difficult for Kit to teach Oda her technique. It was a true turning point in our work though, proving to ourselves that we could not just achieve hyperrealism of similar degrees, but that we could accomplish a large painting while truly enjoying each others company throughout the whole process.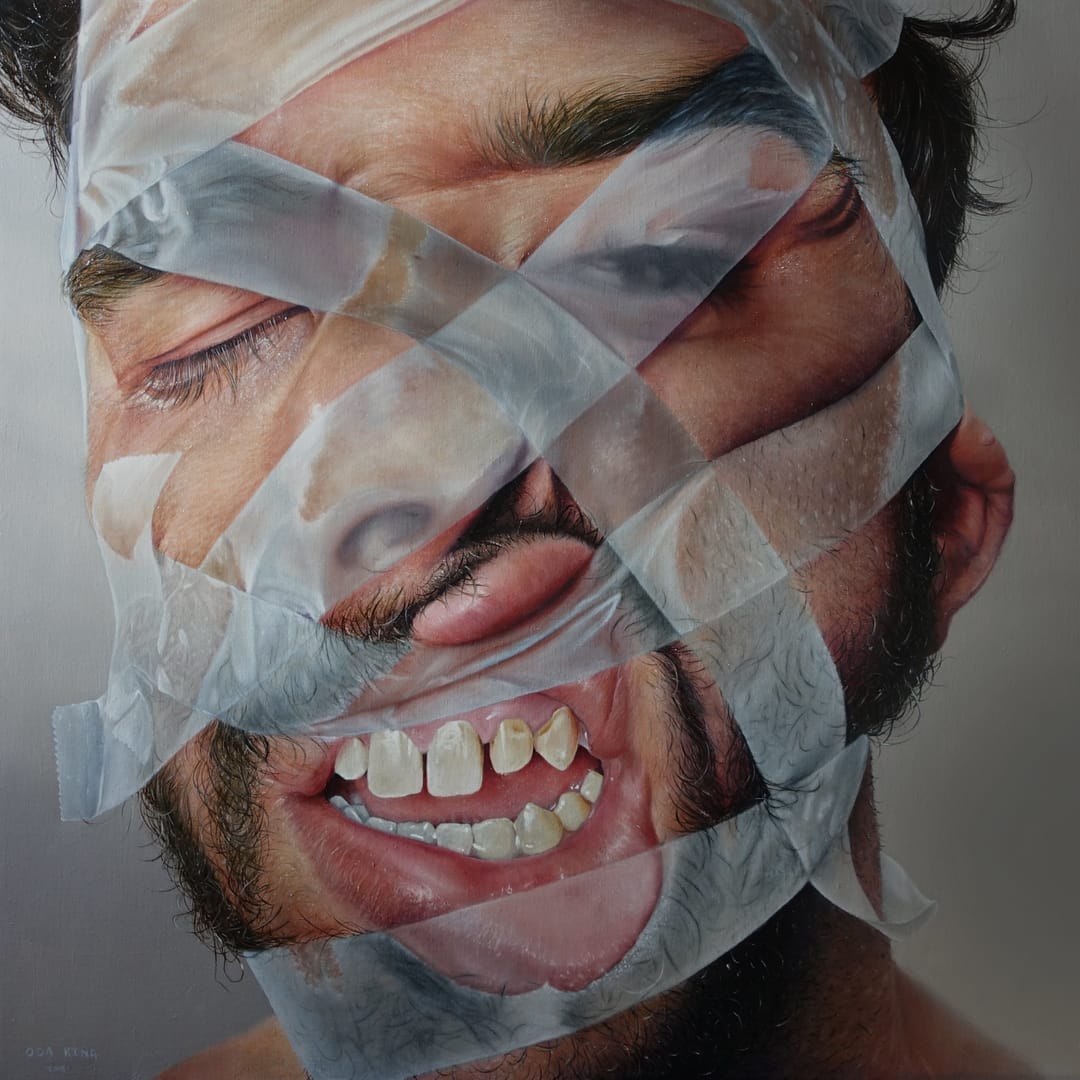 You both have very similar art style as far as hyperrealism is concerned. But what are the things the other does differently from you that you admire? A technique, a quirk, a state of mind…

We have both always been drawn to realism. Portrait work has been both of our favorites to create since we started drawing in our school books as kids. Kit began working in hyperrealism in graphite and charcoal before attempting it in paint, and after lots of hard work, she acquired a knack for it. So when teaching Oda, he had a fresh open mind ready to take in all there was to learn from Kit. Oda had never attempted actual hyperrealism though. So naturally, our hyperrealism style is seamless in that what we know, we know together.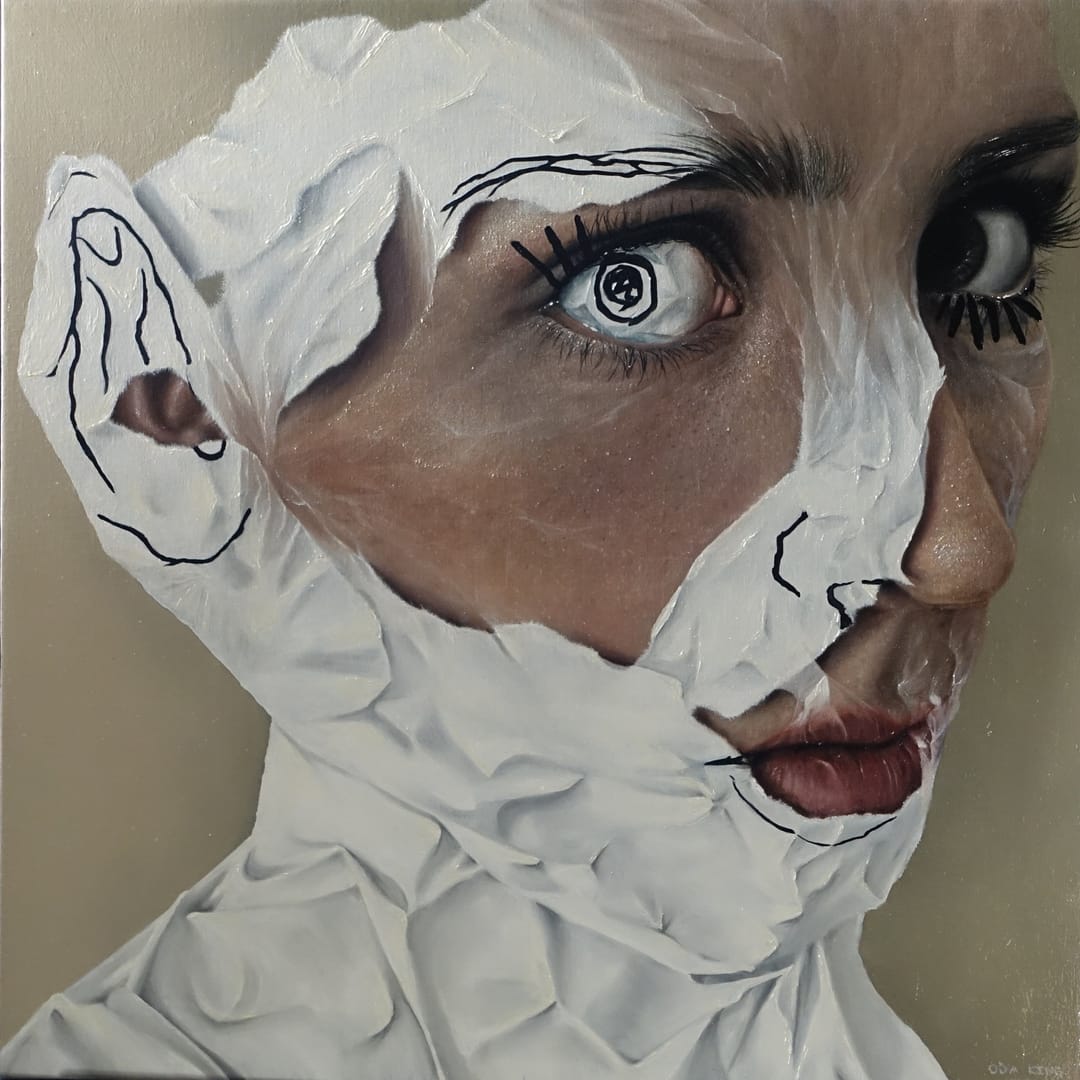 There are of course, things that we will catch the other doing that one may not have figured out and it sends that "Oh, I like what you're doing there" moment to us. It's wonderful that we not just paint together now, we learn together. As we become better painters, there are things we discover as individuals, that help each other along the way. Like the way Kit uses impasto for the beautiful textural details and strokes, or the way Oda meticulously builds up the layers of an iris. We feed off each other, and grow along the way.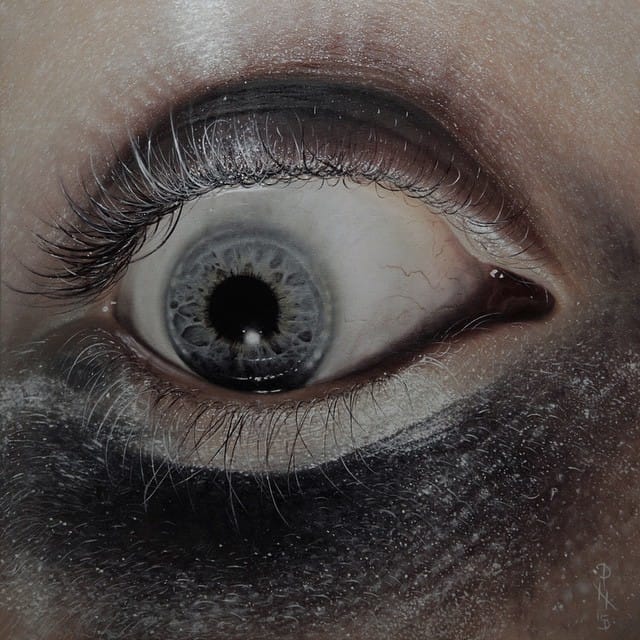 Who are the other artists you look up to in the scene?

There are many artists that we both find incredibly great in their field. The list is too long, but we really try to find inspiration in life outside of individual people. We look up to nature and the beauty in everything around us; from the veins in a leaf, to way wood splits and how stone pits and stains. What we find inspiring is continually evolving, therefore so is our list of things and people that inspire us.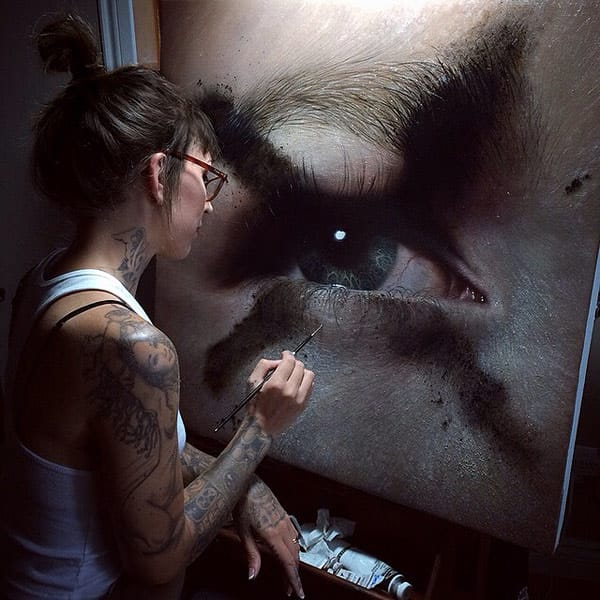 Tell us about your past in tattooing.

We both tattooed for exactly 7 years each before turning to painting full-time. Kit's seven year period was earlier on than Oda's seven years. We always joke with each other that Kit tattooed back when green soap was still green. Oda, on the other hand, jokes about Kit's old school ways. Kit likes her coils, while Oda is a diehard rotary fan. Oda is slowing converting Kit to rotary life… (Only because I [Kit] sold my coils for art supplies).
We see a lot of tattoo imagery in your paintings. Tell us how tattoos play a part in your works.

Well there are a lot of tattoos that creep into our works, simply b/c we reference our own photography which is of us. Since we have tattoos, they get photographed, then painted. We always joke about how we wish we were naked, so it would be easier to paint. Now whenever a non-tattooed person is over, we are chomping at the bit to photograph them to use in our next piece.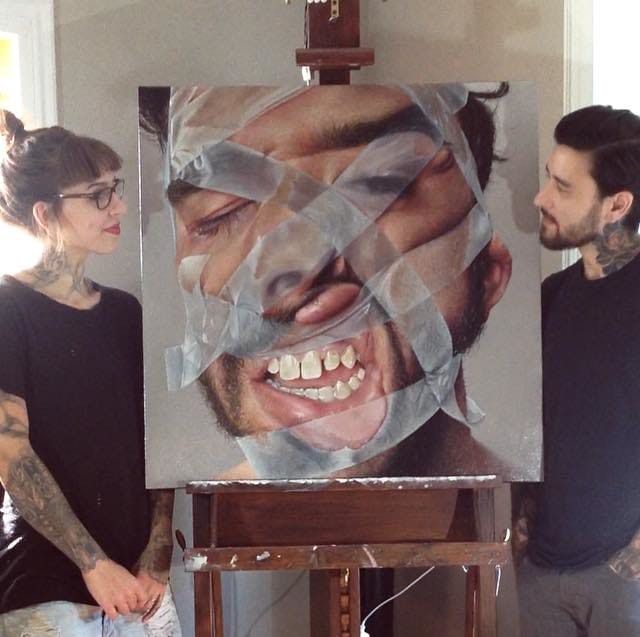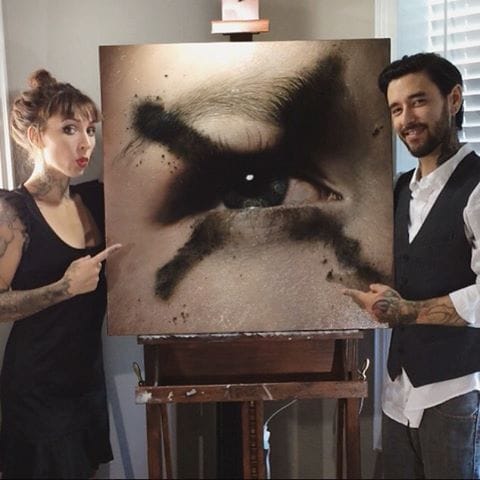 What's it like being able to do something you love with someone you love?

It truly is a dream come true. We could not ask for a better way to live our life. Merging our love for art, with our love for each other. Every day is a blessing and journey that we get to share together. We are the luckiest art nerds in the world!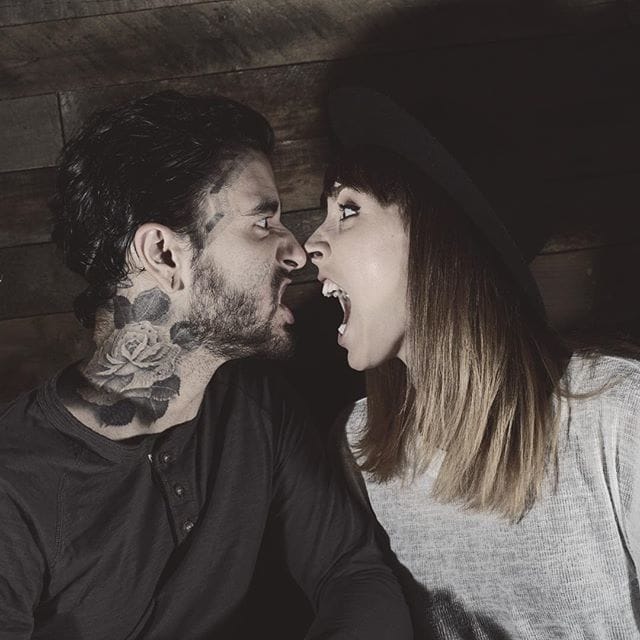 What's the best thing you've learned from each other?

Oda: "I've learned so much from Kit. All I know about oil painting came entirely from her. And I continue to learn everyday, but the best thing I've learned is something she told me early on and it has always stuck with me. To paint for the process, not to perfect. It takes all the stress away of worrying about how a piece will turn out, and allows me to focus on the joy of creating.
Kit: "Don't eat yellow snow"… Hah no, Oda is continually teaching me things. I've learned some of my most valuble lessons from my husband... not through the things he says, but in his actions. The things I've learned from Oda are applicable in, and outside of paint. He is teaching me patience, (something I need a great deal of work on. Though you'd never know it in how I paint).

He has taught me to worry less and roll with the punches. That things won't always work out as planned, but they always work out how they are meant to. He's taught me to be forgiving, and to tackle things with love, and with an openness. In watching my husband, I've learned how to grow. Not just as an artist, but an individual. My husband is someone I wish to be. He possesses characteristics I wish to emulate, so he is always teaching me, even though he may not know it.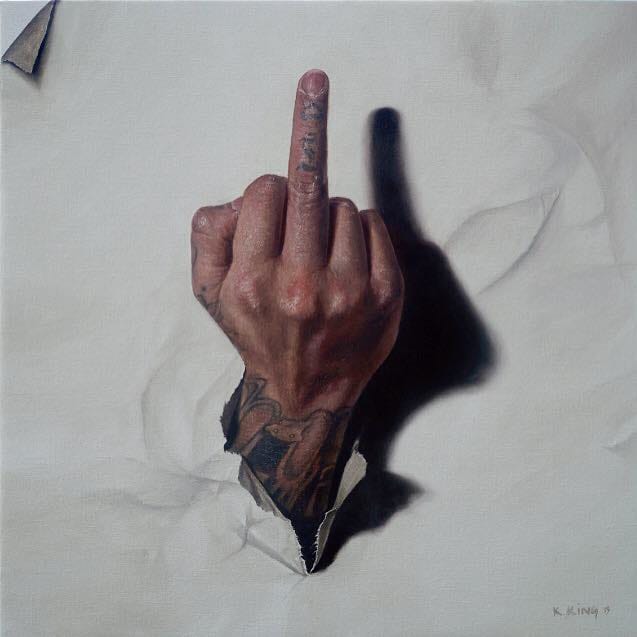 Aside from the amazing work you did on "Artist Block", how do you both cope with artist block?

Well, thank you. That was my (Kit) first time getting artist block. So that was the only way I knew how to tackle it. I'm uncertain what I'll do it if happens again…. I may end up with a lot of "Fuck You" paintings in the future. Whereas Oda tends to get grumpy, drinks a fair amount of coffee, steps back and peruses his notes in his phone that's packed with art ideas. We both have a plethora of ideas on what to paint. We actually have more ideas than there is time to paint them all…
Sometimes it's a matter of having it fit a certain size restraint, or theme that causes difficulty. Also Oda's default is to just draw toilets when in doubt. I wish I was kidding about that one hah. We have a small collection of toilet art here accumulated from his artist block moments.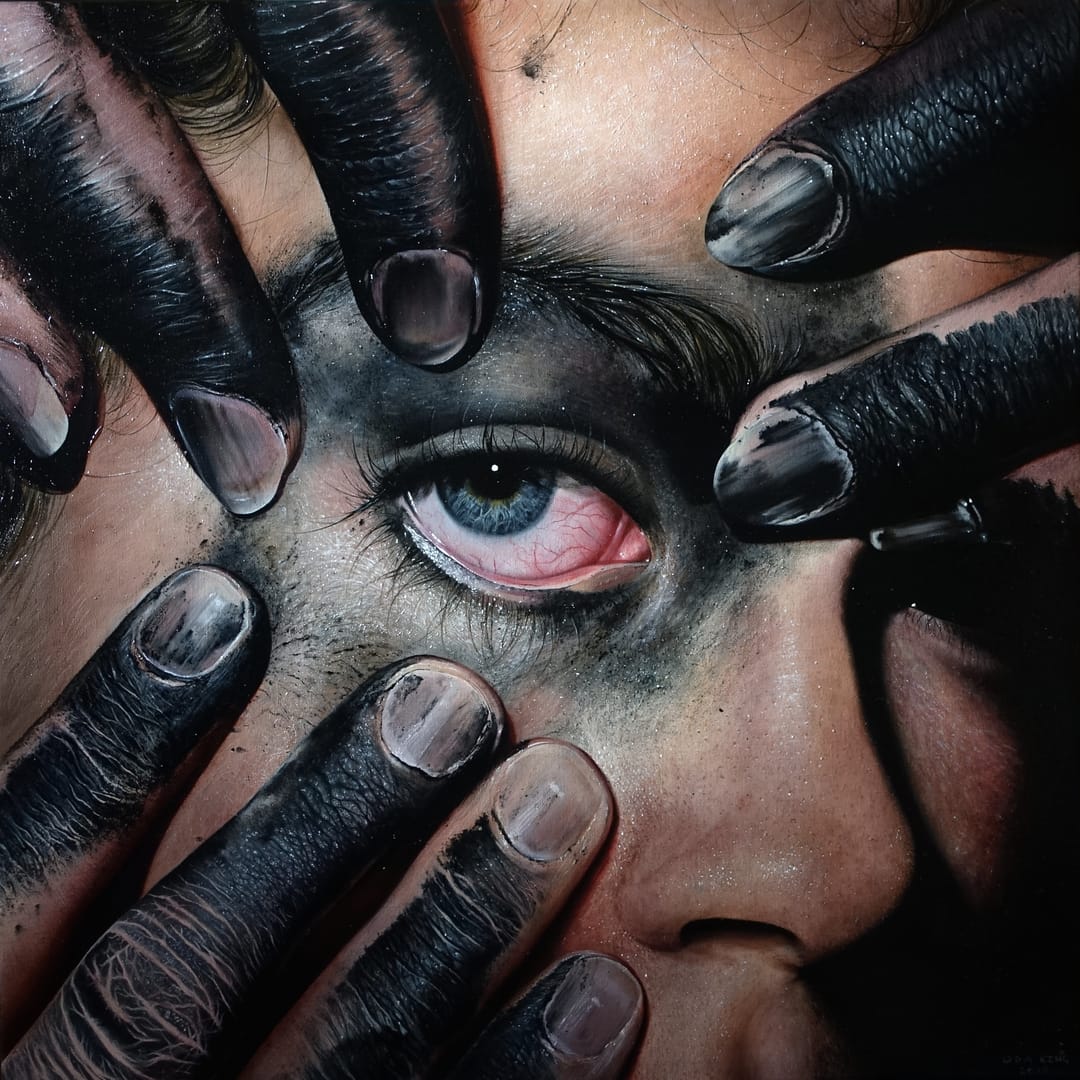 What do you love the most about working with oils?

Oda: I love how it spreads. How it looks to push paint around on the palette and canvas. It's beautiful to see it come to life through its many layers and glazes.
Kit: I love the depth you can achieve in oils. Rendering form is unique in oils. The way we paint in layers is fascinating to me. I love watching how separately, these abstract layers, once transposed atop one another, read a completely new, to form a recognizable image. I also love how there's so many ways to achieve the same effect. How you can render each tiny detail as you see it, or how you can use texture that lifts off the surface to render those details, or a combination of these two techniques. I love how the light hits a painting with glaze layers, and illuminates it from behind the glaze… it just brings a piece to life. There really isn't any medium quite like oil painting.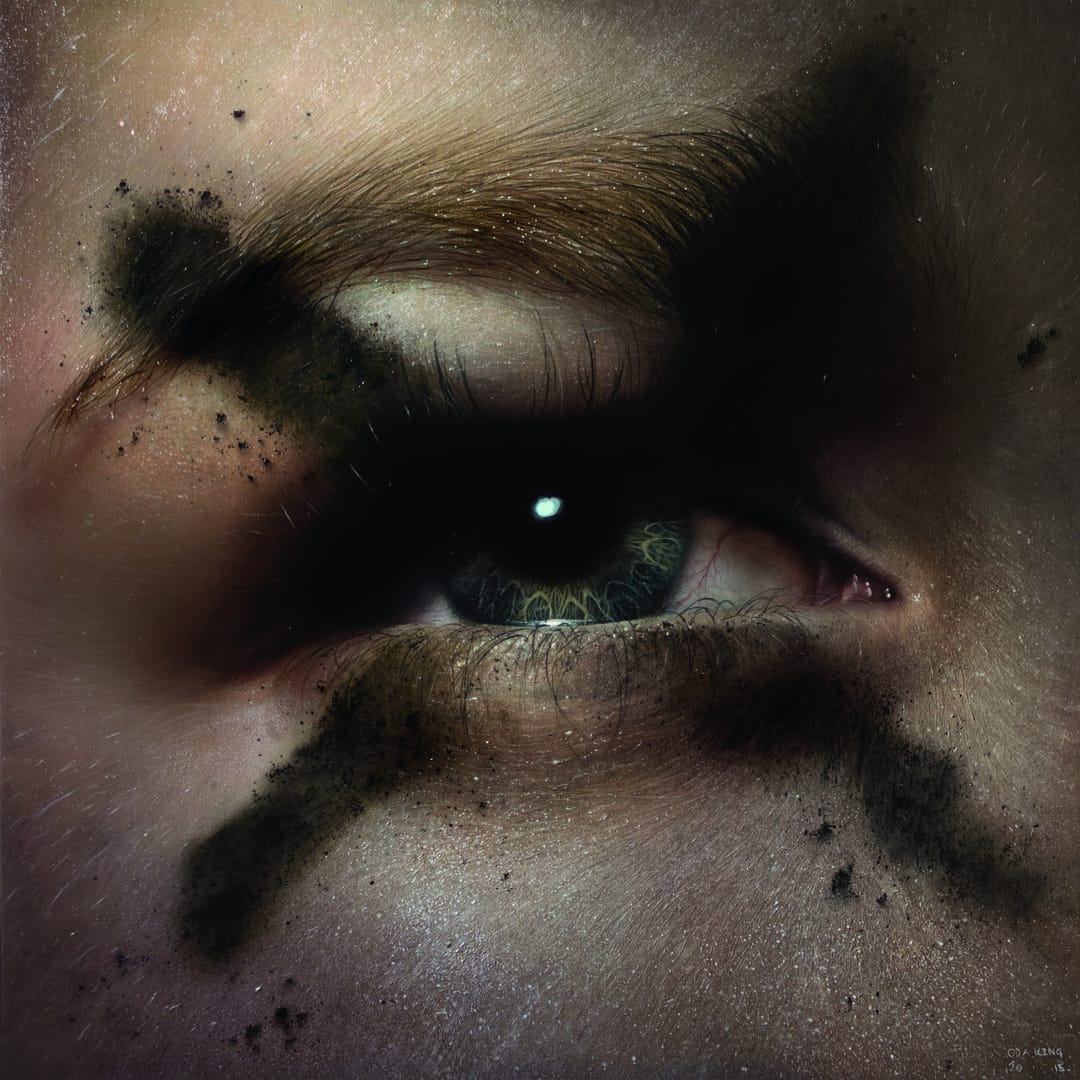 Aside from oil paint, what other mediums do you both enjoy?

We enjoy so many different mediums including graphite, charcoal, pastel, and more. But recently we have been really enjoying building custom furniture and house design and have started discussing sculpting as a medium to introduce into our work. We love the look of natural elements combined, and would like to amalgamate our love of wood, metal, clay, and the like, into our artwork.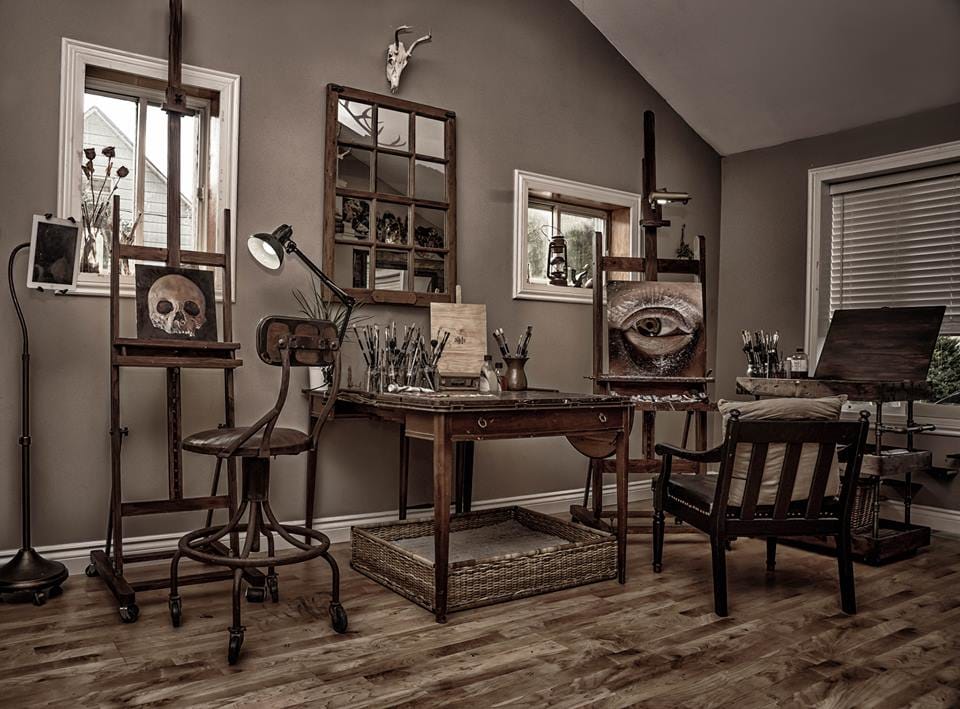 Paint us a picture of a typical day working with your other half on a painting.

Well, we wake up together, check our emails and social media in bed together, eat breakfast together while we layout how our day will go. Then we make our way to the studio where we will spend the next eight to twelve hours. We then play Rochambeau to decide who gets to control the music playlist for the day—unless Kit loses—in which case, Oda will still play Chris DeBurgh for her. (He is secretly coming around, and starting to enjoy it).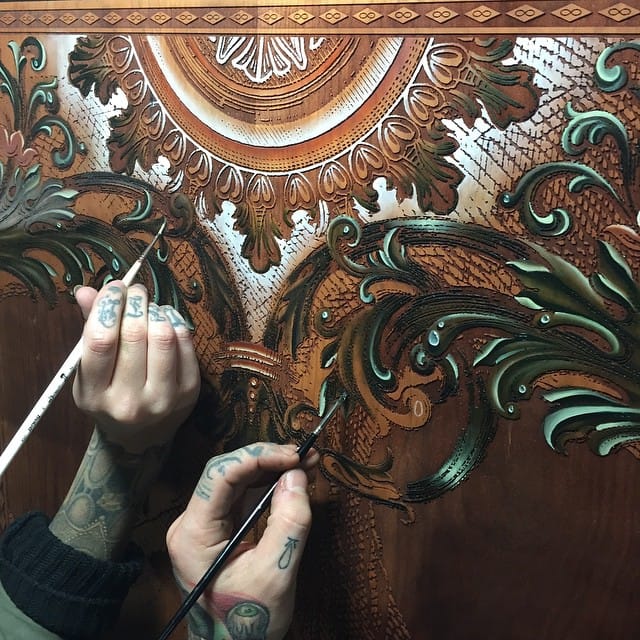 We get down to business and paint side-by-side, chatting and singing (how we stay out of each others way is still a mystery. We seem to be so in sync with one another that it's as if our hands are dancing around the canvass together). We take breaks along the way to eat together. Make social media posts of what we're working on, maybe do a Periscope. And we usually start to get sore around the same time, and wrap it up for the night. Oda will clean brushes while Kit tends to the business side of things. Then crawl in bed together. Then do it all over again.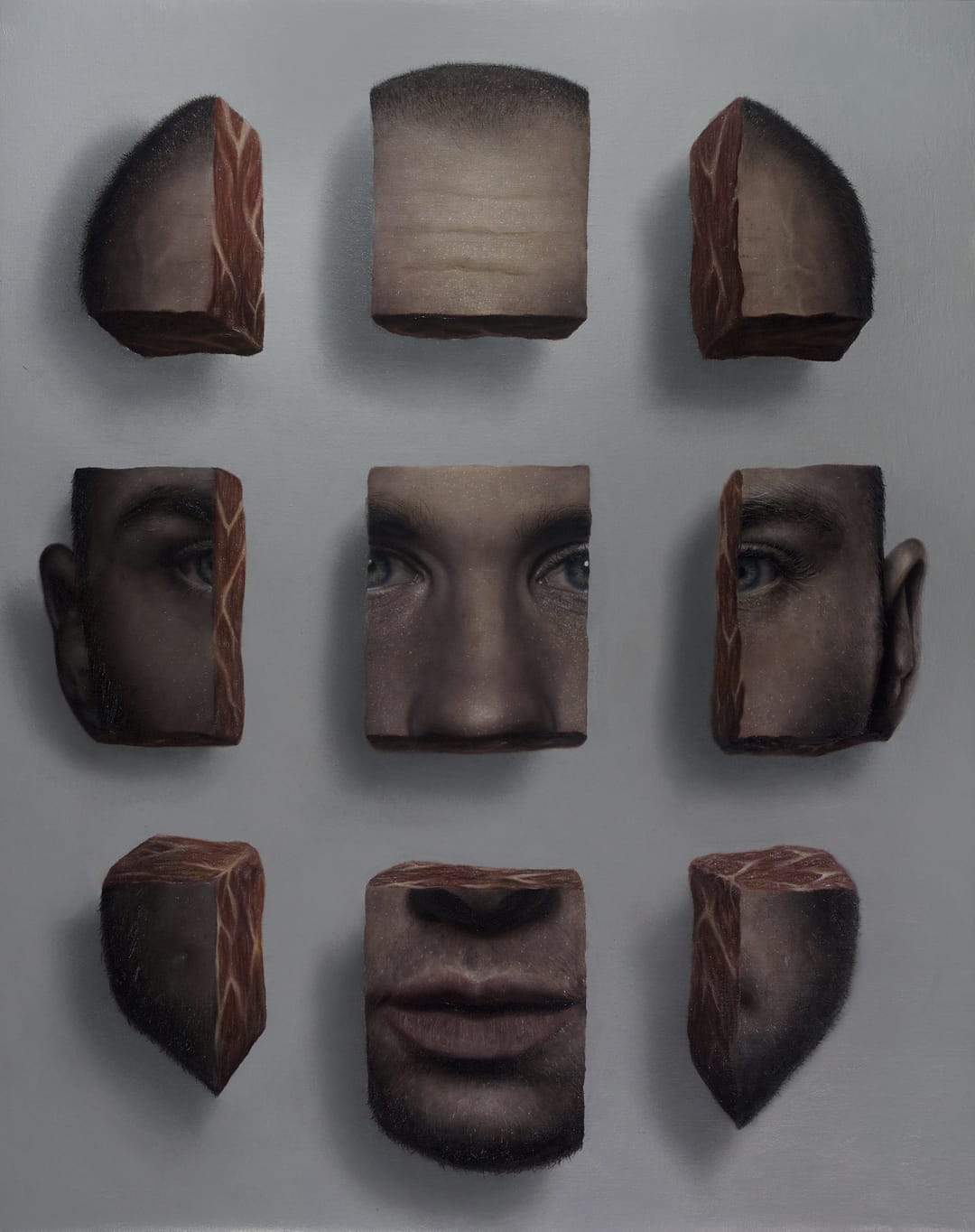 Let us in on what's next for Oda & King in the future

The next year is full of great exhibitions in galleries and museums around the world that we are part of. Including our duo solo show in May at Booth Gallery in NYC. Our goal is to leave a long lasting mark in the art world that lives on long after we are gone. We want to continue to inspire others, while always pushing ourselves toward further greatness.
Thank you very much Tattoodo for the interview and thank you to all that follow our work and support us.

Visit their website here. Follow Oda and King on Instagram.