Old English Rose is Not Your Grandmother's Embroidery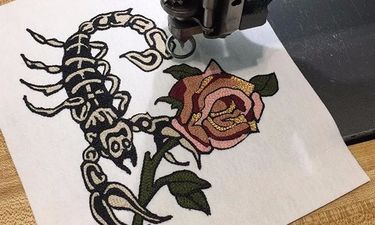 AW

This Brooklyn-based chain stitch embroidery line is shaking up the way fashion thinks of embroidery.
In an industry as saturated as fashion, it's becoming increasingly difficult for a designer to put their own spin on something. Old English Rose is a chain stitch embroidery line based out of Greenpoint, Brooklyn, and if there's one thing designer Victoria Adrian wants you to know, it's that this is not your grandmother's embroidery.
Adrian has been sewing since she was just 13 years old, but it wasn't until quite recently that she realized her passion through a series of happy accidents. After starting a new job as the head tailor at a denim company, she met the owners of Lot, Stock and Barrel — a chain stitching company out of Los Angeles — at a flea market in New York. "They had a [chain stitch] machine there, and it just blew my mind. I had never seen anything like that before, and I brought the idea back to my boss in Greenpoint, and coincidentally our neighbor had one that he was selling, so we just bought it off him," Adrian says. "No one knew how to use it at all, no one really touched it for the first six months, but then we got an order, and I was like, 'I guess I'll do it,' and I jumped on it, and ever since then I've been on it every single day."

Old English Rose is a testament to just how far the self-taught Adrian has come in just a few short years. Inspired by punk and DIY culture, the brand takes on some of the same iconography as the countercultures it draws from, but with a refreshingly refined, feminine twist. Scorpions, roses, and intricate lettering make up the vast majority of her work, but the closer you get, the more apparent it becomes that Adrian's embroidery is heavily influenced by tattoo imagery.. "A lot of my friends are tattoo artists, my boyfriend gets a new tattoo every week, and so I'm always looking at [tattoo] books and magazines just to pull references from."

Citing Spider Sinclair, Harper's Bazaar, AG Jeans, Barneys, and A1 Record Store as just a few of her clients and collaborators, Adrian's work transcends personal style, social class, and age. Recently, she even created customized jackets for the Downtown Basketball Girls, a group of women who shoot hoops all over lower Manhattan. Therein lies the beauty of Old English Rose — you don't necessarily have to be a fan of tattoos, punk, or DIY culture to love her work, you just need an appreciation for a damn good patch.

Universal in every sense, Old English Rose is not only changing the way people view embroidery, it's changing the way Adrian looks at the world. "I'll walk down the street and I'll notice a sign for a dentist, and they'll have really cool script, and I'll just imagine what it'll look like on the back of a jacket or a pair of pants," she explains. "Where I'm pulling inspiration from is what I love about it."